C — Since the Be Mindful. Be Human. blog started, a lot of people have been asking where does all the food go.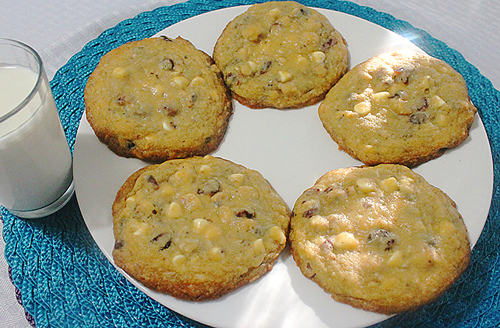 The answer: In my tummy. Jim eats a lot of it, too. And, some friends. So, I started to feel guilty that I haven't been able to give my family anything special since I started. So, today, all of the cookies I make will be going to them.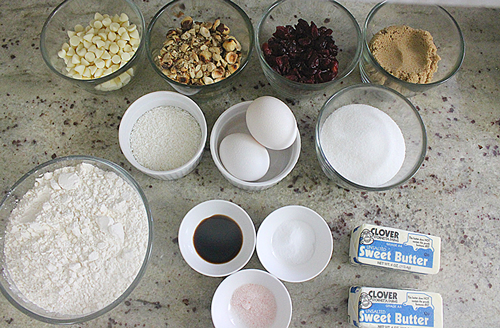 These are my favorite cookies to make for my family. They are not big fans of milk chocolate or dark chocolate. But, white chocolate they love. So I decided to make some dried cranberry, hazelnut, white chocolate, coconut cookies. My brothers love my cookies. But, I'm not allowed to make them small.

Four-inch cookies are the smallest I'm allowed to make for them. One of my brothers once requested even bigger cookies, so that he could be full with just one serving. He said he didn't want to ask for another one. So, big bro, here are your extremely large cookies.

I love these cookies. I hate that I am on a diet. I love them so much, I would eat the entire batch and not tell anyone. Crunchy roasted hazelnuts, cut into large and small pieces, bits of cranberries and a lot of white chocolate really makes this cookie special. I also added a bit of unsweetened coconut to make them just a bit more complex.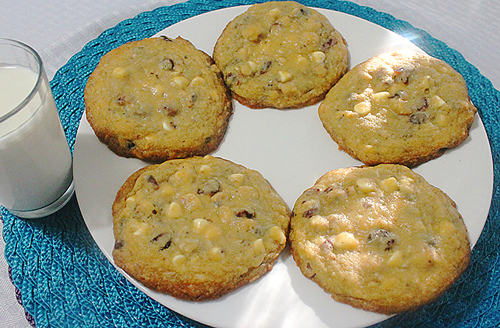 | | | |
| --- | --- | --- |
| Dried Cranberry Hazelnut White Chocolate Coconut Cookies | | |
Prep time: 20 mins
Cook time: 13 mins
Total time: 33 mins
Ingredients
2½ cups all purpose flour
1 tsp baking soda
1 tsp kosher salt
2 sticks of butter, room temperature
1 cup granulated sugar
¾ cup brown sugar
2 eggs
2 tsp vanilla extract
½ cup hazelnuts, roasted and chopped
1 cup white chocolate chips
1 cup dried cranberries
½ cup shredded unsweetened coconut
Instructions
Sift flour, baking soda, salt together.
In another bowl, cream butter and granulated sugar together. Then add brown sugar and continue creaming process.
Add vanilla and one egg at a time into mixture until all incorporated.
Add ⅓ of the flour mixture into the wet ingredients, carefully folding in until combined completely. Then add another ⅓ of the flour mixture and combine completely. Add the last ⅓ until combined completely. Don't over mix.
Add hazelnuts, white chocolate chips, dried cranberries and shredded coconut. Mix well.
Using a cookie scoop, ice cream scoop or two spoons, form dough balls and place on a cookie sheet with an inch spacing between. Refrigerate overnight.
Preheat the oven to 375 degrees with rack in the center. Line cookie sheets with parchment paper.
Place each cookie about 2 inches apart on the sheet.
Bake for 10 to 13 minutes (depending on the size of your cookie dough balls), until they are golden brown around the edges and puffy in the center.
Let cookies cool a few minutes on baking sheets before transferring to wire rack to cool completely.
Enjoy!
I aim to please. Adding a lot of ingredients to a cookie, so that every bite has a piece, is my goal. My dad just loves them. Soft and chewy.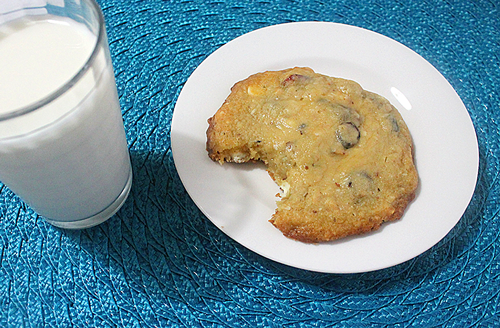 You just might want to ask for that second one, big bro. Hope you guys enjoyed it.