C – Forget rice paper for making fresh spring rolls.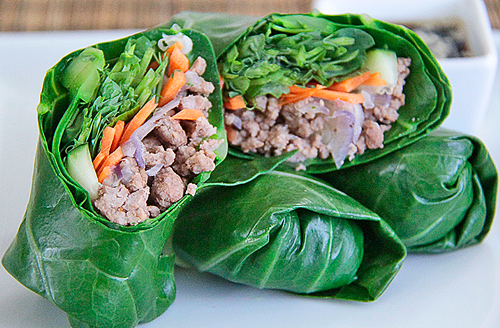 Use collard green leaves instead. Yeah, I know that fresh spring rolls are already healthy . But, let's make it even healthier. I was a bit surprised that the collard greens used the same steps I would for rice paper.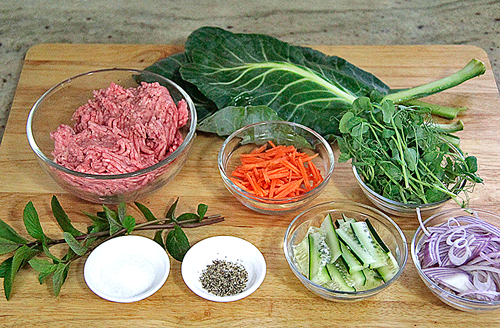 Dip it in warm water to soften it up and then roll it up with all the filling.
I tried it without blanching the collard green at first. They didn't stay rolled up. Dipping them in warm water works.

I really loved making these spring rolls. The collard greens are nice and sturdy. It's a good thing, since rice paper usually rips if you are not careful.

Collard green don't rip as easily. I really enjoyed rolling these up.

The taste test was great. It similar to regular spring rolls, but with a much healthier wrap.

I loved the lamb, mint and fresh vegetable combination.

I served it with a soy sauce dipping sauce (I used equal parts soy sauce, sugar, white vinegar and water mixed together). It was delicious.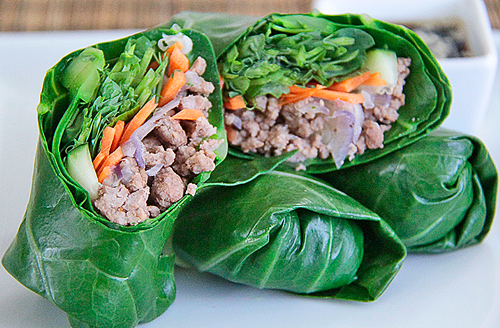 | | | |
| --- | --- | --- |
| Collard Greens Week: Collard Green Lamb Spring Rolls | | |
Prep time: 20 mins
Cook time: 6 mins
Total time: 26 mins
Ingredients
1 Tbsp grapeseed oil
1 pound ground lamb
Salt and pepper to taste
½ red onion, thinly sliced
1 garlic clove, minced finely
10 mint sprigs
1 handful pea sprouts
1 cucumber, julienned
1 carrot, julienned
1 bunch of collard greens
Dipping sauce of your choice
Instructions
In a medium saute pan, place oil and heat to medium high heat. Add lamb, a pinch of salt and pepper to taste. Break up the meat and cook until done. Drain excess oil.
Add the red onions cook until translucent. About 1 minute. Set aside to cool until just slightly warm.
Remove the thick stems from the collard greens by shaving off the stem near the base. Try to leave the leaf as whole as possible. Be careful not to tear any of the collard greens.
Place collards in to salted boiling water for 30 seconds or until slightly tender. Remove and drain. Wipe any excess water off of the leaves before rolling.
Place 1 collard green leaf on a flat plate or cutting board, with the stem base pointing toward you..
Place a spoonful of the lamb on the edge of the collard green that is closest to you.
Top with a few strands of carrots, a couple of cucumber slices, mint leaves and a few pea sprout sprigs.
Pull the bottom [stem] edge of the leaf over the filling.
Fold both sides into the center.
Then roll up to the top tightly.
Repeat with remaining leaves and ingredients.
Serve with dipping sauce.
Enjoy!
This might be my new way of making spring rolls. It's healthier and gets me to eat a lot more greens.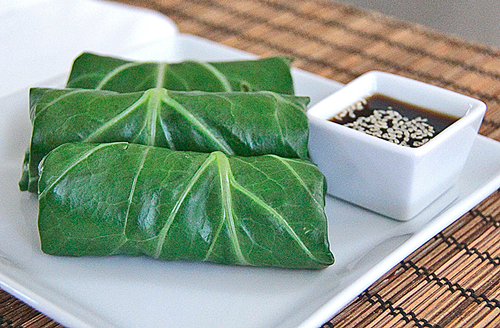 Of course, I know that collard greens are seasonal. Maybe, I will just enjoy them while they last.