J – We certainly are bold, biting off Italian Week as a theme.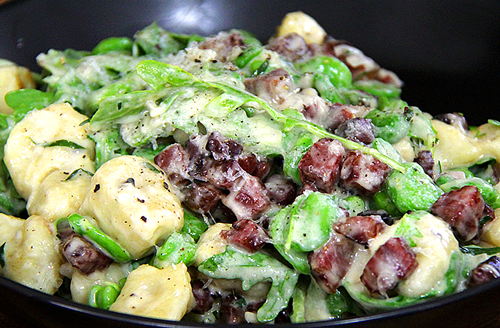 … so to speak. But, I think we might be able to handle it. At Be Mindful. Be Human. we are on a quest for flavor. What else is Italian cuisine, if not a quest for bold flavor?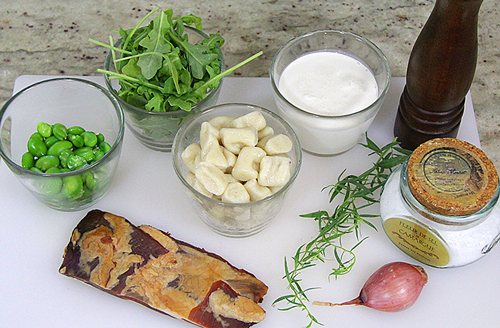 So, this week, we are not taking the obvious route of pasta and pizza. Common and not all that interesting. Besides, we've already done many of those dishes.

This week is about exploring traditional dishes and adding our own spin. Bolognese sauce, meatballs, chicken piccatta and tiramisu. To start, gnocchi … of course!

As with all gnocchi, moderation is in order. This one makes that especially hard to achieve.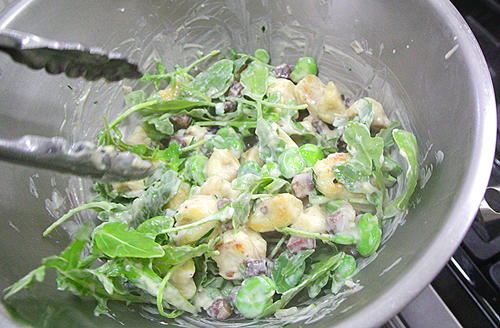 Luke's take on this dish makes it all that harder. Lamb bacon, fava beans and a delicious sauce are just too much.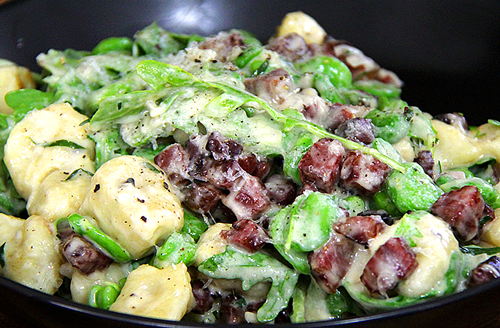 | | | |
| --- | --- | --- |
| Italian Week: Lamb Bacon Gnocchi with Fava Beans in Tarragon Sauce | | |
Prep time: 20 mins
Cook time: 15 mins
Total time: 35 mins
Ingredients
¼ pound lamb bacon, cut into ¼ inch dice
1½ cup gnocchi cooked (recipe link below)
1 cup heavy cream
1 shallot, finely chopped
1 cup baby arugula
1 cup blanched fava beans
1 Tbsp tarragon, minced
¼ cup Manchego cheese, shredded, plus more for topping
Salt and pepper to taste
Instructions
In a large saute pan, cook lamb bacon on medium heat until cooked and crispy on the outside. Remove from pan and set aside.
Save the bacon fat and add gnocchi to the pan and cook until toasted and golden brown on the outside. Remove from pan and set aside.
In the same pan place shallots and saute for about 30 seconds.
Add cream to pan and cook until cream turns yellow and is thick.
Add salt and pepper. Mix well.
Add fava beans.
Return gnocchi and bacon back into pan. Mix well.
Add in ¼ cup cheese. Mix well.
In a large bowl, place arugula and tarragon.
Add contents of saute pan. Toss until combined.
Plate gnocchi mixture and add more cheese and pepper over top.
Serve immediately.
Enjoy!
Homemade Gnocchi recipe
Food coma, as Christina would say. Yep, but oh so good.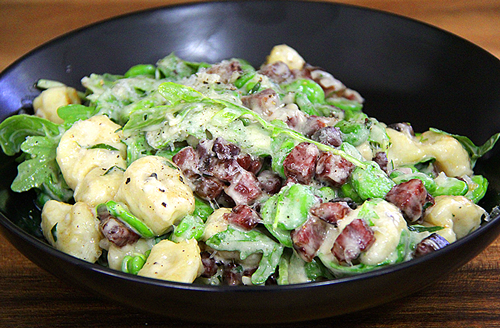 Thanks, Luke.