C – My husband is definitely not going to like this cole slaw.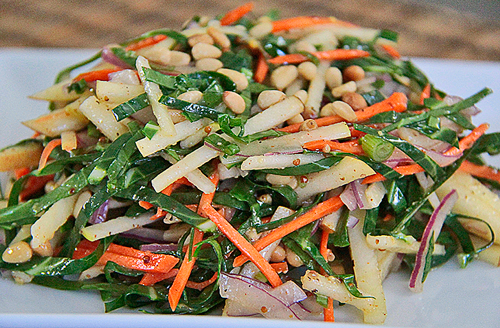 He's a big fan of cole slaw … with mayonnaise … not oil-based ones. He thinks it's not a cole slaw without mayonnaise. Maybe, I should not call it a cole slaw. I could just call it a collard green salad. Wonder what he'll think. He might like it then.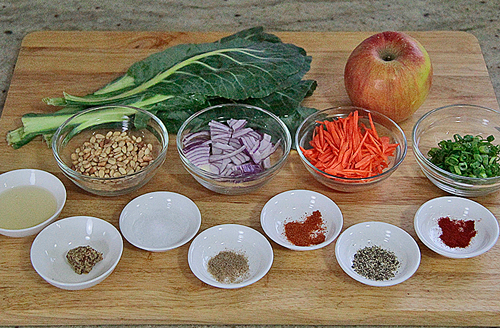 Sometimes, I just don't feel like having a rich cole slaw. Besides, it's a healthier week. Luckily, my husband usually eats anything I make. It won't be too much of a problem.

I just can't do it every time. Especially when I make his favorite … pulled pork. Too many times, I have made non-mayonnaise cole slaw. He's suffered through them all.

Oh well, once in a while I need to change it up. This one was a great one the change it up. Crunchy onions, carrots, apples, pine nuts and green onions, with a fresh dose of collard greens.

It's very different from a cabbage-filled slaw. It's fresher and lighter. The dressing is oil-based, but mayonnaise could be added and it wouldn't hurt it. To me, it's delicious as it is.

The salty, tart and sweet flavors of the wonderful vegetables and fruit just danced in my mouth. I loved it with our slow-cooked pulled pork recipe.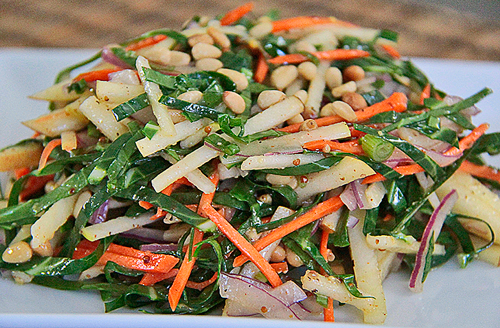 | | | |
| --- | --- | --- |
| Collard Greens Week: Collard Green Cole Slaw | | |
Prep time: 15 mins
Total time: 15 mins
Ingredients
3 collard green leaves, stems removed and shredded
½ Fuji apple, julienned
1 carrot, julienned
2 green onions, chopped
¼ red onion, chopped
½ red bell pepper, chopped
¼ cup toasted pine nuts
1 Tbsp white balsamic vinegar
¼ tsp Dijon mustard
salt and pepper to taste
3 Tbsp grapeseed oil
Instructions
Place white balsamic vinegar, Dijon mustard, salt and pepper into a small mixing bowl. Mix together.
Slowly drizzle oil into the bowl while whisking to emulsify. Set aside.
Place collard green leaves, apples, carrots, green onion, bell pepper, red onion, and toasted pine nuts into a large mixing bowl.
Add a few tablespoons of dressing. Mix well.
Add more to taste if needed.
Serve.
Enjoy!
I ended up making a separate mayonnaise-based cole slaw for my husband. I kind of thought he wouldn't like this one to much. He might have complained the whole way through eating it.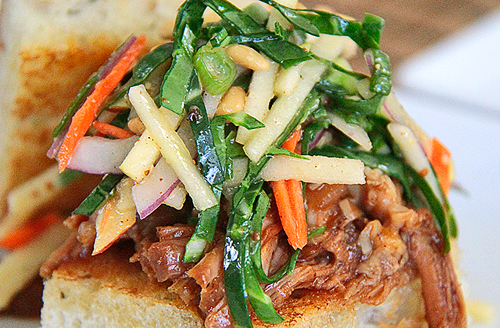 It's one of those times when I know I can ruin his favorite meal with just one item. I just couldn't do it.