C – Well, there goes my clean refrigerator.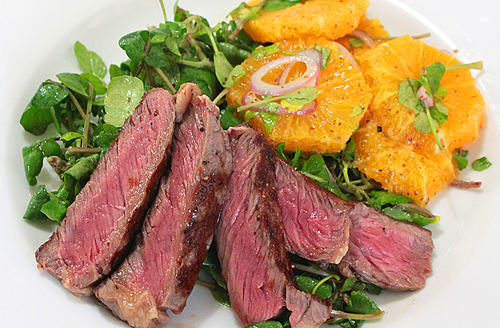 The refrigerator is filled up this week. I can't seem to see the back of it, again. I am not complaining … that much. Luke and Jim just went a bit overboard at the farmer's market this week. And, there are a few things that I am not sure what they're for.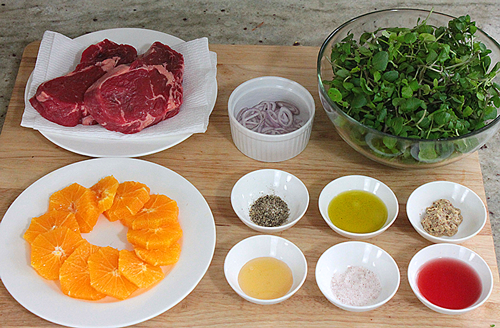 Luke saw watercress for a $1.00 at the Asian farmers market and got one. One bunch was fine. But, when Luke paid for it, the vendor add two more bunches to the bag. Wow! What a deal? Now, all we have to figure out is what the heck are we going to do with three large bunches of the stuff?

Luke had no problem at all. "We will add it to a few of our recipes today. Don't sweat it." When he finally was done with cooking, he had completely forgotten about the watercress. Oh well. I guess it was up to me to do something with it.

I forgot what watercress tasted like. It has a peppery quality to it. It really needed to be balanced out. I found a Martha Stewart recipe for steak orange watercress salad and wanted to try it. Looking at the recipe, I knew she was missing something. The recipe was missing a bit of sweet. The peppery taste was strong. Adding mustard and vinegar wasn't going to balance out the flavors as much as I wanted.

I think she was assuming the oranges would balance out the flavors. I didn't think it was going to be enough. I was right. I added a bit of honey and the dressing was perfect. The salad tasted great. Nice perfectly grilled pieces of steak, juicy fresh orange slices, small watercress pieces adsorbing a great dressing. I was full and delighted.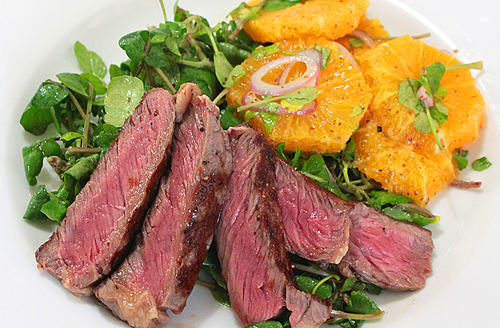 | | | |
| --- | --- | --- |
| Steak, Orange and Watercress Salad | | |
Prep time: 20 mins
Cook time: 6 mins
Total time: 26 mins
Ingredients
2 Tbsp red wine vinegar
1 Tbsp Dijon mustard
1 Tbsp olive oil
1 Tbsp honey
½ shallot, sliced thinly
Salt and pepper to taste
1 large bunch of watercress, stemmed and pulled into bite sized pieces
3 navel oranges, peeled and sliced
1 pound beef rib-eye steak
Instructions
In a large bowl, whisk together vinegar, mustard, oil, honey, salt and pepper. Set ½ of the dressing aside. Leave the rest in the bowl.
Season steak generously on both sides with salt and pepper.
On a grill cook steak over medium high heat until medium rare. About 5-6 minutes.
Transfer to cutting board and let rest for 10 minutes.
Slice steak thinly, across the grain.
In the large bowl with ½ of the dressing on the bottom, add watercress, orange slices and shallots. Toss to coat. Add more dressing as desired.
Divide salad evenly on two plates, top with steak slices.
Serve.
Enjoy!
One bunch of watercress down. Two more to go. I hope we don't have to throw away any watercress. It's a good tasting green. It makes you feel healthier after eating it.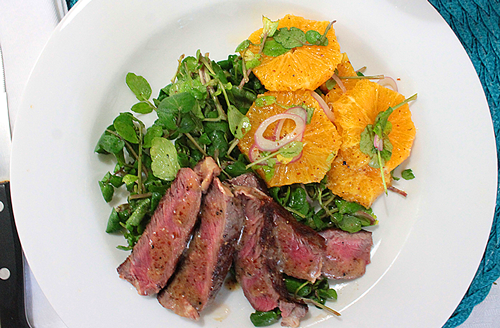 I wonder what Luke has in store for these. I sure don't have any other ideas.