J – Sometimes, you just need to do it yourself.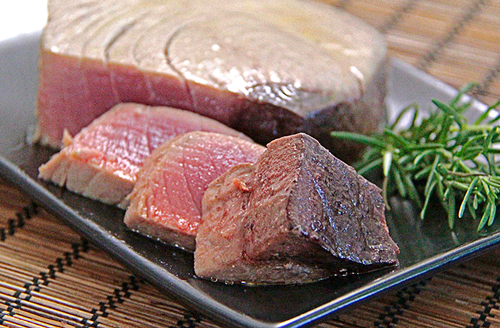 I have been going to Cafe Rouge in Berkeley for several years. Nice stop on 4th Street. Nice lunch. Shopping and lunch. What could be better? Maybe something else, in this case. Christina and I went there during a trip for a client. A less-than-nice lunch was the outcome.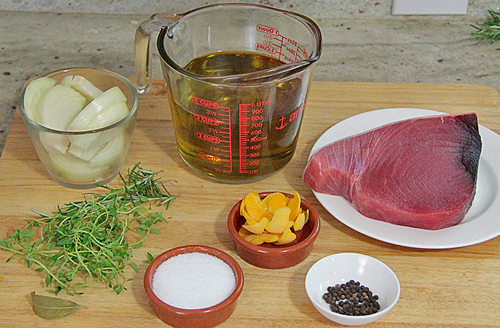 Blame is not the point here. Restaurants have their days, you know.

We decided to "redux" the experience and create our own versions of the dishes we ordered. Hence, Cafe Rouge Redux week.

This was a really great choice. We got a chance to explore new techniques. Improve on less-than-wonderful dishes. And, have fun learning.

When I was there previously, I ordered a tuna confit salad … wondering what tuna confit was. It was delicious. Turned out to be really simple to do. Nice!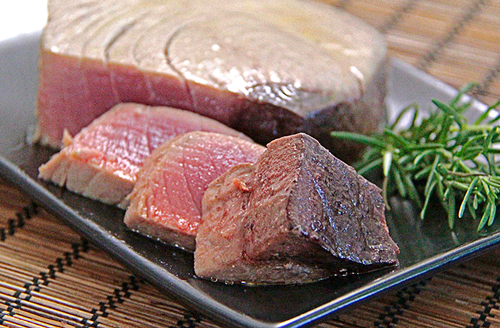 | | | |
| --- | --- | --- |
| Cafe Rouge Redux: Tuna Confit | | |
Prep time: 15 mins
Cook time: 30 mins
Total time: 45 mins
Ingredients
3 cups good-quality olive oil (but not best); more if needed to cover the tuna during cooking
1 medium yellow onion, cut in ½-inch slices
2 sprigs fresh rosemary
6 sprigs fresh thyme
1 bay leaf
1 tsp. black peppercorns, coarsely cracked
Zest of 1 lemon, pared in strips
3 Tbs. coarse salt
1 lb. shushi-grade, fresh tuna (yellowfin or ahi), cut as a single, 1-inch-thick steak
Instructions
Combine the oil, onion, herbs, peppercorns, lemon zest and salt in a deep sauté pan or Dutch oven.
Heat to between 140° and 150°F, stirring occasionally, and cook for 20 minutes to infuse the flavors of the aromatics into the oil and to pasteurize it for a long shelf life. Taste the oil. It should be slightly salty.
Let cool and infuse for about 30 minutes. The oil will be warm. Remove some of the onions but not all, just so you have enough oil to poach the tuna.
Put the pan back over medium-low heat and slip the tuna into the barely warm oil. The tuna must be covered by the oil. Add more if needed.
Slowly bring the oil to 150°F again. Turn off the heat and remove the pot from the heat. Let the tuna cook slowly in the warm oil.
After a minute or two, test for doneness by breaking into a flake of the tuna. The fish should be cooked to medium rare-slightly pink inside and still tender to the touch. If the tuna isn't quite done, return it to the oil for another minute.
Transfer the tuna to a storage dish and let it cool. Let the oil cool separately and then strain the oil over the fish, discarding the aromatics.
If the tuna isn't completely covered in oil, add more fresh olive oil to the storage dish. If not using right away, cover the container tightly and refrigerate. The tuna will keep, covered in oil and refrigerated, for up to 2 weeks.
Bring the tuna up to serving temperature by slowly reheating it. Be careful not to overcook the fish when reheating.
Serve. (Things to do with tuna confit tomorrow)
Enjoy!
Big note: Get REALLY good tuna. Yellowfin or Ahi. Sushi grade only. The recipe is simple. Handle delicately.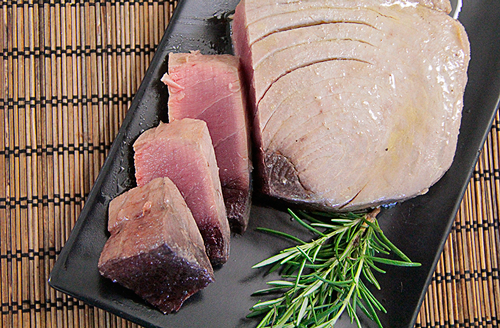 The taste test was sublime. Medium-rare, silky tuna with herbal notes throughout. Melts in your mouth. Oh my!