C — I finally did it! I finally made a good taco.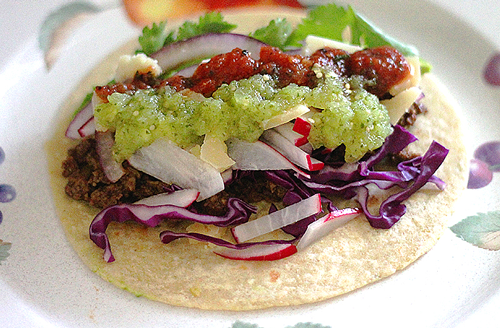 It seemed for a long time that I had a curse put on me. A TACO curse. I couldn't make a good taco if my life depended on it. I think it all started five years ago when I moved to Sacramento and I had a boyfriend who made pretty good tacos. I tried to make some just like he did but it always tasted horrible. I didn't know what I did wrong. I would copy his to a T, but never got them to be good or even close to his. I don't know why they weren't good. Maybe it was my nerves (I didn't like cooking for him). Maybe his kitchen. Or, maybe he snuck something in when I wasn't looking. It would always taste funny. We couldn't put our finger on it, but it always tasted funny. When we had taco night we would end up going out to eat. Well, the boyfriend has long gone and my past of making bad tacos is also history.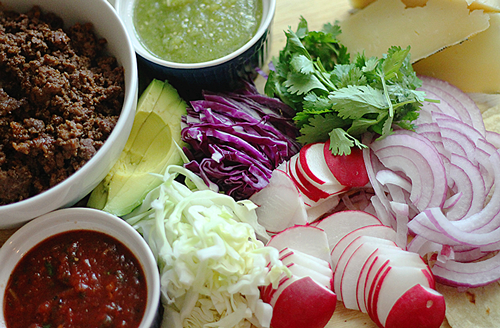 So, today I conquered fears and nightmares and made tacos. I made bomb tacos. Bomb Buffalo Tacos! They were so good. Our friend Ken came over and devoured them. I don't think I have ever seen Ken eat something so quickly. I was delighted!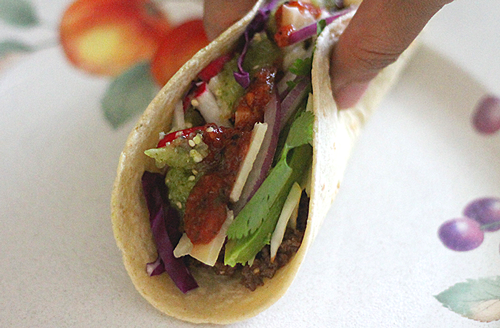 There is something about bison meat that makes tacos much more flavorful than beef. It might be because it is leaner than beef. I don't know but they were addicting. The great blend of meat, seasoning, fresh veggies, sharp cheese, and the salsas were so wonderful. I am so glad the curse is over.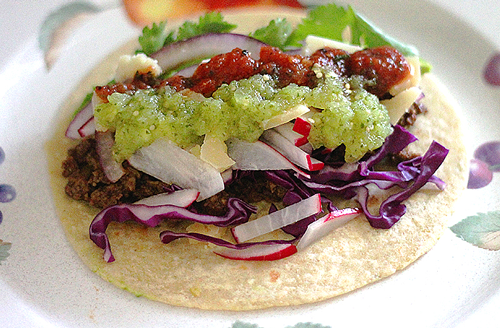 Prep time: 20 mins
Cook time: 15 mins
Total time: 35 mins
Ingredients
1 lb of ground bison
2 tbsp olive oil
¼ tsp garlic powder
¼ tsp onion powder
¼ tsp crushed red pepper flakes
½ tsp paprika
1½ tsp ground cumin
1 tsp sea salt
1 tsp black pepper
4 Small green chili tortilla
1 cup beef filling
2 radishes sliced thinly
½ cup of red and green cabbage
¼ red onion sliced thinly
¼ cup cilantro chopped
¼ cup of Manchego or sharp cheddar cheese
¼ cup salsa verde
¼ cup chipotle salsa
½ avocado cubed
Instructions
Heat pan on med high with olive oil.
Add bison, cook until done. About 7-10 minutes.
Add spices.
Place tortilla on plate
Spoon meat on top of tortilla
Add desired toppings on top of meat.
Enjoy!
Salsa Verde recipe.