C – In my house, a salad needs to be served at least one time a week for dinner.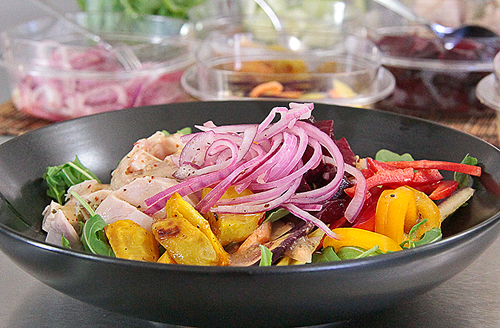 It could get a little messy, if I always had to pull out the bag of lettuce, chop all the vegetables and make the dressing from scratch. Especially, in a small San Francisco kitchen where there is never enough room.
Making a salad is also painful when you have a long commute like I do. I don't want to deal with making anything after I get home.

Yes, my husband loves to help, but he is scared of MY kitchen. He's always so scared to dig around in the vegetable crisper drawer to see what he can find. The drawer is quite small and I play a good game of Tetris on my vegetables. He hates looking for anything in there because he knows he will mess it up.

I end up making salad components and placing them in air-tight plastic containers so he can pull out things for us to eat. A salad bar is a great weeknight dinner.

I usually set up, pack and label things on Sunday. All we need to do to eat is open all the containers and you can make your own salad.

I am not a big fan of placing all of the salad ingredients into once container. If something goes bad, it ends up making other things in the container go bad, too. I separate them into small, individual containers until we are ready to use them.
This is also great for people who are picky eaters. Since I have been having dietary restraints lately, eating foods amde for other people can be challenging.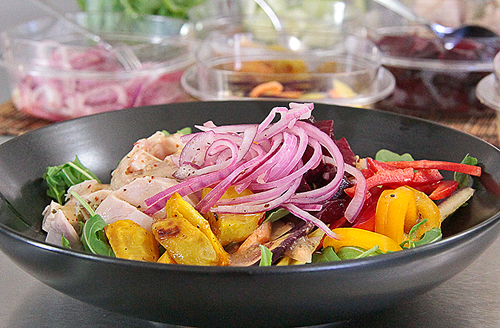 | | | |
| --- | --- | --- |
| Healthy Week 2015: At Home Salad Bar | | |
Prep time: 20 mins
Total time: 20 mins
Ingredients
1 clove garlic, peeled and minced
½ tsp Dijon mustard
1 Tbsp white balsamic vinegar
salt and pepper to taste
3 Tbsp grapeseed or olive oil
2 cups baby arugula
Assorted colors sweet peppers (we use red, yellow and purple bell peppers), sliced thinly
Assorted colors carrots, peeled and sliced
1 cucumber, partially peeled and sliced
Red and yellow beets, roasted and sliced
½ red onion, sliced thinly
2 cooked chicken breasts, shredded (for the meat eaters)
Air tight containers
Instructions
Place garlic, mustard, white balsamic vinegar, salt and pepper in a small bowl. Whisk well.
While continuing to whisk, drizzle in oil slowly. Whisk until emulsified.
Serve immediately or store in a mason jar for up to a week.
Enjoy!
Assemble and refrigerate in individual containers
When ready, open your "salad bar" and get creative.
Serve.
Enjoy!
My husband and I are fine, because we are on the same diet. But, anyone who works or comes to visit gets the surprise of being a vegetarian for one meal. Sometimes that doesn't go well.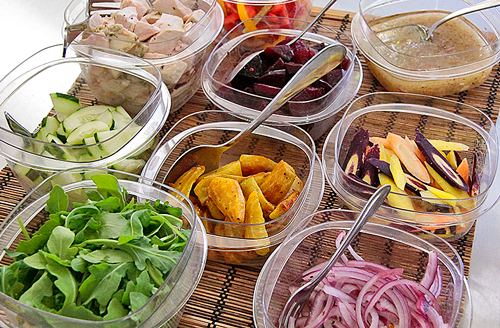 So, having a container of meat that's separate for meat eaters is perfect.