C – Waffles. Berries. Creme Fraiche. Hazelnuts. Oh. My. Goodness.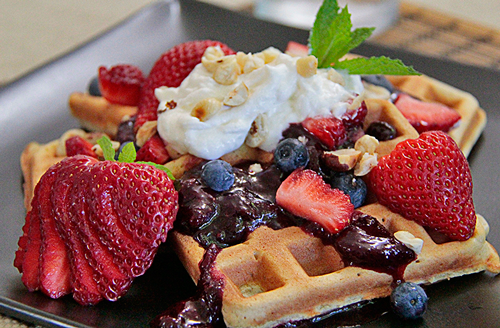 Luke's brunch ideas were great. But, I needed to make an over-the-top brunch for Mom, too. It's always seemed to be a daunting task to make waffles. Especially, growing up with my family. My parents, brothers and I ate a lot. It never was enough to have just one batch of waffles.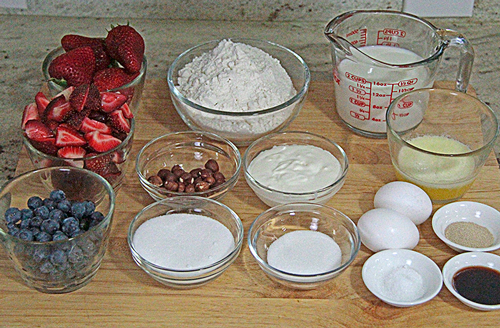 Two to three batches, plus some to freeze and reheat was more like it. If I made waffles for my family, it would take half a day to make enough. I always wished I had a bigger waffle iron.

I felt a little overwhelmed when I suggested making these waffles with whipped crème fraiche, berries and hazelnuts. Then, I remembered I wasn't living at home anymore. I was only making a couple. I felt a little better.

It was much easier than I thought it was going to be. Throw everything into a bowl and let it rise. Throw berries in a pot and let it cook down.

I wish I had one of these waffle irons growing up. It would have made my life a lot easier. Four waffles at once. I would have shaved my waffle making time in half. I loved the thick batter. With the butter in the mix, the waffles didn't stick to the waffle iron.

The taste test (my favorite part, especially for these waffles). Crispy on the outside. Soft on the inside. They were perfect. They didn't feel heavy or doughy either. I think the yeast helped with that.

I loved the compote. It was sweet. but not to. It combined well with the crème fraiche. The combination of the two was delicious. Berries were sweet, but not too sweet, and the crème fraiche added a savory element.

I also loved the fresh fruit and crunchy hazelnuts. They added a great amount of texture to the dish.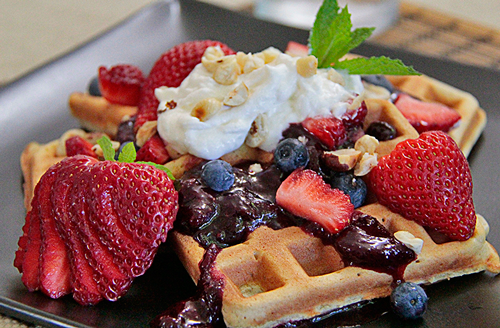 | | | |
| --- | --- | --- |
| Brunch Week: Waffles with Berry Compote, Creme Fraiche and Hazelnuts | | |
Prep time: 80 mins
Cook time: 50 mins
Total time: 2 hours 10 mins
Ingredients
1½ cups lukewarm milk
6 Tbsp butter, melted
2 to 3 Tbsp maple syrup, optional
¾ tsp salt
1 tsp vanilla extract
2 large eggs
2 cups all-purpose flour
1½ tsp instant yeast
1 cup fresh blueberries
2 cups fresh strawberries, hulled and quartered
½ cup granulated sugar
Pinch of salt
½ cup crème fraiche
3 fresh whole strawberries
½ cup fresh blueberries
¼ cup toasted hazelnuts, crushed
Instructions
Combine all of the ingredients in a large bowl, leaving room for expansion. The mixture will bubble and grow. Stir to combine. It's OK if the mixture isn't perfectly smooth.
Cover with plastic wrap, and let rest at room temperature for 1 hour. The mixture will begin to bubble.
You can cook the waffles at this point, or refrigerate the batter overnight to cook waffles the next day.
Preheat your waffle iron. Grease waffle iron and pour ⅔ to ¾ cup batter (or the amount recommended by the manufacturer) onto the center of the iron. Close the lid and bake for the recommended amount of time, until the waffle is golden brown.
Serve immediately, or keep warm in a 200°F oven.
Place berries, sugar and salt into a sauce pot. Let sugar melt on medium heat, then reduce heat to low. Cook for 30 minutes or until berries reduce by half. Stir occasionally to make sure the bottom doesn't burn.
Remove and set aside.
In a medium size bowl using a whisk or a electric hand mixer, beat until stiff peaks form. Refrigerate until ready to serve.
Place a few tablespoons of the compote on the bottom of the dish.
Arrange four waffles on the plate.
Top with more compote on each waffle.
Top with berries.
Dollop a spoonful of whipped crème fraiche on the top center.
Sprinkle with hazelnuts.
Serve.
Enjoy!
These waffles were amazing. Now, I wish I made more.
I can see why it would still take me half a day to make waffles. Waffles are so good.
Adapted from: http://www.kingarthurflour.com/recipes/belgian-style-yeast-waffles-recipe