J – Good collaboration took this old standard to a new level.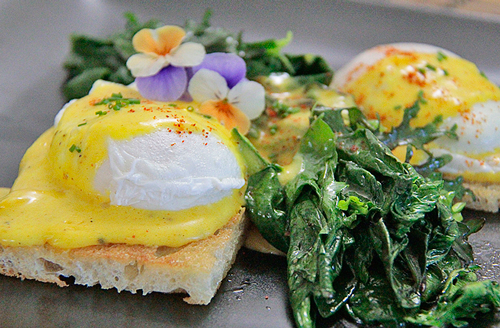 We promised a change-up for the brunch dishes. This one is. Many times Eggs Florentine presentations can be a big lump of well-cooked spinach on soft bread, with eggs and Hollandaise on top. Not so appetizing.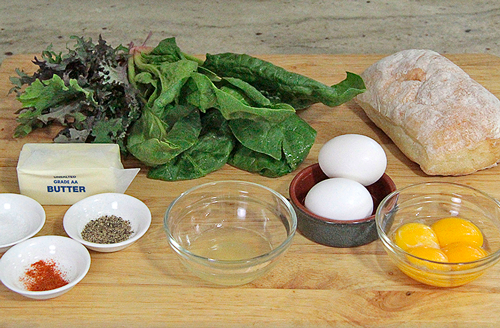 So, we added kale to the spinach and changed the bread to a chibatta bun.

Big difference.

Christina didn't want to do this dish. Then, we added some kale and her ears perked up. Lots of kale, please. I knew we weren't going to overcook the veggies. So, there would be some nice crunch to them.

Luke advised we use clarified butter, or ghee (same thing), for an improved Hollandaise. Good call. We also thought of adding herbs … we always seem to do that. But, the consensus was that herbs would be too much.

I like the collaboration we do here at Be Mindful Be Human.

This is another one of those need-to-be-careful-with-timing dishes. Have everything ready before you begin. Greens ready. Eggs in individual prep dishes. Chibatta cut. Serving plates out.

Once you start the Hollandaise, you can't stop.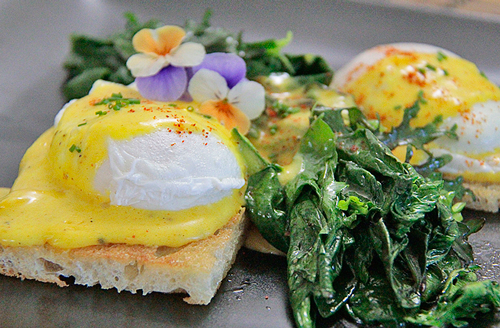 | | | |
| --- | --- | --- |
| Brunch Week: Eggs Florentine with Hollandaise Sauce | | |
Prep time: 10 mins
Cook time: 15 mins
Total time: 25 mins
Ingredients
1 Tbsp lemon juice
4 egg yolks
½ cup melted ghee or clarified butter
Salt and pepper to taste
Pinch of cayenne
1 Tbsp grapeseed oil
1 cup spinach
½ cup young kale
Salt and pepper to taste
1 chibatta bun
2 eggs
2 Tbsp distilled vinegar
½ cup Hollandaise sauce
Chopped chives for garnish
Instructions
Melt the butter and keep it warm, but not hot. It will break the emulsion if too hot.
Whisk the egg yolks in a medium bowl
Slowly add the butter into the egg yolks in a very slow stream while whisking vigorously. Place over a double boiler on a very low simmer while whisking.
Continue to add the butter until you have an emulsified sauce. If the hollandaise ends up too thick, a splash of cold water can help thin it out. If it is too thin, add another yolk and whisk in.
Add lemon juice, cayenne, salt and pepper.
Taste and adjust the seasonings with additional lemon juice or a sprinkle of cayenne, salt and black pepper.
Hollandaise is best served immediately. You can hold it over a warm water bath until you are ready to serve. Be mindful. If it gets to warm, the sauce can break.
Trim the chibatta buns to make them ⅓ inch thick. We used 6×4 inch chibatta buns and sliced all the edges and only used the center. Then we sliced them in half. Save the cut pieces for croutons.
Heat a saute pan to medium, add a little oil and add the chibatta slices. Toast until golden brown and crisp. Remove from pan and set aside.
In a medium sauce pan, place enough water to fill up the pan ¾ of the way. Add vinegar, and bring to a simmer. Once simmering, lower the heat to keep it constant. With a slotted spoon swirl the water mixture to create a whirlpool and carefully drop in the egg into the center of the whirlpool. Let sit until egg white has cooked. About 3 to 4 minutes. Remove from pot with a slotted spoon and drain on a paper towel. Repeat with second egg.
Assembling Eggs Florentine
While waiting for the last egg to finishing poaching, place oil in a saute pan and heat on high. Add kale and spinach and saute until tender. About a minute. Season with salt and pepper.
Place the chibatta toast on the plate with corners touching each the slices.
Top each slice with hollandaise sauce.
Place spinach/kale mix in the center of the plate.
Add eggs on top of each piece of toast.
Drizzle more hollandaise sauce over the eggs and vegetables.
Add chopped chives and a dash of cayenne over the eggs.
Serve immediately.
Enjoy!
I really liked this dish. Some may miss the "bacon part" of this sauce-style presentation. I didn't.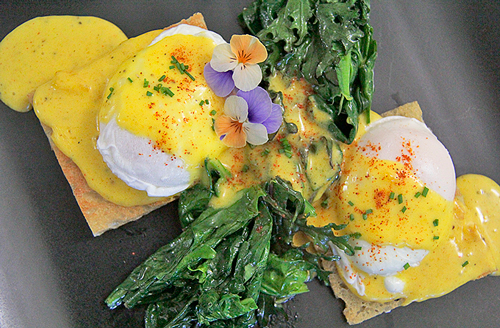 Of course, you can add bacon if you want … better with pancetta, though.