C – This salad almost didn't come together.
Jim went to see our friends at Azolla Farms and brought back a bunch of fruits and vegetables. We were all excited. There was one problem. The refrigerator was full. We couldn't put much in there. What were we supposed to do? Leave some out, but what? Jim thought it was going to be cold enough to leave some of it outside overnight. Who could blame him?
The weatherman predicted 45-degree temperatures outside. Similar to the temperatures in a refrigerator. Of course, it's Sacramento and it didn't get down that far in the early morning. When he checked the lettuce the next day, they were wilted. Oh, no! Was he going to save it? Nope. It was a bit too late. All of the lovely lettuce we got was far too wilted to save. Luckily, we had grocery stores nearby.

The only unfortunate thing is Luke and Jim asked me to go get the lettuce. Luke requested Lola lettuce. "It will be really pretty in this salad." he said. I had never heard of Lola lettuce. Hopefully, the organic grocery store I was going to would have it. When I got there I looked and looked and couldn't find any. Of course, I asked someone.
I guess I should have asked another person. I don't think it was her department. She was as lost as I was. It's one of those Blink moments where you wish you could have scouted another person for a few more seconds before asking. After a few moments of awkward communication, we finally decided we found it.

I got back. I had bought the wrong one. Ugh! I got baby red leaf lettuce instead of Lola. Luckily, I am working with a chef who is flexible. Luke said it was going to be fine and we could use it. It just wasn't going to be quite as pretty. I was relieved .
After the craziness of the lettuce, this salad had to be good. It was. It was really simple. Just Autumn fruits, some fennel and a great tarragon dressing. I really liked it. I always make a salad for my Thanksgiving meal. It's a nice balance to all the heavy things like stuffing, turkey, potatoes and gravy. I really like that this salad didn't take too long, but would really impress people. It's so pretty.
| | | |
| --- | --- | --- |
| Autumn Persimmon, Pomegranate and Fennel Salad | | |
Prep time: 15 mins
Total time: 15 mins
Ingredients
1 head of baby red or Lola leaf lettuce
½ Persimmon, sliced on the thinnest setting on the mandolin
½ fennel, sliced on the thinnest setting on the mandolin
1 shallot, sliced on the thinnest setting on the mandolin
1 Tbsp red wine vinegar
½ cup pomegranate seeds
½ cup raspberries
2 dill sprigs, cut into small pieces
1 Tbsp white wine vinegar
1 Tbsp tarragon
½ shallot, minced
1 Tbsp honey
3 Tbsp olive oil
2 Tbsp goat cheese
Salt and pepper to taste
Instructions
Mix sliced shallots with red wine vinegar. Set aside.
In a small bowl, place white wine vinegar, tarragon, salt, pepper, shallot and honey. Mix well.
Begin drizzling and whisking olive oil into the mixture to make dressing.
In a large mixing bowl, place lettuce, persimmon slices, fennel slices and pickled shallots. Mix well.
Drizzle in some of the vinaigrette into the bowl. Mix well again.
Pull out lettuce leaves from bowl and place on the serving platter.
Pull out persimmons from bowl and place on top of the lettuce leaves. Distributing evenly.
Place fennel slices and shallots onto platter. Distributing them evenly.
Top the platter with pomegranate seeds and raspberries. Distributing them evenly.
Drizzle more of the vinaigrette over the entire salad platter.
Sprinkle dill leaves over top of the platter.
Place small pieces of goat cheese all over the platter.
Sprinkle a small amount of salt over top.
Finish with a grind of fresh pepper.
Serve.
Enjoy!
It's the perfect salad for Autumn. Fruity persimmons, pomegranate and raspberries mingle with the fennel and shallots to make it a great sweet and savory balance. The lettuce was good. Not sure if the Lola lettuce would have added anything different texturally.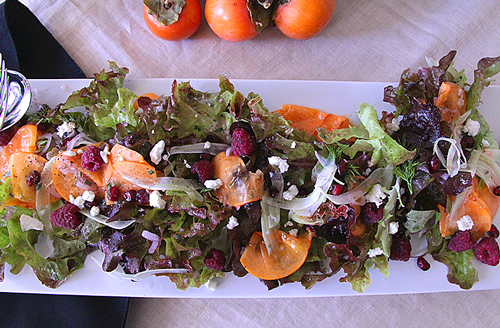 Thanks Luke for a great salad. I am still on the quest to find this Lola lettuce you are talking about. It's driving me crazy.