C – I am a big fan of Brussels sprouts.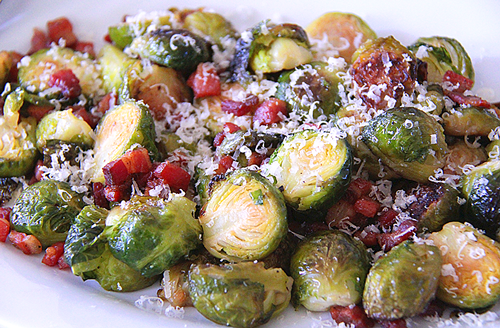 … when they are done right. I think Brussels sprouts can be really tough to cook. Some people suggest to only buy the small sprout because they are easier to cook. I usually do. But, what happens when you can't find the small ones? The store you are in only has the big ones and you need them now.
Buy them and don't worry. They take just one more step. They can be just as good as the little ones.

The problem with Brussels sprouts is that they can be overcooked or undercooked. Both can lead to lots of leftovers that will probably be thrown away. Or, people will cringe while eating them and lie to you that they are good. Yeah, it happens. The overcooked ones can be soggy, stinky and have a bad bitter and sour taste to them. The undercooked ones are usually hard as a rock and tough to eat. They can be flavorless, too.

When Chris took out the Brussels sprouts, I was a bit embarrassed that I bought them so big. Chris reassured me that he was going to make them perfectly. First, trim the ends and cut them in half. Bring a pot of water to a boil and blanch them for 3 to 4 minutes. Their color should change to a bright green. Once done, submerge them in ice water to stop to cooling. When you are ready to finish the Brussels sprouts, coat them with oil, salt and pepper. Place them on a roasting pan and cook until soft. It takes about 15 minutes at 400 degrees.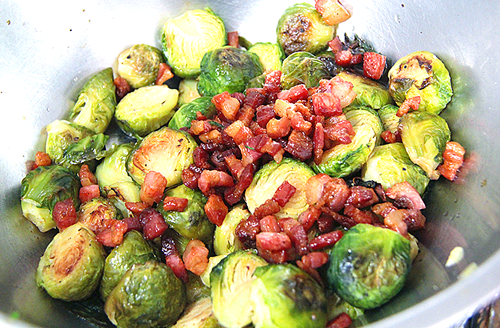 I thought they were going to be overcooked. They were perfect. They were cooked all the way through. All he did to add more flavor was to combine crispy pancetta, a good sprinkle of grated Parmesan and freshly ground black pepper.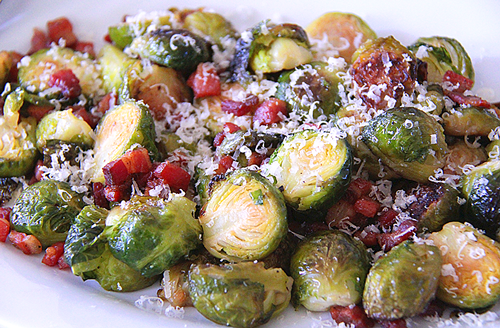 | | | |
| --- | --- | --- |
| Roasted Brussels Spouts with Crisp Pancetta | | |
Prep time: 15 mins
Cook time: 25 mins
Total time: 40 mins
Ingredients
2 pounds Brussels sprouts, large, trimmed and cut in half
1 Tbsp grapeseed oil
¼ pound thick pancetta, cut into small cubes
Parmesan to sprinkle on top
Salt and pepper to taste
Instructions
Bring 4 quarts of water to a rolling boil. Add salt.
Add Brussels sprouts and blanch for 3 to 4 minutes until their color changes to a bright green.
Remove from pot and place immediately in a ice bath to stop the cooking.
Drain and drizzle oil over Brussels sprouts. Add salt and pepper.
Oil a sheet pan and place Brussels sprouts.
Place in a 400 degree oven. Bake for 15 to 20 minutes until golden brown.
Meanwhile, in a saute pan place pancetta and cook until crispy.
Add crispy pancetta to the Brussels sprouts and mix well.
Place on a serving platter. Grate Parmesan cheese over top.
Serve.
Enjoy!
They were amazing. Perfectly cooked. Soft, but not too soft. We ate them hot and cold. They were delicious.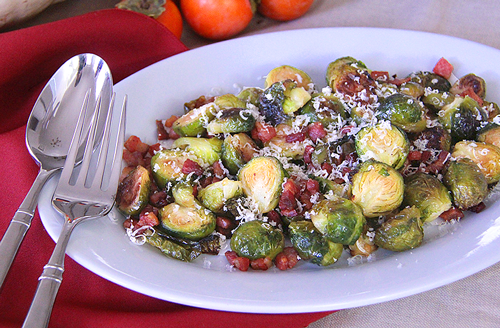 I am so glad Chris taught me how to make perfect Brussels sprouts with big sprouts. Thanks Chris for the great tip.