C – This will be great for little kids to get a sugar high.
All the marshmallowy goodness, fine chocolate and sugar. It's amazing I wasn't jumping off of the ceiling with these. I had to sample a bunch when Jessica made them.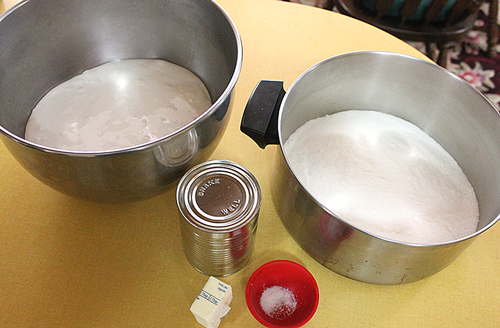 I used to think fudge was made with just two ingredients: chocolate and sweetened condensed milk. I guess I was wrong. I am not really sure what that stuff really is. But, it's not fudge.

After watching Jessica make fudge this week, I found that this is what real fudge should be. It was an easy recipe to follow. The only strange part about it was that we really had to be aware of the time. We had to allow exactly 6 minutes of boiling time for the syrup, no sooner or longer.

As you might remember in the caramel incident a few days ago, we really wanted to make sure it set up right. We really didn't want to have another redo.
This fudge was nice, soft, light and fluffy. It was easy to bite into and didn't stick to your teeth. I think the marshmallow cream really helped with that.
There is a lot of sugar in this recipe also. The best results for serving this fudge is to cut it up into bite-sized pieces. Not huge brownie-sized pieces like the ones in the picture.
It really did give me a sugar high. I think I would like to try making it with dark chocolate to see how it would turn out. Maybe less of a sugar high for me. They are good. But, I would like it a bit less sweet and with more of a strong chocolate taste. Everyone's taste buds are different, of course.
Prep time: 3 hours 20 mins
Cook time: 6 mins
Total time: 3 hours 26 mins
Ingredients
24 oz semi-sweet chocolate
2 cups marshmallow cream
2 cups nuts (optional)
4½ cups sugar
Pinch of salt
2 Tbsp butter
1 can evaporated milk
Instructions
Combine chocolate, marshmallow cream and nuts in a large bowl and reserve.
In a 4 quart pot, combine the sugar, salt, butter and evaporated milk. Boil over medium high heat for 6 minutes.
Pour boiling syrup over the chocolate and mix until all of the chocolate is melted.
Pour into a 9×13" pan lined with enough aluminum to pull out easily. Spread evenly.
Let stand at room temperature for several hours and cut.
Enjoy!
I enjoyed every morsel. Thanks Jessica for making these and showing me what real fudge is.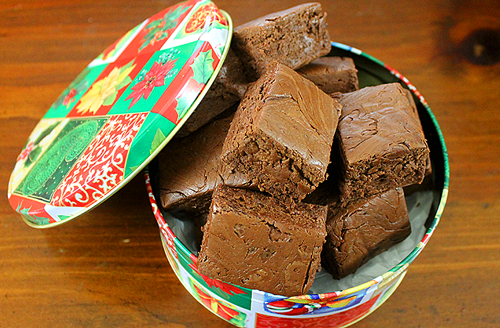 I can see why candy lovers enjoy it.