C – I wanted to call this a red, white and blue lemonade …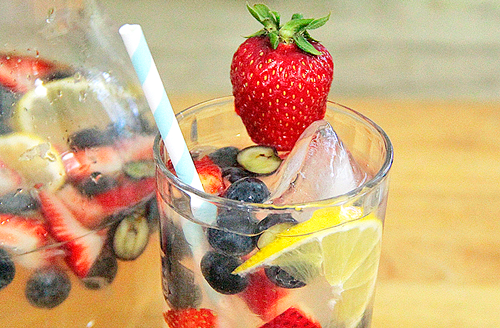 but Nature just had to butt in. The strawberries had to seep into the water and turn the entire thing pink. Oh well, it tasted really good. I guess I don't have to go back to the drawing board for this one.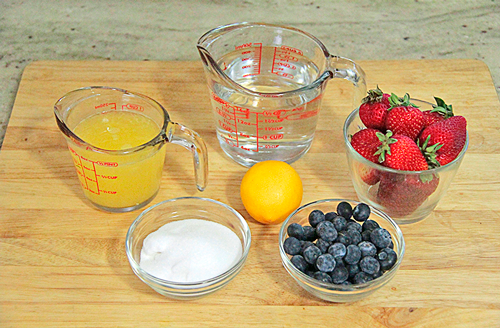 This lemonade is really fruity and delicious.
I couldn't believe how well the strawberries and blueberries shined in this lemonade. It's also not too sweet.

The tartness from the lemons really balances well with the sweet berries and the sugar. It's nice and refreshing on a hot summer day like this.

What a great way to enjoy a summer night without having all the sugar.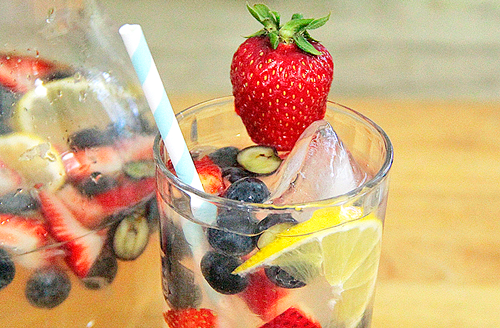 | | | |
| --- | --- | --- |
| 4th of July Week: Blueberry and Strawberry Lemonade | | |
Prep time: 15 mins
Cook time: 5 mins
Total time: 20 mins
Ingredients
½ cup granulated sugar
½ cup water for syrup
1 cup lemon juice
4½ cup water
1 lemon, sliced
5 strawberries, cut into wedges
1 cup blueberries, cut ¼ of them in half
Ice for serving
Instructions
Combine sugar and ½ cup of water into a small sauce pan. Bring to a boil and let the sugar dissolve. Let the simple syrup cool to room temperature.
Add remaining water to a glass pitcher.
Add lemon juice, simple syrup, lemon slices, strawberries and blueberries. Mix well.
Serve with ice.
Enjoy!
Hope you have a great 4th of July.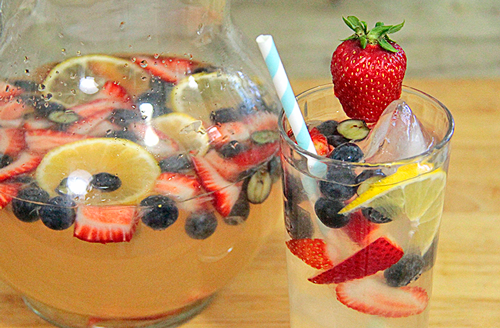 Happy Independence Day!