C – I think Jim is addicted to duck wing confit.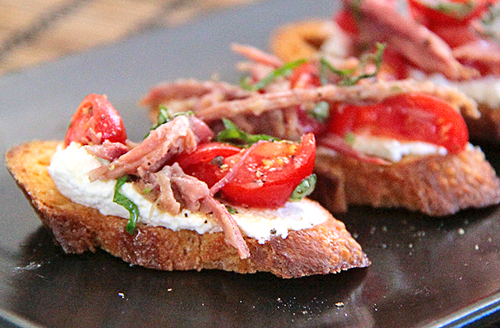 He just loves using it. Of course, he couldn't pass up a chance to use the duck wing confit on our Summer Bistro Menu. This week we wanted to focus on a few menu items that we love to have on a Summer Bistro menu.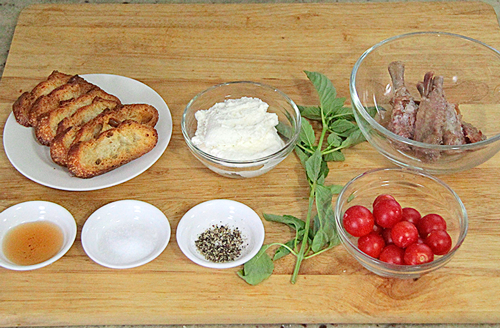 This appetizer would be something we would have, for sure.

Simple and easy-to-make, as long as you have some duck confit on hand. I love the creamy ricotta cheese with the salty, rich duck wings. I also loved the fresh herbs and tomatoes that gave this appetizer a great balance of flavor.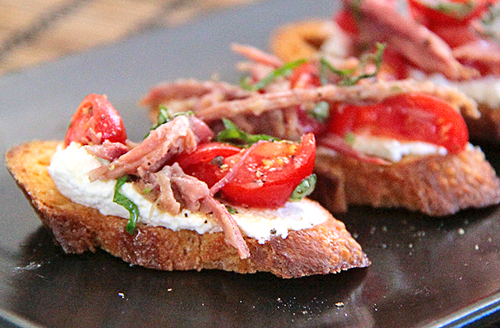 | | | |
| --- | --- | --- |
| Summer Bistro Menu: Duck Wing Confit Bruschetta | | |
Recipe type:
Sides, Snacks
Prep time: 10 mins
Total time: 10 mins
Ingredients
3 duck wing confit, deboned and shredded (recipe link below)
1 tsp red wine vinegar
10 cherry tomatoes, cut into quarters
3 basil leaves, chiffonade
1 tsp fresh oregano, chiffonade
1 Tbsp olive oil
3 Tbsp ricotta cheese
5 crostini, toasted
Instructions
Add salt and pepper to ricotta. Mix well and set aside.
In a bowl, add confit, vinegar, tomatoes, basil, oregano, oil, salt and pepper to taste. Mix well.
Place ricotta on crostini.
Top with confit mixture.
Serve.
Enjoy!
Duck Wing Confit recipe
A perfect Summer dish.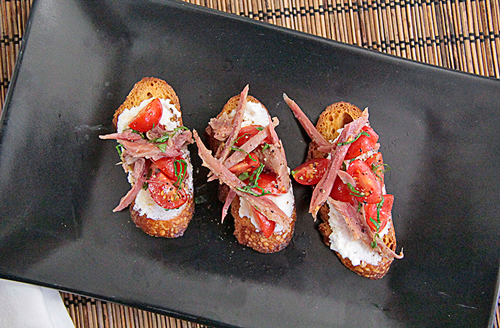 Can't wait to see what's next for Summer Bistro Menu week.