Update and Redux: J – This magic brine revived me from a life-long pit of hating turkey. To me, turkey could never taste rich, flavorful and moist … without pumping it full of all sorts of mystery stuff. I wasn't going there. We had been experimenting with brines for awhile. Last year, we applied our knowledge to turkey brine. It was magic.
J – I didn't start out doing magic …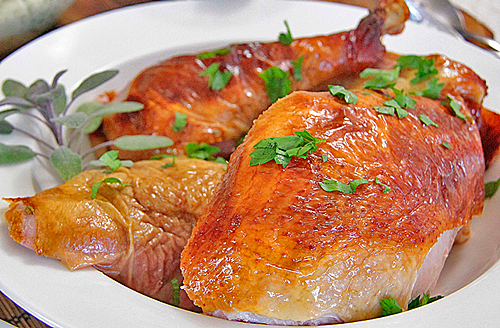 but, I may have begun. Luke's original brine recipe has taken on a life of it's own. In a very good way. I have been adjusting the herbs and seasonings for different proteins and cooking methods. The results are awesome. The most amazing thing is that, now, I actually like fresh roasted turkey with this brine.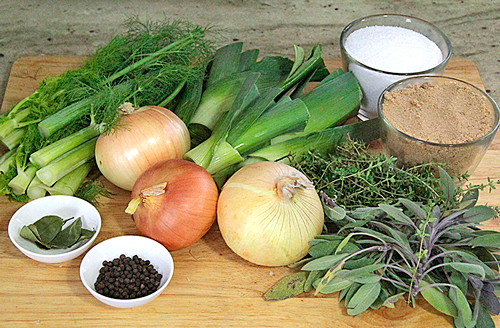 I have NEVER been a fan of turkey. Of course, I'll be nice and eat some "Thanksgiving Food" … to be polite. I never like it. I've tried a ton of brines and roasting methods, without real success. Too dry. Unevenly roasted. Undercooked. Too salty. Bland. Too much trouble.

This year things changed. We've been having great results with Luke's pork brine, trying it on other proteins. And, I've gotten a bit smoking crazy this Summer … another use for the brine.

The original brine recipe is straightforward. I wondered what would happen if I altered the ratios and amounts of herbs and greens in the recipe. The salt and brown sugar percentages needed to stay the same for a given amount of water.

Everything else was fair game. The turkey brine steps it up quite a bit. I've added leek tops, chopped leek, fennel fronds, sage, red and yellow onion and double the amount of thyme. The brine takes on an herbal sweetness that takes turkey to a new level.

Roasting is super easy. After brining for a minimum of 48 hours and then drying thoroughly, you don't do much else. No salt. No pepper. Just a very light bit of canola oil all over. Add some fresh thyme and sage to the body cavity for aromatics. Note: You cannot "overbrine," as long as you keep the salt/sugar amounts correct.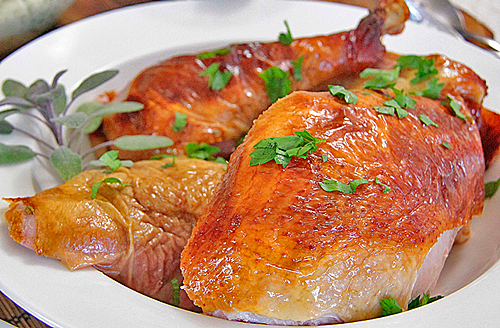 | | | |
| --- | --- | --- |
| Thanksgiving Week: Magic Brine Roast Turkey | | |
Prep time: 50 hours
Cook time: 140 mins
Total time: 52 hours 20 mins
Ingredients
Brine for a 14 Pound Turkey
3 medium yellow onions, peeled and quartered
1 red onion, peeled and quartered
8 fennel stems and fronds, rough chopped
2 leek tops, chopped and washed
2 leeks, chopped and washed
12 sprigs of fresh thyme
6 sprigs of fresh sage
6 bay leaves
18 pepper corns
1½ cups kosher salt
1½ cups golden brown sugar
24 cups water
Instructions
Brine for a 14 Pound Turkey
Place everything into a 16 quart pot
Boil and then simmer for about an hour.
Cool to room temperature, then place in fridge until very cold. This is important.
Place towel-dried turkey into brine.
Refrigerate for 48 hours, covered.
Remove and dry bird. Remove spice bits.
Preheat oven to 450 degrees.
Bring turkey to room temperature, at least 45 minutes.
Place a handful of sage and thyme into body cavity. Tie legs. Tuck wings.
No salt or pepper is needed.
Coat bird lightly with canola oil.
Place is roasting pan, back-side-up.
Roast for 15 minutes. Flip bird.
Roast for 20 minutes.
Reduce oven to 325 degrees.
Roast for 10 to 12 minutes per pound. Check temperature with an instant-read thermometer.
Remove at 155 degrees. Temperature will rise 10 or more degrees while the bird is resting.
Rest at least 20 minutes.
Carve and platter.
Enjoy!
Start roasting in a pre-heated 450 degree oven, back-side up. Flip after 15 minutes. After 20 minutes, reduce oven to 325 degrees and roast for 10 to 12 minutes per pound. Use an instant-read probe to temp it. Remove at 155 degrees. It will rise 10 or more degrees while resting.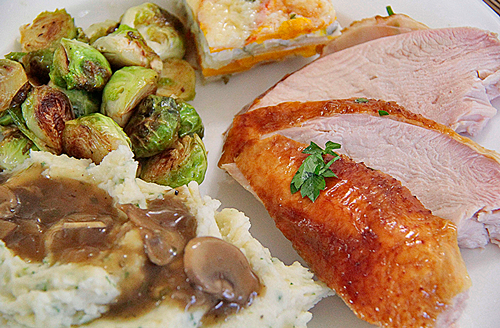 Taste test. Moist. Flavorful. Both white and dark meat. Old friends will drop their jaws in amazement: I like this turkey!