C – I was struggling with ideas.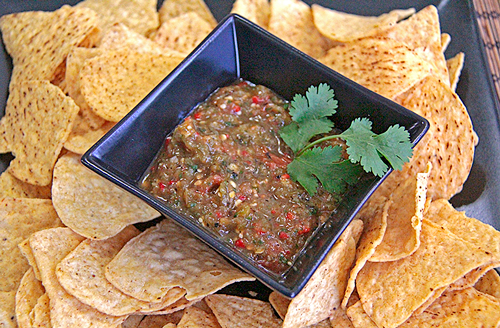 Jim saw how much of a struggle I was having deciding what to bring. I needed to take a break. He suggested making something easier like a side dish. It would still be delicious. I liked the idea, but I felt I wouldn't feel proud of just one side dish.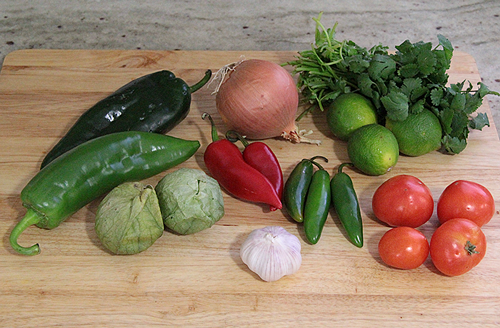 Whew! I guess I needed to take a break.

The last three days were all good ideas. Some easier than others. But, I still wasn't sure if they were the right things to bring. I didn't want to be the girl who always brought chicken wings. Being called the "wing girl" wouldn't be my favorite nickname. Sadly, I know the nickname would stick.

Well, I will have to put that aside for a moment and think through what else I need to bring. I usually bring more than one dish. Just in case someone doesn't like the main dish.

Last year the side was mango salsa. Only one person ate it. I guess no one knew about it. He ate it all. I think he really liked it. This year I wanted to make an easy crowd-pleaser. A roasted green chili tomatillo salsa.

There's always room for dips at these parties. Especially, a good homemade one, versus the store bought kind. Some people love a spicy salsa. Somehow Jim managed to save a few late-season tomatoes from the garden. Luke wanted to help, so he came up with this great creative salsa recipe.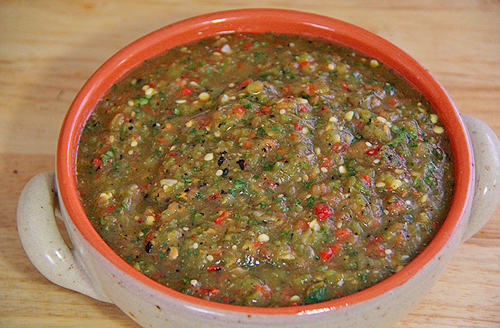 He roasted some chilies over the open flame on the stove top. Covered them with plastic wrap and let them steam. Then, he roasted some tomatoes, tomatillos and garlic in the oven. He peeled the chilies and placed them in a food processor along with the roasted tomatoes and garlic. He added cilantro, lime, salt and pepper. We were done.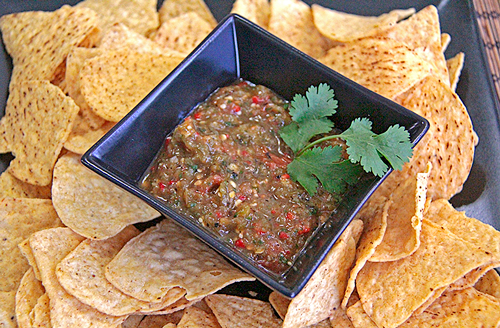 | | | |
| --- | --- | --- |
| Super Football Party Week: Roasted Green Chili Tomatillo Salsa | | |
Recipe type:
Sides, Sauces
Prep time: 20 mins
Cook time: 30 mins
Total time: 50 mins
Ingredients
3 Serrano chilies
1 Poblano chili
2 Fresno chilies
1 Pasilla chili
4 tomatoes
2 tomatillos, peels removed
3 limes
½ bunch cilantro
1 onion
4 cloves garlic
Salt and pepper to taste
Instructions
Preheat oven to 400 degrees.
Place the peppers over an open flame on the stove top. Using a tong rotate the chilies so all sides of the skin darken until black. Place in a bowl. Repeat until all peppers are charred. Cover the bowl in plastic wrap. Set aside for 10 minutes.
Place garlic, tomatoes and tomatillos on a baking sheet lined with parchment paper. Bake for 15 minutes, until tomatoes are soft.
Peel the peppers and remove the tops. Remove seeds if you don't want it to be too spicy.
Place tomatoes, tomatillos and garlic into a food processor. Blend until fine. Place in a bowl.
Peel green peppers and place into the food processor. Blend well.
Add enough lime juice to taste and cilantro into the food processor and blend. Pour into the bowl with the processed tomato mixture.
Add lime, salt and pepper to taste.
Serve with chips.
Enjoy!
It's a delicious and easy salsa anyone can make quickly. It's tastes really fresh. It's like we went to an authentic Mexican restaurant and got this salsa. Your guests will be amazed that you made it from scratch.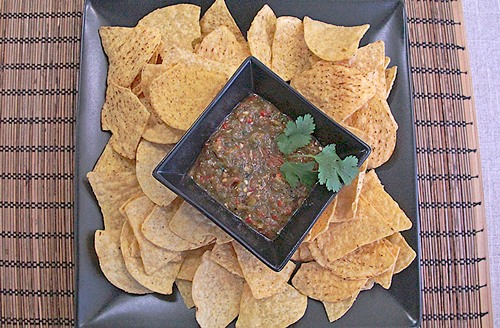 Forget that store bought stuff. Leave that for other people. Make a lot of this salsa. It will go really fast with some thick, Mexican-style tortilla chips.