Update and Redux: J – When Luke first showed us how to make these guys, I was unclear on the nuances of drying vs. roasting tomatoes. What a surprise! Nothing like sun-dried tomatoes, which do still have a roll to play in the Be Mindful. Be Human. kitchen. Nicely, they have been dramatically upstaged by the sublime flavor of oven-roasted ones … now a staple during the season.
C – Good things happen to those who wait … and wait … and wait.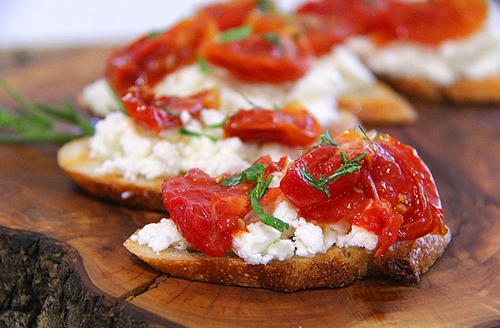 I didn't expect it to take eight hours to make oven roasted tomatoes. Two hours, maybe. Never eight hours. Luke forgot to give me this one detail when he suggested making these for tomato week.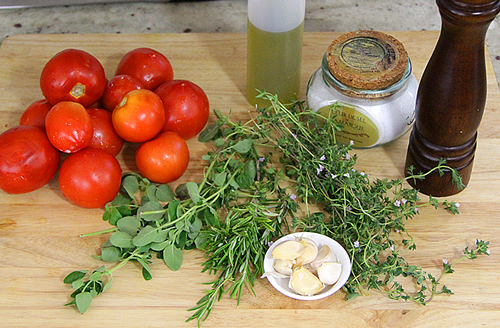 Such a simple process. Throw a few tomatoes in with some herbs, oil and bake. But at 150 degrees, it's brutal. The house smells amazing. It smells like a great Italian restaurant. The smell of rosemary, thyme, garlic and oregano made me want to open the oven and just dive in. PATIENCE!

I need to be mindful and maybe sit on my hands for this one. I kept on wanting to open the oven to check on them. Are they done yet? I really wanted one so badly. Gorgeous shriveled-looking things just made me wonder what they were going to taste like.

When time came to taste, I was so happy I waited. This was definitely a good thing. The tomatoes we roasted were already sweet and delicious to begin with. Once roasted, the sweetness was infused with garlic and herbs and made these tomatoes even better. They were concentrated goodness. I loved the intense flavor.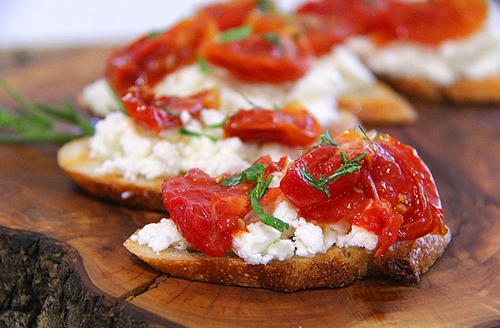 Prep time: 15 mins
Cook time: 8 hours
Total time: 8 hours 15 mins
Ingredients
1 pound tomatoes, cut in half
5 garlic cloves, crushed
¼ cup fresh oregano
¼ cup rosemary
¼ cup thyme
¼ cup olive oil
1 tablespoon salt
Fresh ground black pepper to taste
Instructions
Preheat oven to 150 degrees.
Add garlic, herbs, tomatoes, salt and pepper to a large bowl.
Toss well and place on a baking sheet lined with parchment paper.
Place in oven on middle rack. Bake for 8 hours, or until dried on the outside. They should still feel moist on the inside. If overcooked, they will turn into sun-dried tomatoes.
Refrigerate in a jar in canola oil for up to one month.
Serve with crostini and goat cheese.
Enjoy!
I would have loved to eat them all by themselves, but Jim wanted more. Jim wanted to make them into a salsa. I thought it would have been a waste to do so. Gorgeous little pieces of shriveled up tomatoes being blended up and masked with hot peppers and lime? I don't think so. If that was going to happen, I would hide them from him somehow.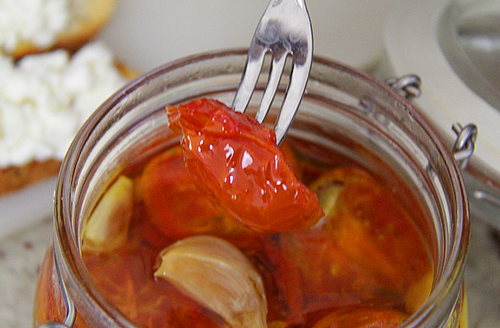 I wanted these little guys to be front and center in my next meal. I thought a tapas dish with bread would be perfect. Jim wanted some ricotta cheese to add to it. I was fine with that. It could be optional for me. I like mine plain and simple … right out of the jar.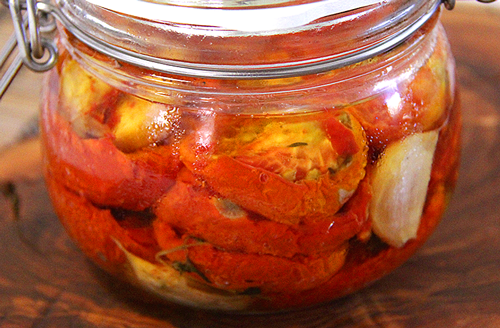 These roasted tomatoes were great. A simple way to celebrate tomato week. It just took a little time to reap the benefits. Thanks, Luke, for showing us the way.