Update and Redux: J – I love these smoked ribs … no matter that St. Louis is not playing on Sunday. They are a perfect football party food. Make them ahead and reheat at game time. Remember to get several racks. Last time we made them, Christina was very disappointed when she turned around for a minute and they were gone.
C – It's a week full of smoking!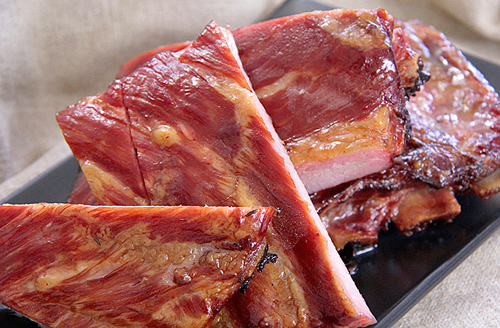 No, not that kind of smoking. I am completely against that. We are smoking meat! And, fish! And, veggies! I wasn't too excited, until I had to get down and dirty and actually smoke some meat. It was easier than I thought. I had lots of fun.
It doesn't seem like an impossible task for me anymore. I used to let Jim and Luke take care of the smoking stuff. It seemed like a daunting task to me.

Once we started, all we needed to make sure was the coals were burning well and we had the right amount of wood chips for smoking. We have had issues before with having too much smoke in our meats. Just making sure not to have too much smoke in the smoker was the solution.

These St. Louis smoked ribs were great. These ribs came out perfectly smoked and flavorful. I was amazed and addicted. I was completely addicted to everything smoke week had to offer me.

Wow. These were amazing. Now I wished we smoked two racks of these ribs. Ten pieces of ribs just wasn't enough for the three of us.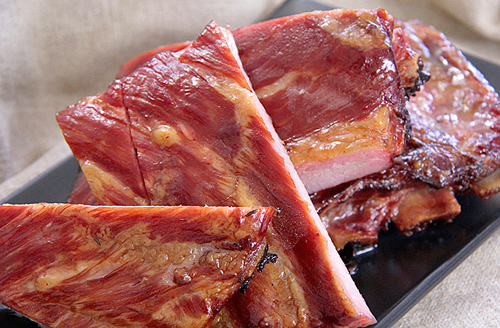 | | | |
| --- | --- | --- |
| Smoke Week: St. Louis-Style Smoked Ribs | | |
Prep time: 24 hours
Cook time: 4 hours
Total time: 28 hours
Ingredients
1 rack of St. Louis-style pork ribs with riblets removed
8 cups water
½ cup brown sugar
½ cup kosher salt
2 bay leaves
1 Tbsp peppercorns
5 sprigs of thyme
1 leek, green leaves only
Instructions
Place water, sugar, salt, bay leaves, peppercorns and leeks in a pot and bring to a boil. Boil for 5 minutes and turn off heat.
Let cool to room temperature. If you want to make it cool faster, place a tray of ice cubes and place in the refrigerator for about 1 hour.
Add ribs into brine. Cover and refrigerate overnight.
Remove from brine and bring to room temperature. Wipe off any excess liquid.
Place soaked mesquite wood chips on smoker Keep the smoker at 200 degrees. Add charcoal and soaked chips as needed.
Place ribs on smoker. Smoke for about 3 to 4 hours, or until pork is cooked. About 150 degrees.
Let rest for 15 to 20 minutes.
Cut in between the bones and serve.
Enjoy!
Jim and I were both surprised we didn't need to slather BBQ sauce all over them. I am so glad we tasted them before throwing on BBQ sauce. It would have been a huge mistake if we did. Just a good brine is all we needed for good flavor. The smoke and the salty sweet brine really shined throughout the meat.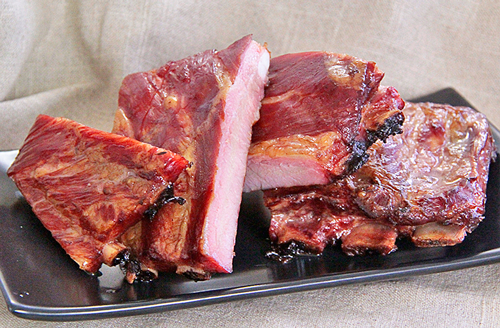 I can't wait to share with you more of the stuff we made this week. It was hands down the most laid back cooking week we've had in a while. We just let the smoker do all the work.