C – Make sure you have plenty of bread or pita chips for dipping.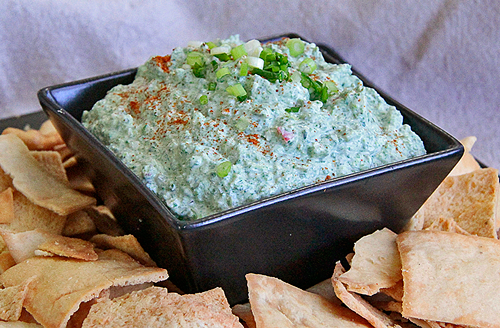 I was surprised how good this healthy spinach dip was going to be. I was a little reluctant, since I do love making things with full fat ingredients. But. this time, I wanted to be a little mindful.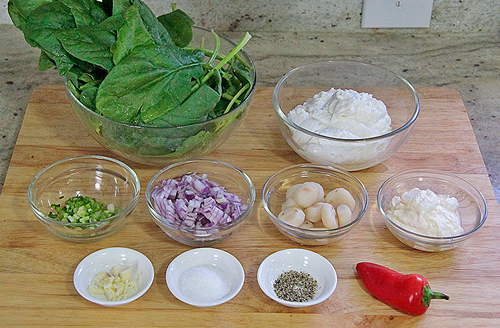 I always hated the fact that most spinach dips are not very good for you. It's not healthy. Usually full of fat and gooey cheese and really dense. Of course, that's why it tastes so good.
I am always drawn to the spinach dip bowl. The green is deceiving. I need to do something different at this years party. I am bringing the dip and no one will need to know it's healthy.

As long as it tastes good, people will eat it. People will usually try everything at the party at least once.
This is a dip they will come back to for more. I know it. The secret ingredient is replacing the sour cream with Greek yogurt and reducing the mayonnaise by about half. It will still be good.

Just use a good Greek yogurt that doesn't have a too-strong yogurt taste. You'll be fine.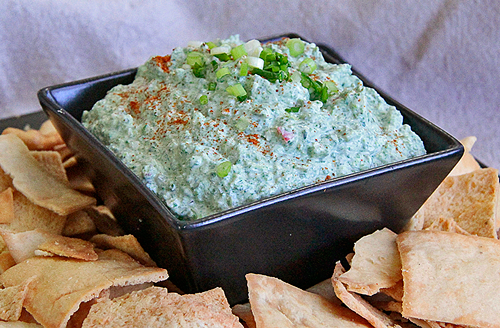 | | | |
| --- | --- | --- |
| Super Bowl Week: Healthy Spinach Dip | | |
Recipe type:
Snacks, Sides
Prep time: 15 mins
Cook time: 1 min
Total time: 16 mins
Ingredients
1 Tbsp grapeseed oil
1 bunch fresh spinach, rinsed well, ends trimmed
½ red onion, chopped
2 cloves garlic, minced
1 Fresno chili, seeds and stem removed, chopped
Salt and pepper to taste
16 oz 2% Greek yogurt (we used Fage)
¼ cup mayonnaise
4 oz water chestnuts drained, chopped
2 green onions, chopped, plus more for garnish
Sprinkle of Cayenne pepper for garnish
Instructions
Bring a large pot of water to a boil with salt. Blanch for one minute and drain.
Let cool and set a side.
In a saute pan, add grapeseed oil heat on medium high.
Add red onions and saute until soft. Add a pinch of salt and pepper.
Add garlic and Fresno chili. Saute until soft. About a minute. Remove from heat and set aside.
Completely squeeze out all the liquid from the blanched spinach. Place in food processor and chop until fine.
Add yogurt and mayonnaise. Blend until incorporated.
Add onion mixture, green onions and water chestnuts into food processor. Pulse a few times to mix, but not to chop too finely.
Place mixture into a bowl.
Season with salt and pepper.
Cover and place in the refrigerator for at least an hour before serving.
Once ready to serve, place in a bowl on a serving platter. Garnish with green onions and a sprinkle of Cayenne pepper.
Serve with bread or pita chips.
Enjoy!
I really enjoyed this dip. I ate half a bag of pita chips with it. There goes the being healthy part.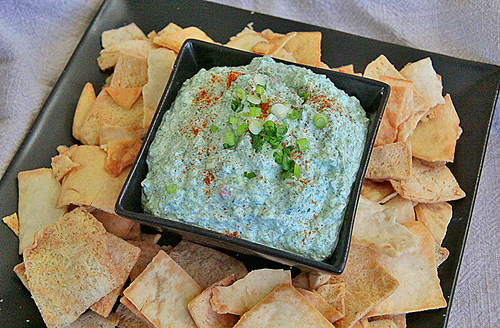 Oh well, a least I am not cramming in a whole lot of calories and fat with the chips.