C – I wonder what our neighbors think of us.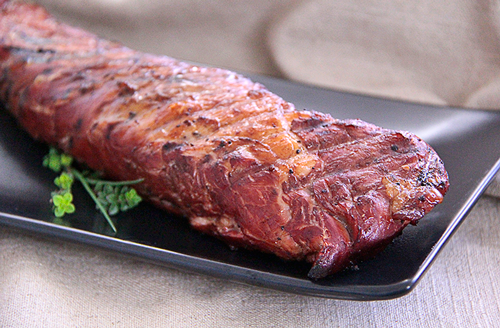 It always smells like food around the neighborhood because of us. Sometimes, I can hear a few of them talking when they walk by the Be Mindful. Be Human. kitchen window.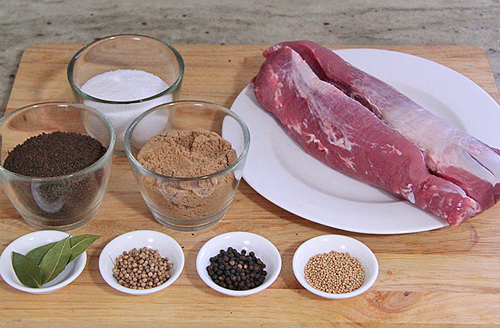 "Hmmm … bacon."
"Yumm … cookies."

I wonder what they were thinking when they smelled smoke week in the works.

The entire neighborhood could smell it. Yup. It all started at 10am and ended at 6pm. We started with a nice, delightful tea smell.

Luke, Jim and I were all surprised at how wonderful the black tea smoke was. I was in smokey heaven.

I just loved the Orange Peoke tea smell burning from the smoker. It was light and sweet. A unique smell. If our neighbors passed by, I don't think they would know what the smell was. But, I am sure they would be jealous.

As for the taste of this tea smoked pork tenderloin, I couldn't stop eating it. It was a rich, delicious and juicy piece of smokey heaven. The smokiness was light. It didn't overpower the wonderful flavor of the tea-infused brine.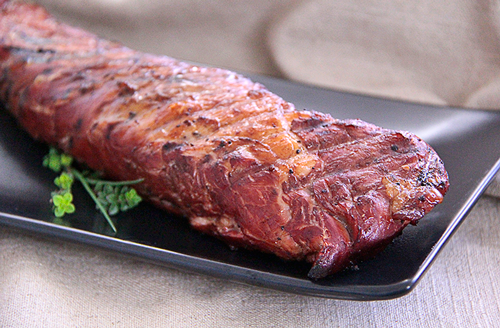 | | | |
| --- | --- | --- |
| Smoke Week: Tea-Smoked Pork Tenderloin | | |
Prep time: 21 hours
Cook time: 2 hours
Total time: 23 hours
Ingredients
1 gallon water
1 cup brown sugar
1 cup kosher salt
1 Tbsp mustard seed
1 Tbsp black peppercorns
1 Tbsp coriander seed
4 bay leaves
1 cup black tea
1 cup black tea
½ cup white sugar
½ cup kosher salt
Instructions
Place all ingredients in a pot. Bring to boil, then cool to room temperature.
Pour cooled brine into a half hotel pan. Add 2 pork tenderloins and cover. Brine in refrigerator for 8 hrs
Remove pork from brine. Place on a rack uncovered inside the refrigerator and let air dry for 12 hours. This will allow the smoke to stick to the pork.
Remove from refrigerator and let meat come to room temperature before smoking.
Mix ingredients in bowl
Make a packet with two layers of foil.
Put smoking mixture into the foil packet and close it. Poke holes in top of packet.
Place the packet directly on the charcoal in the grill, or directly on top of the heating element of your smoker. DO NOT try this in an inside oven!
Make another pack, if the tea smoke smell is gone and the meat isn't finished cooking.
Smoke until meat is done. About 2 hours or until the internal temperature is 140 degrees.
Let cool for 20 minutes before slicing.
Serve in sandwiches or eat by itself.
Enjoy!
Wow! I loved it. The tea smoke created a nice pink ring around the meat.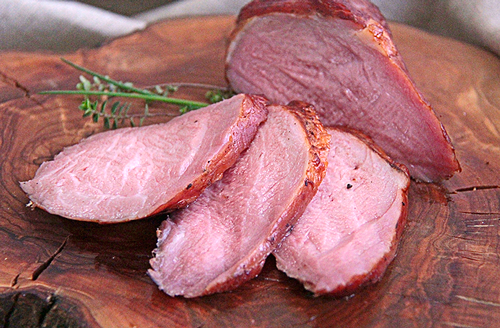 If only the neighbors really knew what the tastes were in this kitchen. There would be a line forming.
Adapted from: http://www.teatulia.com/recipes/tea-smoked-pork-tenderloin.htm