Update and Redux: C – Shrimp is America's favorite seafood. It's also my favorite. It's easy to work with and really delicious. One of my favorite ways to eat shrimp is by making these shrimp eggrolls. Only two ingredients/ It's really fast to make.
C – Want to make something that is simple AND amazing?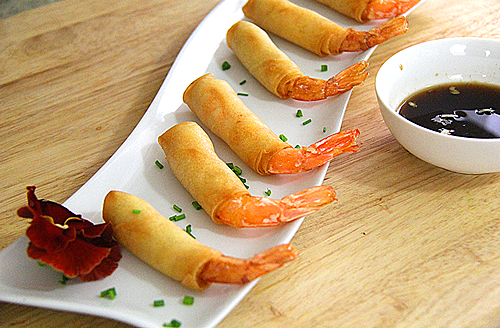 Shrimp Egg Rolls. This dish only requires four ingredients. If you are a shrimp fan, like I am, this is a great recipe. Looking for something that is easy to make? Will impress your guests? This is the recipe for you.
My family loves my Cambodian egg rolls. But, sometimes we run out of stuffing before I can finish the entire package of wrappers. Each package usually contains 25 to 30. Estimating how much stuffing is needed can be a bit of a challenge. My mom will occasionally rolls sandwich meat with the remaining wrappers.

I really hate that. I usually end up guessing which ones are the non-sandwich meat ones … and guess wrong. Meaning, I have to eat some with the sandwich meat. YUCK!

That's when frozen shrimp comes to the rescue. These shrimp egg rolls are fun, because the tails stick out and you don't have to guess. That means the people in my family who are allergic to shrimp won't get an allergic reaction when biting into a shrimp egg roll.

One entire shrimp gets rolled up in a wrapper and shows the shrimp tail. Its really fun to see. The best part is eating an entire shrimp with a crispy "shell." So good. They taste really good with that sweet soy dipping sauce I made earlier.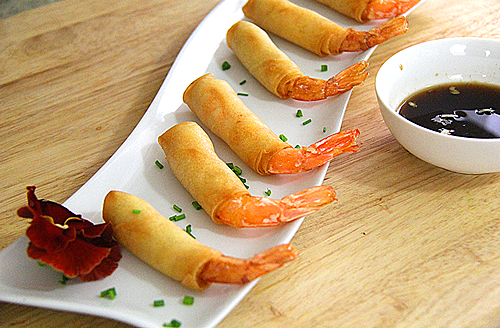 Prep time: 6 mins
Cook time: 10 mins
Total time: 16 mins
Ingredients
25 spring egg roll wrappers, cut into triangles
50 shrimp, the larger the better, deveined and peeled with tails left on
1 egg yolk
2 cups canola oil
Instructions
Place egg roll wrapper in front of you with one point of the long side of the wrapper towards you.
Place shrimp ¼ of the way onto the wrapper on the long side.
Fold bottom edge of the wrapper over the shrimp and begin to roll.
Stop half way.
Fold the edge over to meet the shrimp.
Continue rolling until you meet the end of the wrapper.
Place a small dollop of egg yolk on the edge of the wrapper.
Repeat wrapping until all shrimp and wraps are done.
In a large saute pan place ½ inch of oil. About 2 cups.
Heat on medium until warm and begins to have tiny bubbles when a chop stick tip is placed in the oil.
Place egg rolls in slowly until pan is filled. Do not crowd. Cook until golden brown and shrimp is fully cooked. About 3 minutes on each side.
Remove from pan and place on paper towel to catch any excess oil.
Serve with sweet dipping sauce
Enjoy!
As long as you have enough shrimp in the freezer, you won't have to worry about throwing away egg roll wrappers.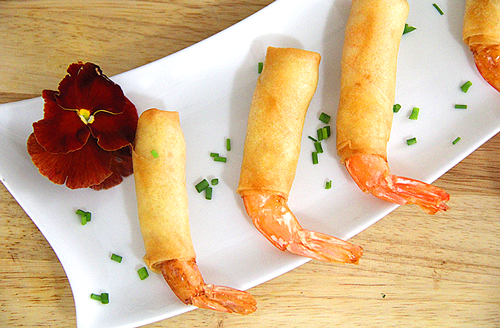 Simple, easy and a crowd pleaser. You can't lose.