C – Egg rolls are my favorite food of all time.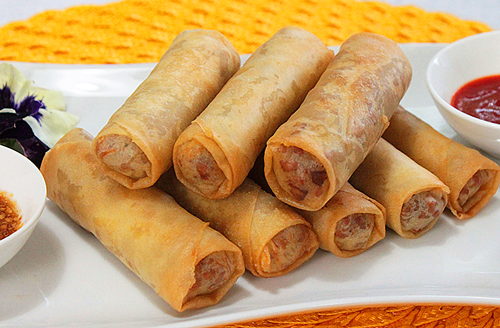 I could eat them all day. When I moved out of my parent's house, this was the first thing I made to celebrate. I ate an entire batch all by myself. I had the biggest stomach ache after eating 25 of these egg rolls in one sitting, but it was well worth it.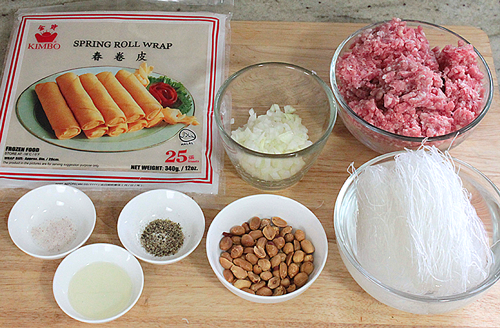 Egg rolls have been a big part of my life. It was the first thing I ever learned to make. I have become a master at rolling them. From the age of seven, I have been sitting next to my mom, aunts and grandmother peeling egg roll sheets and watching them roll cute little crunchy packets. I loved them and I couldn't get enough.

When my mom finally trusted me to roll up egg rolls at the age of 12, I was already a master. It was one of the only things my grandmother would talk about. She was always in awe of my nice craftsmanship. I always seemed to roll them perfectly uniform. There wasn't many that were ever too big or too small.

One important thing that every single person advised me to do was tightly wrap the egg rolls. Loosely wrapped egg rolls can cause oil to seep in and can lead to greasy and soggy egg rolls. My egg rolls are always crispy when they come out of the frying pan.

In the last few years, rolling them wasn't my issue. It was the filling inside. Most egg rolls I buy or eat at restaurants are filled with lots of cabbage and little to no meat. I hate these egg rolls with a vengeance.

My mom loves vegetables in her egg rolls, but no one else does. I am catering to my family's needs more than her's these days.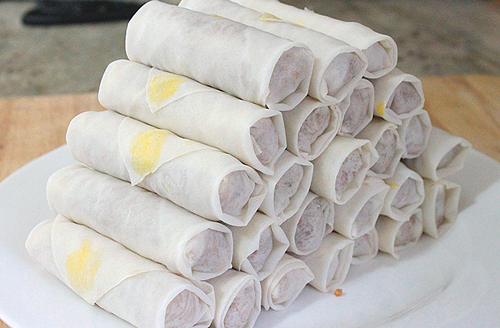 When making egg rolls, meat can be a little expensive. You really want some form of filler to keep the price reasonable. I figured it out.
The best fillers are the ones that you can't really taste. Clear glass noodles are the best. Mushrooms are also good. These fillers absorb the flavor of the meat and seasonings nicely, and add a soft texture to the egg rolls. It creates the perfect balance to the crispy exterior.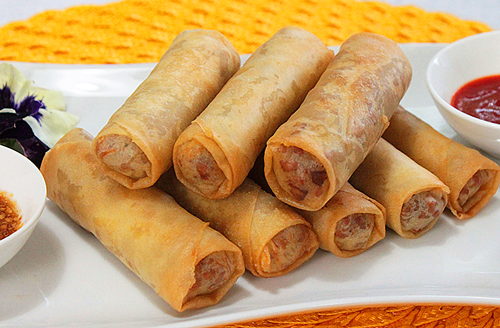 Prep time: 45 mins
Cook time: 30 mins
Total time: 1 hour 15 mins
Ingredients
1 frozen spring roll wrap (found at any Asian store in the frozen food section)
1 Tbsp canola oil
1 pound ground pork
¼ cup white onions, chopped
¼ cup roasted peanuts
Salt and pepper to taste
3 bundles clear glass noodles, soaked in cold water
1 egg yolk
Instructions
Remove spring roll wraps from freezer and place on counter in their original plastic packaging to thaw 20 minutes before starting the rolls. (Any less time may cause the wraps to accumulate pools of water and ruin them. Removing wraps from their original packaging will cause the wraps to be hard and brittle hand difficult to work with.)
In a mortar and pestle, or a food processor, grind peanuts into small pieces. Set aside.
Using kitchen shears, cut glass noodle into ½ inch pieces. Set aside.
In a large saute pan, add canola oil to pan and heat on medium high.
Add ground pork. Cook until done. Make sure to break up the pork into small pieces while it is cooking. Takes about 7 minutes
Add onions and cook until soft, about 2 minutes.
Add salt and pepper to taste.
Add glass noodles and cook until soft, about 1 minute.
Add peanuts and mix well.
Place mixture into a bowl to cool.
Remove spring roll wraps from packaging. Pull each wrap out carefully, making sure not to rip them.
Place egg yolk in a small bowl.
Place a single wrap in front of you with one of the points toward you.
Place a large spoonful of the meat mixture near the corner closest to you.
Bring the corner closest to you up and start to roll.
Fold both sides into the middle.
Finish rolling until just the last tip shows. Make sure the filling is packed tightly while rolling.
While holding the almost-finished roll, use an index finger to dab a bit of yolk on and brush it on to the remaining tip of the wrap.
Seal to close.
Repeat until all wraps and filling is gone.
In a large saute pan, place 1 inch of canola oil and heat on medium high.
Test oil by inserting the tip of a chopstick to see if it is warm enough. The oil is hot enough when chopstick starts to bubble.
Slowly add egg rolls to pan, one at a time. Do not crowd pan.
Cook egg rolls until golden brown, turning once, about 2-3 minutes total. Remove from pan and place on a paper towel to catch all the oil.
Serve immediately with dipping sauces or eat plain.
Enjoy!
I love making egg rolls. They hold such a special place in my life. I am so grateful my mom and grandmother taught me how to make them.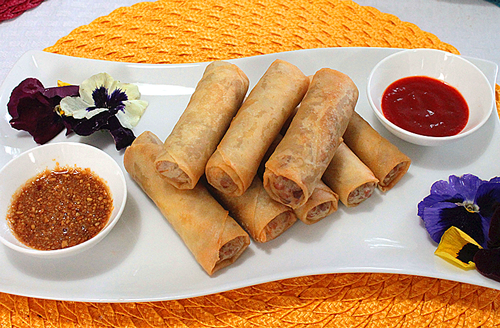 If it weren't for these egg rolls, I don't think I would be the cook I am today.