C – Some things take awhile to like.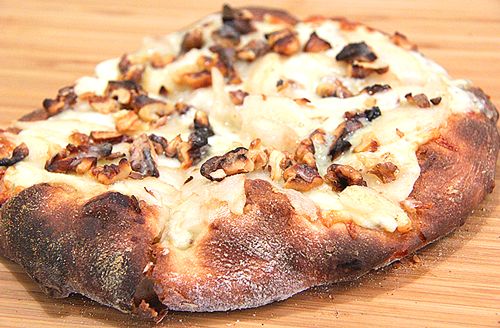 For me, blue cheese has been one of them. I've always hated blue cheese dressing and any type of salad with blue cheese in it. Hot wings with blue cheese? No, thanks. Blue cheese is moldy cheese. The blue part is mold. I hated that horrible taste of mold. It's too unique for me.
Blue cheese also smells bad. I know, you're probably going to comment that stinky cheeses are the best tasting cheeses. For me, that can be questionable. It's an acquired taste.

A few years ago, I told Jim about my dislike of blue cheese. Jim knew I hadn't had a good piece of blue cheese. He said that I needed to get to know my blue cheeses, before I put them all into a bad classification. He was right. I guess there are different types of blue cheeses. Some have a mild, moldy taste and some have a strong taste. I guess I've only had the strong ones.

So, when Luke suggested I make a blue cheese, walnut and pear pizza, I was reluctant. Yuck! BLUE CHEESE, I thought. I didn't want to tell him that I didn't like it. I can't always cater to the things I like. Jim and Luke liked it, so I had to try it again.

Jim bought a Maytag Blue Cheese. It's not particularly mild. It doesn't really have a strong moldy taste, either. It's somewhere in the middle. In the pizza, I knew there was blue cheese in it … but not a lot.

I actually liked this pizza. I loved the ripe, sweet pear that helped balance out the saltiness of the blue cheese. The walnuts were also great. They added an extra crunch that made it interesting and enjoyable.

If I saw this on a restaurant menu, I would easily look past it. But, since I was making it, I thought of it as a good experiment in cheese tasting.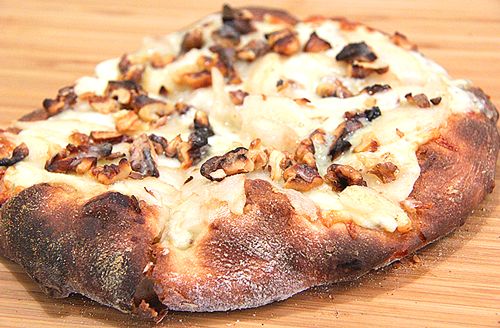 | | | |
| --- | --- | --- |
| Pizza Week: Blue Cheese, Pear and Walnut Pizza | | |
Prep time: 15 mins
Cook time: 12 mins
Total time: 27 mins
Ingredients
2 cloves garlic, minced
1 Tbsp Dijon mustard
2 sprigs fresh rosemary, chopped
¼ cup white wine vinegar
½ cup olive oil
¼ cup crumbled blue cheese
Salt and pepper to taste
¼ pizza dough recipe (link below)
¼ cup crumbled blue cheese
⅓ cup shredded mozzarella cheese
2 pears, peeled, cored and sliced
¼ cup slightly toasted walnut pieces. Don't over toast. Walnuts can burn when placed on the pizza.
Instructions
Combine the garlic, Dijon mustard, rosemary, and vinegar in a food processor or blender. Turn on, and drizzle in the olive oil slowly until the dressing has thickened. Quickly pulse in ¼ cup of blue cheese; season to taste with salt and pepper.
Preheat an oven to 500 degrees
Place the pizza crust on a pizza pan. Bake in the preheated oven until just crisp, about 5 minutes.
Spread the vinaigrette over the pizza crust. Sprinkle ¼ cup of blue cheese evenly over the crust, followed by the mozzarella cheese.
Arrange the sliced pears over the cheese, and sprinkle with the toasted walnuts.
Bake in the preheated oven until the cheese has melted and is bubbly. About 6 minutes.
Let cool for before cutting into slices.
Serve immediately.
Enjoy!
Pizza Dough recipe
Jim and Luke are opening my mind and taste buds to things that I may not have liked before.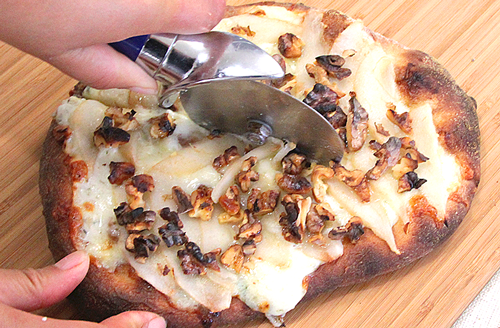 Thanks guys for showing me the way.
Adapted from: http://allrecipes.com/recipe/blue-cheese-walnut-and-pear-pizza/