C – I was in sausage meat heaven!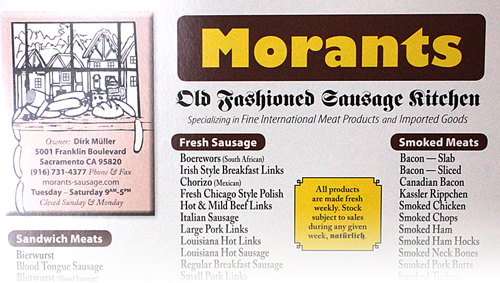 Luke, Jim and I were out on a quest. We were out to "find our own local." Luke couldn't wait to show us Morant's Old Fashioned Sausage Kitchen in Sacramento. When we got there I was a bit overwhelmed by the amount of meat product they had available. The selection seemed endless.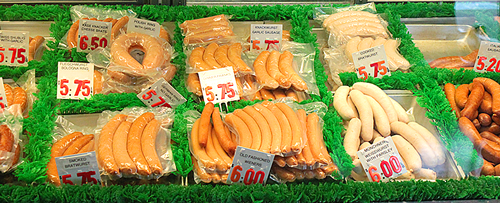 There were over 30 different types of sausage, and so many different fresh, smoked meats, German cold cuts and deli items. It was a chefs/cooks dream. There were smoked sausages like Andoulle, Basque Chorizo, hot links, linguisa, etc. Fresh sausages like Boerewors (South African) Irish-style breakfast links, Polish, and Italian. And cooked like British Bangers, Munchener Weibwurst and potato sausage (Swedish).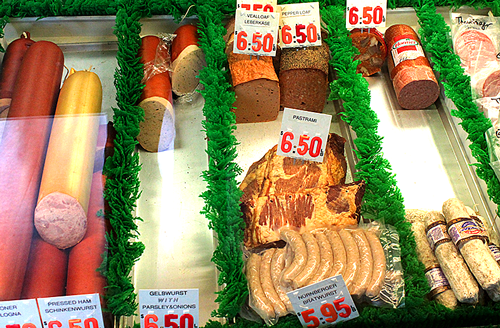 Even better, they make their own bacon slabs which can be sliced to order. You can even bring your own pork and they can make your own bacon. I couldn't believe how much they had to offer. They were really affordable too. I couldn't wait to get my hands on a few.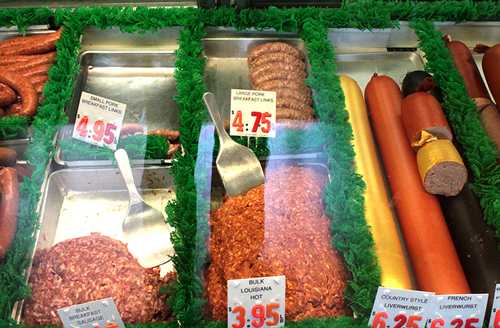 I was so glad we went there early. We were able to meet Dirk Muller, the owner. He was cutting up sandwich meat in preparation for the lunch crowd. He's a talented guy who has won awards for his sausages. This is the place to go for authentic German sausage meat in Sacramento. I was so happy that he was local and looking to provide quality products to us.
I couldn't wait to try some. Tomorrow we're making Louisiana Hot Sausage with Polenta.
Morant's Old Fashioned Sausage Kitchen
5001 Franklin Boulevard
Sacramento, CA 95820
(916) 731-4377