C – We were on a quest for local sausage.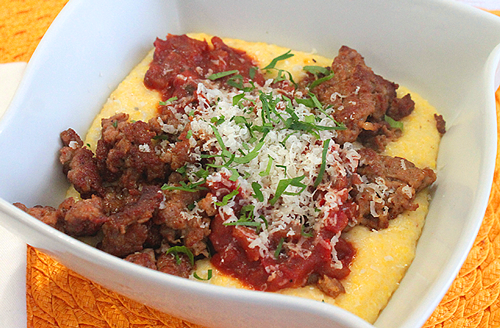 Luke took us to Morant's Old Fashioned Sausage Kitchen. We decided to try some Louisiana hot sausage meat from a suggestion by Anne, one of Luke's chef friends. We happened to bump into her when we were there. She suggested Louisiana hot sausage meat with tomato sauce and polenta. It's a nice and easy, but rich and filling dish you can make in just a few minutes.

Cooked polenta, topped with Louisiana hot sausage meat, our Easy Thick Tomato Sauce and sprinkled with Parmesan Reggiano and chiffonade basil. It was the perfect quick dish.

Creamy polenta topped with crispy Louisiana hot sausage. What a great combination. The Louisiana hot sausage meat really shined. It had the perfect amount of seasoning when you ate it with the polenta. It had a bit of spice, but it wasn't too spicy.

I was surprised it wasn't spicy like normal hot links. It allowed me to eat a lot of it. Big plus. The sweet and tart tomato sauce really allowed the dish to balance its flavors well with the sausage. Now, I can't wait to try more of their sausage.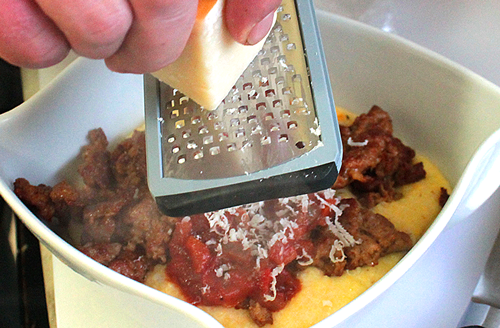 If your in the mood to taste great sausage in Sacramento go to Morant's. It's where all of the chefs go to find good sausage.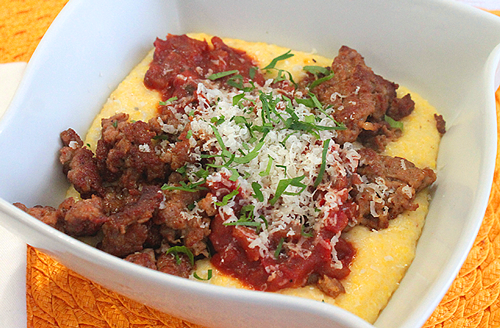 | | | |
| --- | --- | --- |
| Louisiana Hot Sausage with Polenta | | |
Prep time: 5 mins
Cook time: 15 mins
Total time: 20 mins
Ingredients
3 cups water
1 cup polenta, uncooked
½ pound Louisiana hot sausage meat
½ pint Easy Thick Tomato Sauce
¼ cup Parmesan Reggiano to garnish
Basil, chiffonade, to garnish
Instructions
Boil 3 cups of water, add polenta and cook according to package instructions.
In a saute pan cook, Louisiana hot sausage meat, breaking down meat to ground meat consistency. Cook for about 10 minutes. Remove from pan and set aside.
In the same saute pan. Heat tomato sauce until warm.
In a bowl place, cooked polenta on the bottom.
Top with Louisiana hot sausage meat.
On top of Louisiana hot sausage meat, add a few spoonfuls of tomato sauce.
Garnish with Parmesan Reggiano and basil.
Serve.
Enjoy!
Easy Thick Tomato Sauce recipe
If your not in Sacramento, it's a great time to explore your town and find your own local sources.
Thanks, Anne, for the sausage tip and Luke for the great dish.