C — Luke and Jim are cooking and I don't have to do anything.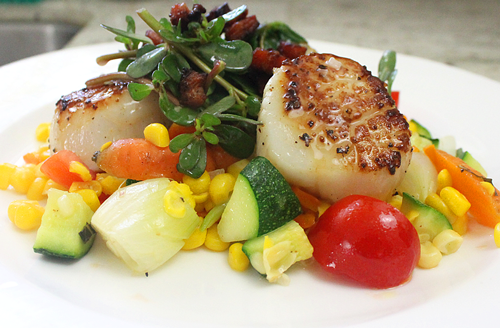 Well… except document it with pictures. Jim and Luke went to the farmers market yesterday and got a whole bunch of veggies to make lunch. They kind of buddied-up and didn't include me in the shopping. Well, fine by me! That just means I don't have to cook. After a long weekend and an ordeal using every plate in the kitchen for Monday's and Tuesday's recipes, I am ready to just sit back, relax and take pictures.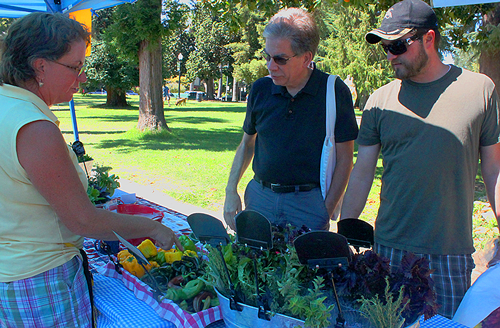 Well, now Luke is here and he's early! I guess he is really excited to be here cooking and being apart of the BMBH blog. He's such a natural in the kitchen. He's so fast at everything, too. He just started pulling things out of the refrigerator and getting the prep done before I knew it. I almost got whiplash. I could barely get my camera turned on before he was done shucking the corn. He didn't want me to take an embarrassing shot of him shucking corn. So, I was nice and didn't. Word of warning, though, Luke. There will be lots of embarrassing shots of you. Promise!

After watching Luke in the kitchen I was kind of jealous. His knife skills alone made me jealous. He was such a fast chopper. He didn't even cry when he was cutting up the onion. Well, I guess that's why he brings all of his own tools. I guess he wouldn't want to risk the chance of using my $30 dull knives and take a long time.

After watching him in the kitchen for an hour, I still didn't know what he was making. All I knew was it was going to be amazing. The kitchen had a spectacular fragrance of butter, fish and fresh cut vegetables combining. Luke has this confidence about him in the kitchen. It's where he naturally belongs. He moves quickly and effortlessly from one area to the next, knowing the timing for everything.
Just don't get in the way, though. I made the mistake of taking a money shot of a bowl that wasn't quite ready, and Luke got a little mad. I got in his way, again, when he was putting one of the main items into the bowl, and I almost messed him up. Rookie photographer's mistake. Never get in the way of a chef and his food. He did everything from really thinking through how something would look on a plate, to how to cut something so it would cook well and taste right. And, of course, his habit of tasting and re-tasting everything. I was in awe.

As lunch was getting served, everything came together so quickly I was getting sad this day was coming to an end. Luke and Jim made a good team in the kitchen. Even with an annoying amateur photographer getting in the way, they still made a great meal. It was delicious. It was very fresh, healthy and filling and I wanted to keep eating.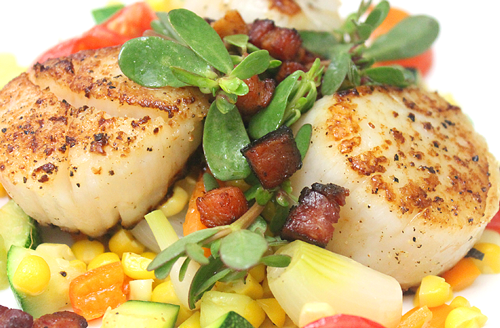 Thanks Luke and Jim for a great lunch.
What They Cooked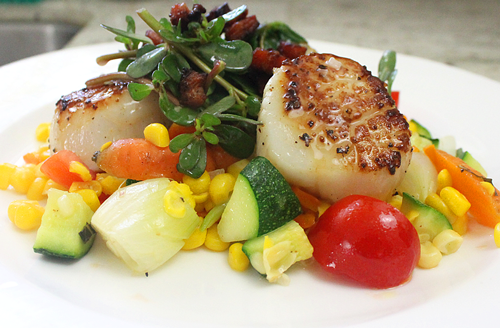 | | | |
| --- | --- | --- |
| Scallops with Purslane and Succotash | | |
Prep time: 60 mins
Cook time: 30 mins
Total time: 1 hour 30 mins
Ingredients
3 ears corn
½ basket cherry tomatoes
3 gypsy peppers, seeded
1 medium zucchini
15 pearl onions
12 baby carrots
5 leaves basil, chiffonade
1 Tbsp. olive oil
Salt and pepper to taste
1 small shallot, minced
¼ lb unsalted butter, at room temperature
Salt to taste
12 large, dry scallops
1 small bunch purslane
¼ lb pepper-bacon from slab, cut into ½-inch cubes
2 Tbsp. grapeseed oil
Instructions
Cut corn off cob
Peel pearl onions
Peel and trim baby carrots
Medium-dice gypsy peppers and zucchini, separately
Quarter tomatoes
Blanch corn, onions and carrots, changing water after each ingredient
Heat medium saute pan on medium-high. Add 1 Tbsp. olive oil. When hot, add zucchini and cook on medium-high until slightly browned. Remove to a large bowl.
Saute gypsy peppers in same pan until soft. Add to bowl.
Combine all ingredients in bowl. Salt and pepper to taste.
Heat small saute pan with ¼ cup water and shallot. Reduce until water is almost gone.
Slowly whisk small amounts of unsalted butter into pan until emulsified.
Salt to taste. Keep warm.
Wash enough purslane for 4 small servings, about 2 cups
Pat scallops dry and season lightly on one side only with salt and fresh ground pepper.
Heat flat-top grill on high until hot. Add grapeseed oil. When it shimmers, add scallops with seasoned side down.
Turn heat to medium-high and sear first side until browned, about 4 minutes
Turn scallops and sear other side until they are medium-rare, about 3 more minutes. Remove from grill.
Cook pepper-bacon cubes until crisp.
Spoon bacon lardons onto purslane and stir in a little of the pan drippings. Mix well.
Serve 3-scallops-each on top of mounded succotash. Dress with purslane-lardons mix.
Drizzle small amount of butter sauce on each scallop.
Enjoy.