C — My refrigerator is about to explode this week.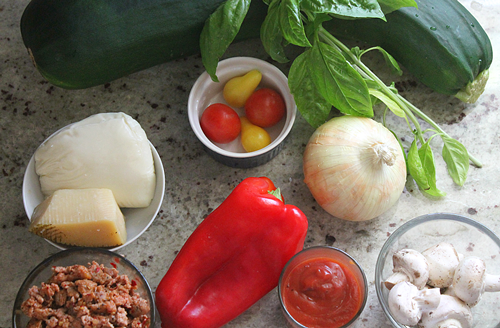 Its one of those moments when I am grateful to be an American living in Sacramento. The weather here is great! You can almost grow anything here in our garden. Giant veggies, crazy good tomatoes and basil out the wazoo. Sacramento is also a good place to buy things. Yeah, I think I over bought. And, my wonderful friends and their friendly garden have given me some great gifts this week… including this giant zucchini from a nice lady named Kathy in my bootcamp.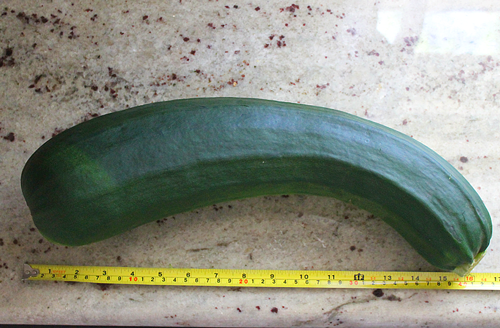 Look at how big this baby is! It's the size of a baby. I brought it home carrying it like a baby. Jim was shocked. Maybe it was because I was talking to it like it was a real baby. I like talking to inanimate objects in cute ways.
Yeah, he thinks I am crazy. I think I am too. But I love talking to inanimate objects.
Anyway… I don't think I will be able to use all of this zucchini for one dish, or else I will be eating a zucchini casserole for weeks.
Oh the possibilities.
Zucchini pizza tonight! I like pizza. It will be a healthy spin.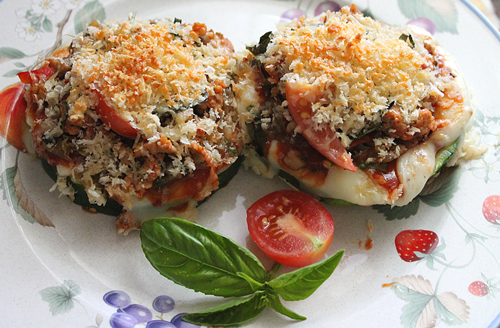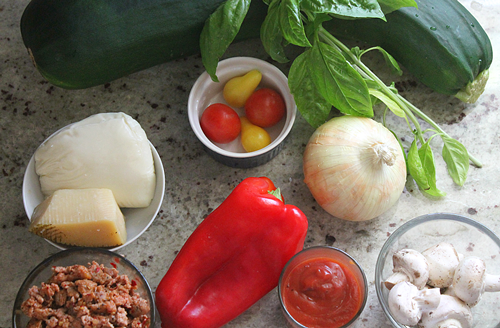 Prep time: 20 mins
Cook time: 25 mins
Total time: 45 mins
Ingredients
Serves 4
4 slices of giant zucchini, cut ½ inch thickness
Salt and pepper to taste
1 tbsp grapeseed oil
5 oz mozzarella, sliced
4 tbsp tomato sauce
5 mushrooms, sliced thinly
4 tbsp pork sausage, cooked and crumbled
⅛ red and green bell pepper each, sliced thinly
⅛ onion, sliced thinly
2 bacon slices, cooked and crumbled
5 cherry tomatoes, sliced thinly
4 tbsp panko breadcrumbs
4 tbsp Parmesan Regeanao cheese, shredded
Instructions
Preheat oven at 350 degrees.
Heat grill until hot. Season zucchini with salt and pepper and drizzle with grapeseed oil. Grill for 5 min on a side, rotating 90 degrees one time each side after about 2 mins. Take off grill and set aside.
In a sauce pan heat grapeseed oil on medium high heat. Add onions and mushroom and cook for 5 minutes until softened. Add bell peppers and crumbled bacon, cook for additional 3 minutes.
Mix panko breadcrumbs and Parmesan cheese.
Start assembling pizza. Put mozzarella on the base. Add 1 tablespoon of tomato sauce, onion-mushroom-bell pepper compote, sausage, basil, sliced tomatoes and top with breadcrumb cheese mixture.
Bake for 10 minutes or until cheese is melted and top is golden brown.
Enjoy!