C – Whenever corn in season, Luke seems to think about succotash.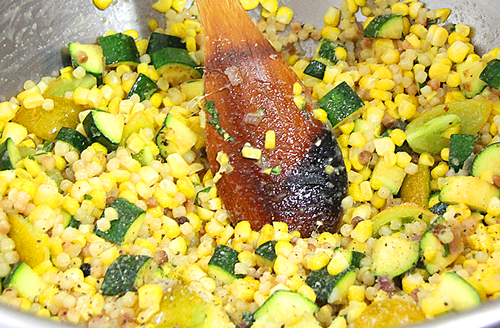 Who can blame the guy? It's so good. Sweet corn combined with squash, onions and tomatoes is wonderful. It has summer written all over it. Yes, we did make it before with seared scallops. But, this recipe is a little different.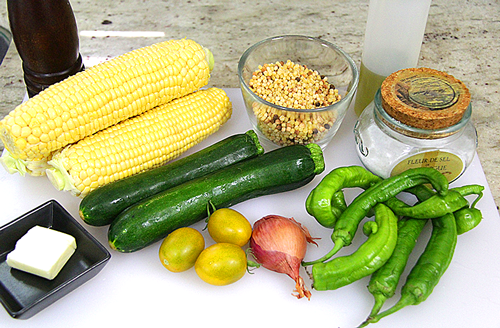 I guess you can throw in almost any vegetable. It would still be considered a type of succotash.
This time we paired the succotash with fregola. Little, toasted round pasta that really added to the texture of the dish.

We had it with a red snapper and tarragon butter sauce (more on that tomorrow). This succotash had a great balance with the fish.

We loved it. We had plenty of leftovers. I love the crunchy fresh corn and how sweet it is. Sweet corn at peak season makes the best succotash. Combined with a butter sauce, the corn was very creamy and rich.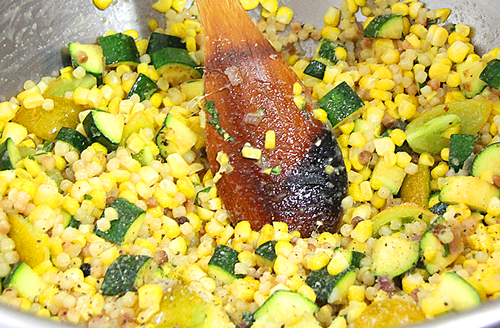 | | | |
| --- | --- | --- |
| Succotash with Fregola and Fry Peppers | | |
Prep time: 20 mins
Cook time: 25 mins
Total time: 45 mins
Ingredients
3 ears yellow corn, cored
2 zucchini, cubed in ½ inch pieces
3 cherry tomatoes, quartered
Salt and pepper to taste
2 Tbsp butter, divided
1 shallot, chopped
2 sweet peppers (frying peppers)
¼ cup canola oil
1 cup fregola, cooked according to package instructions
1 Tbsp fresh oregano, chiffonade
1 Tbsp olive oil
Instructions
Heat a sauce pan to medium high and add oil. Add whole peppers and cook until just blistered. Remove from pan. Add salt and pepper and set aside.
In same pan, add zucchini add ¼ of the butter. Add salt and pepper. Cook until brown. Remove from pan to cool on a sheet pan.
Add shallots into same pan. Cook until lightly brown.
Add corn and ¼ of the butter. Cook until corn is toasted and lightly brown. Remove corn mixture to the sheet pan. Spread thin and allow to cool.
Once cooled, place all vegetables except the fry peppers into a large mixing bowl.
Add oregano to bowl.
Add cooked fregola. Mix well.
Add olive oil. Mix well.
Add salt and pepper.
Add remaining butter. Mix well.
Serve along with fry peppers, with fish or other protein.
Enjoy!
I can't wait to try it with other proteins. I think it will go well with lots of things besides seafood.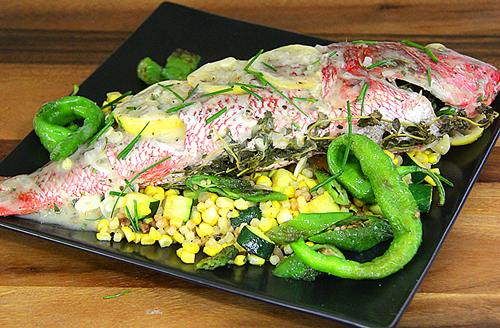 Thanks, Luke, for making this succotash variation for us.