Update and Redux: C – I wish I could eat this dish all day long. This is one of my favorite breakfast meals. It's also great with lunch and dinner. What's not to like? It's a complete meal in one dish.
C – Happy Chinese New Year!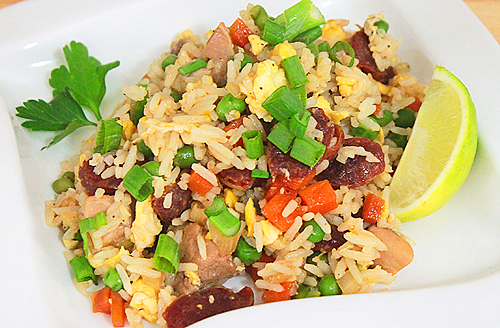 It's not quite Chinese New Year, but we thought we would start celebrating early with fried rice. One of my favorite dishes in a Chinese restaurant is fried rice. I judge a good Chinese restaurant on how good their fried rice is. If they have hard-as-a-rock rice that you have to choke down, or there is just rice and egg in it, I won't be returning to that restaurant again.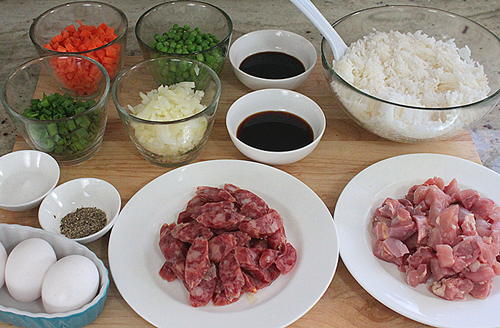 I look for a flavorful rice with lots of meat and vegetables that are properly cooked. I am pretty particular with my fried rice. So, I have really high standards when it comes to fried rice in a restaurant.

Fried rice is one of the first things I learned how to make when I was 12 years old. Once I learned the basics of it, I knew I needed to perfect this dish for my family. My family loves meat and eggs in their fried rice. They hate when there are too many vegetables. There needs to be almost a one-to-one ratio of rice to meat/vegetables.

Our favorite part of fried rice is the Chinese sweet sausage cut into big slices, not small pieces like the restaurants do to save money. And, lots and lots of eggs. Eggs make the rice fluffy and soft and add a great taste. Also, the seasoning has to be in perfect balance. Too much or too little salt, my family won't eat a lot. Leftovers are a big no-no for fried rice. Cold fried rice isn't very good. The best fried rice is fried rice that can be eaten without anything else.

My dad loves it when I make fried rice. Leftover rice from the night before is used with simple ingredients that we usually have on hand. It's also a simple and easy breakfast for my brothers to eat. It's a treat when I make it, because I have a secret ingredient that makes the rice taste a lot different than my dad's.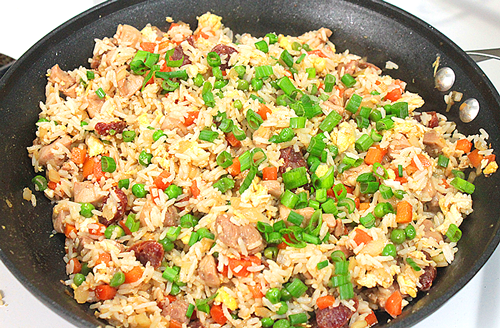 The secret ingredient … onions. Not very many people use onions in their fried rice. But, after making it with onions I can't seem to go back. The onions just give it a complex note. I can't wait to make some fried rice now.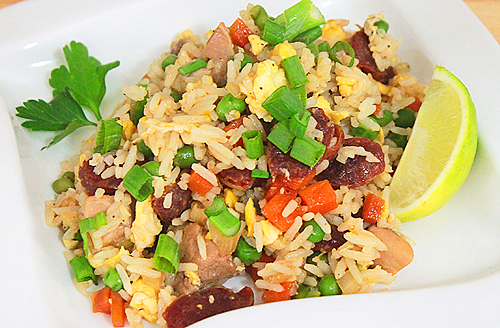 Prep time: 20 mins
Cook time: 25 mins
Total time: 45 mins
Ingredients
3 Chinese-style sausages, sliced on a bias
3 eggs
1 Tbsp grapeseed oil
2 pieces boneless skinless chicken thigh, cut into ½ inch cubes
3 Tbsp soya sauce, more if needed
3 Tbsp gourmet sauce (Mr. Yoshida's)
Salt and pepper to taste
1 carrot, chopped
1 small white onion, chopped
1 cup of frozen peas, thawed
3 cups Jasmine white rice, cooked (preferrably, day-old rice)
2 scallions, green part only, chopped
Instructions
In a large saute pan, cook sausage until golden. Remove from pan and set aside. Reserve all but a tablespoon of sausage fat.
In same saute pan, using a tablespoon of fat from the sausage, crack three eggs and scramble them. Remove eggs from pan and set aside.
Add reserved fat to the same pan and heat on medium high. Add chicken to pan and cook until done, about 5 minutes. Cover for half of the cooking time to make the chicken is done.
Add soya sauce, gourmet sauce, salt and pepper.
Once seasoning is combined, add carrots cook until tender, about 2 minutes.
Add peas and onions cook until both are soft, about 3 minutes.
Once vegetables are cooked, return sausage and eggs to pan. Bring to a simmer.
Add white rice. Stir until rice is well incorporated with the mixture.
Taste and add more soya sauce, if needed.
Sprinkle scallions over top.
Serve by itself, or with other meat and vegetable dishes.
Enjoy!
Hope everyone enjoys the Chinese New Year.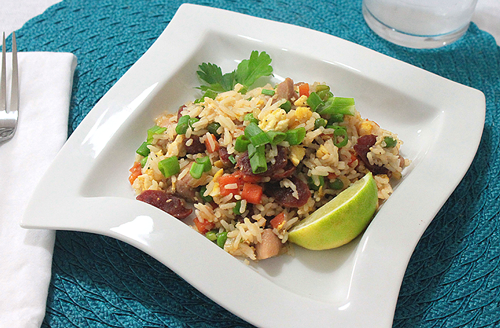 I am celebrating it with fried rice and I hope you will too.