J – It's not Southern just because it's sweet and has bacon in it …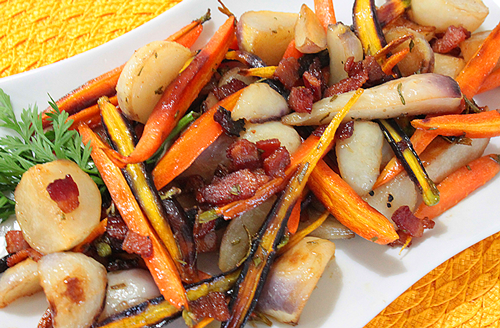 But, it helps! In our quest for authentic Southern dishes, we enlisted Chef Chris, Luke's friend who spent a bunch of his life in the South. Chris's idea was to combine heirloom carrots, a Left Coast twist, with turnips. Then, roast them, glaze them and serve with bacon. What's not to like?

It's not too heavy, either, like some sweet-veggie sides can be. You get delicious, roasted root veggies in a light glaze, with bacon added for the salty part of the profile.

My experience with Southern, sweet-veggie dishes has been quite unfortunate … up until now. They just failed on so many levels. Not always fresh. Overcooked. Odd mixings of flavors and/or colors. Canned. Way too sweet. Had marshmallow topping. Way too many. Did I say overcooked? I WAS polite … but ate very little.

Not any more!

The operative principles here are "less is more" and "keep it all even." To get nicely roasted veggies, don't cook them too long. They don't taste very good. When prepping, try to get roughly equal sizes by volume. Everything roasts evenly. A little glazing goes a long way. A good balance of glaze, salt and pepper will make the dish delicious.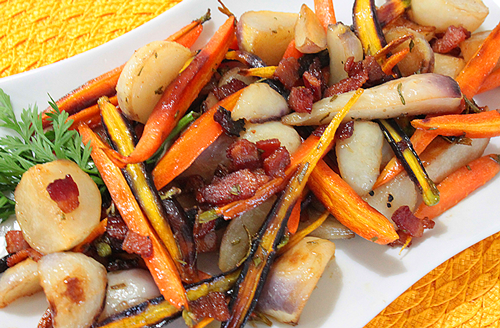 | | | |
| --- | --- | --- |
| Glazed Heirloom Carrots and Turnips | | |
Prep time: 20 mins
Cook time: 45 mins
Total time: 1 hour 5 mins
Ingredients
10 heirloom carrots, peeled with short heads attached, halved or quartered lengthwise depending on size
10 turnips, peeled with short heads and bottoms cut off, quartered or cut into eighths, depending on size
1 Tbsp canola oil
¼ pound bacon, cut into ½-inch pieces
2 Tbsp unsalted butter
2 Tbsp brown sugar
1 sprig rosemary, chopped
Salt and pepper to taste
Instructions
Preheat oven 350 degrees.
In a medium sized pot, bring 1 inch of water with salt to a boil.
Place turnips into pot and cook for 3 minutes. Just to soften. Remove from blanching water and shock in an ice bath.
In a small sauce pan, place butter, brown sugar and rosemary. Melt and let thicken on low for about 5 minutes. Set aside and keep warm.
Place canola oil in small saute pan on medium heat. Add bacon. Cook until crisp. About 5 minutes.
In a large bowl place carrots and blanched turnips and add glaze. Salt and pepper to taste. Mix well.
Place carrots and turnips on a baking sheet.
Sprinkle bacon and bacon fat on top of carrots and turnips.
Roast until carrots are fork tender. About 30 minutes.
Serve.
Enjoy!
And, it was! Not only pretty in presentation, but tasty on the plate. Reasonably healthy, too. I wonder if Christina's boyfriend got to try any?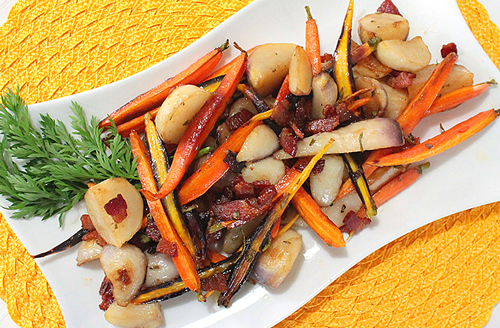 Thanks, Chris, for another Southern food journey.