J — Sad Christina, saying goodbye to her friend Summer.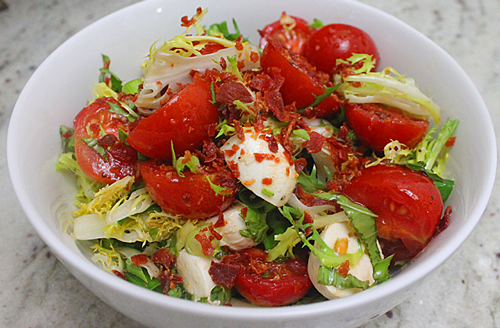 Here's something to cheer you up as you remember all the wonderful tomatoes and herbs and veggies and ice cream we had. Caprese salad is one of my favorites. It's the essence of summer all in one salad. Ripe tomatoes. Super fresh mozzarella. Fresh basil. A simple balsamic dressing. Summer on a plate!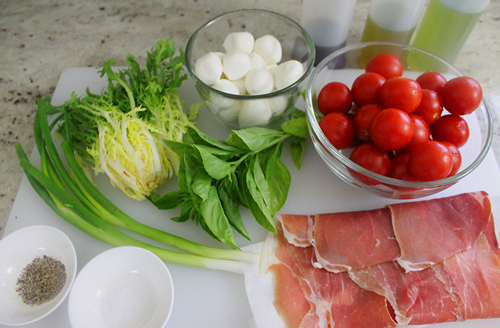 Actually, caprese salad is typically composed artfully on a plate. But, I've had caprese served in a bunch of different ways… some are more balanced than others. I remember one of the most memorable, at the legendary Tommaso's Restaurant in San Francisco. They say Francis Ford Coppola often commandeered the pizza oven here in his typical fashion, making his own pizzas for family birthdays. He was a "patron."
I don't care! They served me one small piece of basil on the caprese salad. That was the worst. Nor, was it artful. Many have been better. But, I digress. This caprese salad is for Christina. She deserves it. Christina is committed to Summer!

This time, I'm serving in a salad bowl, because we have a whole bunch of cherry tomatoes and I got some mini fresh-mozzarella balls just the size of the tomatoes. Too cute.

I'm also adding a few "Italian bacon bits" … crumbled, fried prosciutto. A nice salty touch.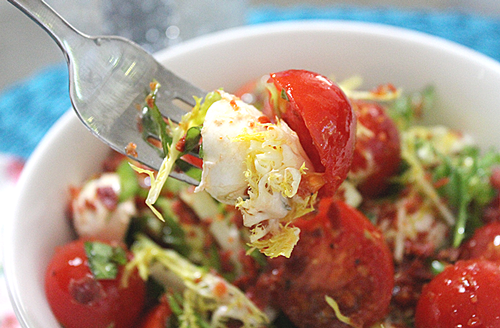 Here's Summer's last wave, Christina. Remember, she will return next year.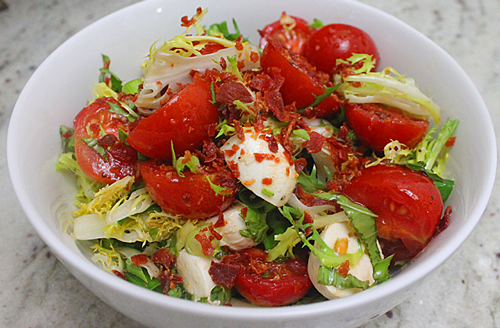 | | | |
| --- | --- | --- |
| Caprese Salad, Mini-Style with Prosciutto | | |
Prep time: 15 mins
Total time: 15 mins
Ingredients
1 pint, roughly, fresh mozzarella cheese balls
1½ pints fresh cherry tomatoes
¼ cup fresh basil, chiffonade
½ small head frisee
3 scallions
4 ounces prosciutto, sliced thinly
4 Tbsp. grapeseed oil
¼ cup olive oil
¼ cup white balsamic vinegar
Salt and pepper to taste, but at least ½ tsp each for dressing
Instructions
Heat grapeseed oil to 375 degrees in a medium saute pan
Cut prosciutto into manageable pieces for frying
Fry until sizzling stops. Moisture will be gone then.
Drain and cool on paper towels
When cool, bunch together under paper towels and smash into smaller pieces.
Set aside.
Cut tomatoes and mozzarella balls in half
Slice scallions
Chop frisee into bite-sized bits
Whisk oil and vinegar to emulsify, salt and pepper to taste
Mix in large bowl. Serve in individual bowels.
Garnish with fried prosciutto bits
Enjoy.