C – I should sell this stuff.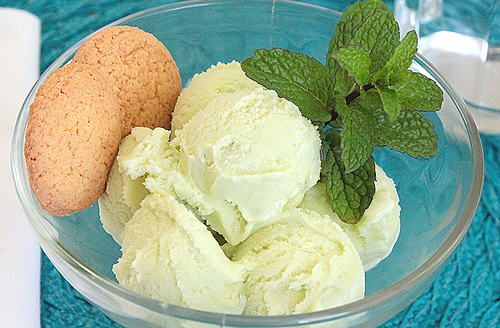 It's that good. This ice cream has been my best accomplishment. It's so great. I love it. Jim loves it. Luke even complimented it. He doesn't like desserts very much … other than his wife's. So when he gave me a high five for this ice cream, I knew there was something special about it.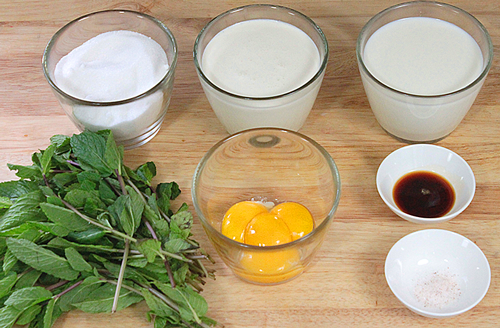 This ice cream doesn't taste anything like the store-bought stuff. I don't even think I've had anything like this from an ice cream shop. Be Mindful. Be Human. served it at a party recently. We had a few requests to put the recipe up on our blog. Sadly, it's exactly the same formula as the other ice creams I have posted. I was very hesitant to do it again. But, by popular demand, here it is.

Why is this ice cream so good?
Well, its made with fresh mint and not mint extract. It makes a huge difference. It doesn't taste like mouthwash. It has the perfect amount of sweetness. A lite mint flavor. Not really strong mint. It's pretty, with a tint of light green from the mint.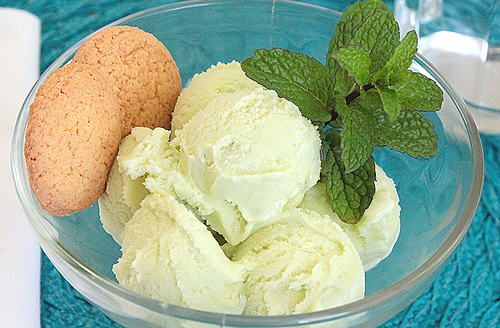 Prep time: 24 hours 30 mins
Cook time: 1 hour 15 mins
Total time: 25 hours 45 mins
Ingredients
1½ cup whole milk
1½ cup whipping cream
1 cup granular sugar
4 egg yolks
Pinch of salt
½ of a large bunch of mint leaves
1 tsp vanilla extract
Instructions
In a medium pot, place milk, whipping cream and sugar. Heat to a simmer.
Turn off heat and add whole mint leaves and pinch of salt.
Let steep for 1 hour.
Reheat milk until right before it simmers.
In a medium bowl, place egg yolks and beat until a pale yellow and frothy.
Place a strainer above the bowl of egg yolks.
Using a ladle, slowly ladle milk mixture through the strainer into yolks while beating constantly. Continue adding milk mixture slowly into the egg mixture, while stirring and straining until all milk mixture is completely mixed into the eggs.
Squeeze out any remaining liquid from the mint in the strainer into the mixture.
Place mixture back in to pot. Stir constantly over medium-low heat until milk mixture is warmed and thick enough to coat the back of the spoon. DO NOT BOIL.
Remove from heat and strain again. Chill in an ice bath.
Refrigerate for 24 hours.
Churn according to manufacturers instructions.
Serve.
Enjoy!
It takes a bit more effort than the normal mint ice cream recipes. But, it's so worth it. I loved it so much. Lots of really fresh mint. Steeping it for an hour achieves the best results.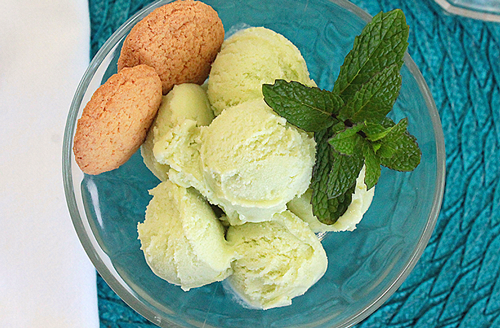 It's the best ice cream yet. My new favorite.