C – Of all the confit recipes, this garlic confit is at the top.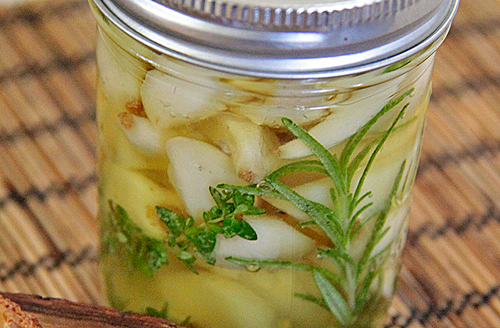 I loved this confit. It's strange because I usually don't like garlic much. Garlic has a strong flavor for me usually. I use very little garlic in my dishes, normally, unless it really calls for a lot. It gives me headaches when it's raw and there is too much in a dish. I don't think I could eat a raw clove by itself.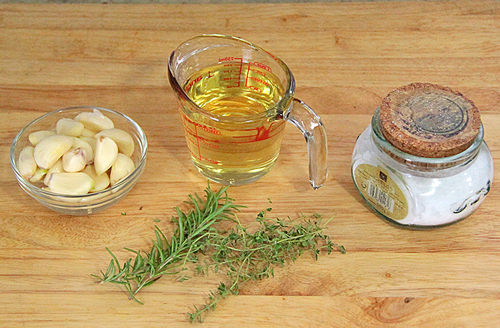 Garlic confit is a whole different story. I could eat a whole clove without blinking an eye.

The process of doing garlic confit makes the sharp, intense taste mellow. It also makes a good creamy piece of garlic. A mouth full of garlic isn't overwhelming.

I slathered and slathered it on top of crispy, toasted pieces of bread and loved it. Sprinkle a bit of salt and pepper and a great appetizer is waiting.

I love that I have this secret ingredient that can make a simple appetizer or go into good salad dressing. I was amazed at first bite. Addicted at second.

Jim had to pry it out of my hands at the third bite. It's still quite rich. We did poach the garlic in oil to release the garlic enzymes.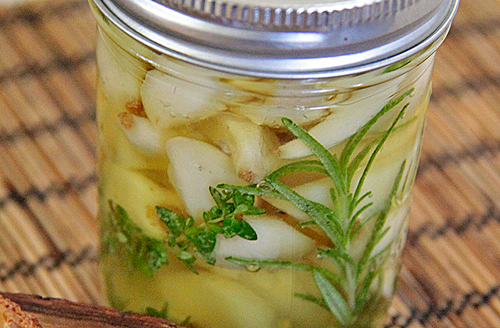 | | | |
| --- | --- | --- |
| Confit Week: Garlic Confit | | |
Prep time: 15 mins
Cook time: 45 mins
Total time: 1 hour
Ingredients
Two heads of garlic, separated into cloves and peeled
Enough canola oil to cover garlic
2 sprigs of fresh rosemary
2 sprigs of fresh thyme
Instructions
Place garlic cloves in a small sauce pan.
Completely cover with oil.
Add rosemary and thyme.
Bring to a simmer then lower the temperature to low and let simmer for about 45 minutes or until garlic is completely tender and smashes easily.
Remove from sauce pan. Place in an air tight container and cover with the confit oil.
Serve with crostini, mash and use in salad dressings or eat it by itself.
Can be stored in a jar in the refrigerator up to 1 month.
Enjoy!
An even better part is using the leftover oil in cooking. Enhance your sauces and dressing with garlic oil. Two recipes in one. You really can't beat that.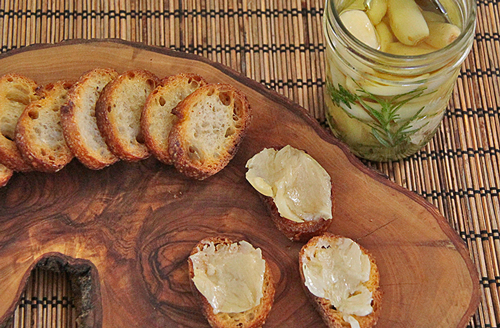 This has to be my favorite out of all the confit recipes. I am so glad we tried it.