J – This was one of those want-at-first-sight recipes …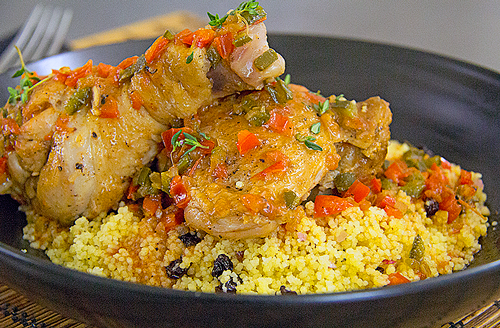 which later became a love-at-first-bite dish. The feature photo was mysterious, shadowy with bits of bright color around beautifully cooked chicken legs presented on couscous.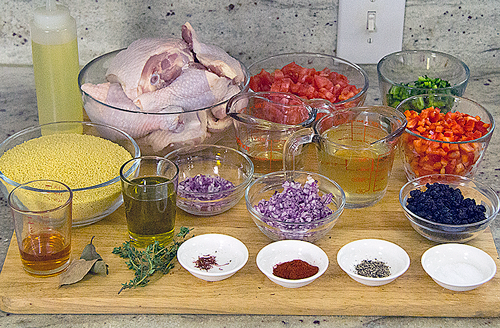 I could not resist.

So, we researched it … created by Shawn Gawle, chef at Les Clos wine bar in San Francisco, with several tempting ingredients.
Besides, I absolutely love Basque-style cooking.
How could we go wrong?

We didn't … this is actually a fairly easy braised chicken dish.

The combination of spices in the sauce, and the couscous with currants, immediately transports you to Northern Spain/Southern France with their sweet/savory aromas.

Actually, this dish might just be the most expensive we have ever done … since I now really want to travel to San Sebastian and immerse myself in Basque food and culture.

Could be lots of fun. Wonder hows good the Internet is there? Working holiday?
Ah, back to reality. We made the whole recipe, which is enough for at least six people.

Since we didn't have six people handy, we stored the rest in the freezer. Chicken and couscous separately.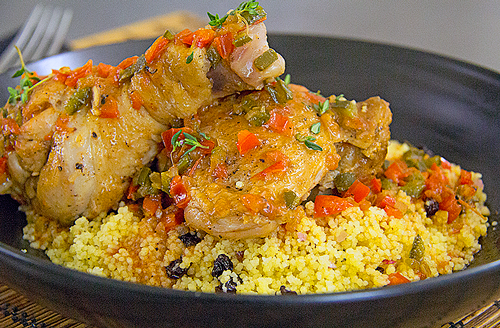 | | | |
| --- | --- | --- |
| Chef and Cookbook Thursday: Poulet Basquaise with Currant Couscous | | |
Prep time: 15 mins
Cook time: 1 hour 40 mins
Total time: 1 hour 55 mins
Ingredients
2 Tbsp canola oil
6 whole chicken legs, separated into thighs and drumsticks
Kosher salt and pepper
1 small red onion, minced
1 poblano chile, chopped
1 pound tomatoes, chopped
1 tsp pimenton de la Vera
½ cup dry white wine
2 Tbsp sherry vinegar
3 thyme stems, leaves only
2 bay leaves
1 cup dry white wine
1 cup water
6 Tbsp extra-virgin olive oil
A small pinch of saffron threads
2½ cups couscous (about 14 ounces)
½ cup dried currants
1 tsp kosher salt
Instructions
Preheat the oven to 350 degrees.
In an heavy bottom pot, such as a cast-iron dutch oven or copper pot, heat with 2 tablespoons of oil.
Season the chicken with salt and pepper.
Add half of the pieces in to the pot and cook over moderately high heat until browned all over, 8 minutes. Transfer to a plate. Brown the remaining chicken.
Pour off all but 2 tablespoons of the oil from the pot.
Add the onion, poblano and bell pepper. Cook on moderate heat, stirring until softened, 8 to 10 minutes.
Stir in the tomatoes and cook until broken down, about 8 minutes.
add the pimenton and cook for 1 minute.
Add the wine, vinegar, thyme leaves and bay leaves and simmer until the liquid is reduced by half, 2 minutes.
Nestle the chicken in the sauce, cover and braise in the oven until cooked through, about 1¼ hours; discard bay leaves.
In a saucepan, combine the wine, oil, saffron and water and bring to a boil.
In a large heatproof bowl, combine the couscous, currants, onion, and salt.
Pour the hot wine mixture over, cover and let stand until the couscous is tender and the liquid is absorbed, 30 minutes.
Fluff the couscous.
Serve with the chicken.
Enjoy!
Taste test … wow! Ended up being a big lunch. So delicious.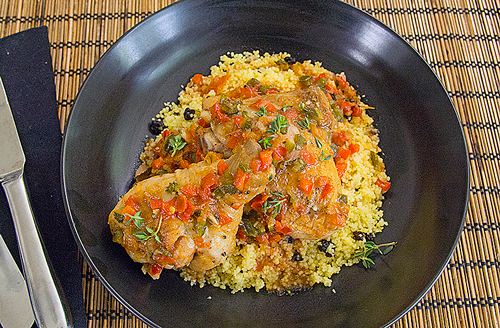 We're going to look for lots more Basque dishes … I wonder what Spring is like in San Sebastian?
Adapted from: http://www.foodandwine.com/recipes/poulet-basquaise-currant-couscous