Update and Redux: J – This is one of the best pizzas ever … seriously. It came out of Christina wondering, correctly, what the heck do we do with all the smoked and cured stuff we make. Luke's answer of 'Eat it!' didn't go quite far enough. Hence, smoked duck breast pizza. Can't get that in any ol' pizza shop. Delicious.
C – Sometimes, I question why we are making some of the things we make.
What are we going to do with it afterward? Duck week was one of those times. Our freezer is full of duck confit, duck prosciutto and smoked duck. Of course, Luke always has his practical answer: "Eat it."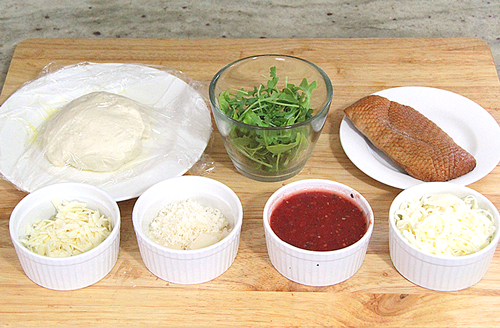 Thanks, Luke. Yes, I get that we make these things to eat. But, for example, do we just eat the smoked duck by itself? Do we use it in stuff? Do we pair it with wine? Do we eat it like a beef jerky snack? I guess the answer is all of the above.

Smoked duck is good all by itself. We loved it. But, you really can't eat much of it alone. It is so rich. We wanted to try it on a pizza. I think anything on a pizza can be good … if made correctly. I almost wanted to put some of that foir gras on a pizza, if we still had any. That would be too crazy, though.

This smoked duck pizza was really flavorful. Gruyere cheese and melty mozzarella cheese, combined with smoked duck was delicious. The smoky duck fat melted really well with the cheese. It had a great duck flavor. Like duck fat fries times ten! All you have left is duck breast meat with cheese and some arugula on a crispy crust. I loved the arugula. It really helped balance out the rich duck and cheese combination. It didn't feel like a heavy pizza, enough though it was really rich. The pizza dough really did a good job not weighing us down.

I am so glad this pizza idea worked out. I was a bit afraid it was going to be too salty. Or, that the smokiness of the duck would overpower. But, it really didn't.
| | | |
| --- | --- | --- |
| Pizza Week: Smoked Duck Pizza | | |
Prep time: 15 mins
Cook time: 12 mins
Total time: 27 mins
Ingredients
28-ounce can whole peeled tomatoes, drained and liquid discarded. Or, 6 fresh tomatoes peels removed
1 Tbsp extra-virgin olive oil
1 tsp red wine vinegar
2 medium garlic cloves, minced
1 shallot, chopped
¼ tsp red pepper flakes
1 tsp table salt
1 Tbsp fresh oregano, finely chopped
¼ tsp ground black pepper
¼ pizza dough (link below)
½ cup mozzarella cheese
¼ cup Parmesan cheese
¼ cup Gruyere cheese
15 thin slices smoked duck
½ cup fresh baby arugula
Drizzle of olive oil
Pinch of salt
Instructions
Process all ingredients in food processor until smooth, about 30 seconds.
Transfer to medium bowl or container. Refrigerate until ready to use.
Preheat oven to 500 degrees for one hour with pizza stone in place before cooking pizza.
Remove pizza dough from refrigerator an hour before cooking.
After an hour, place bread flour on a working surface and flatten pizza dough to 6 to 8 inches in diameter.
Evenly spread tomato sauce over top of dough. Leave about ½ to ¾ inch of the outside circle without sauce.
Evenly spread Parmesan over sauce.
Evenly spread mozzarella over top.
Evenly spread the Gruyere cheese over top.
Place the smoke duck evenly over top of cheese.
Place in oven for 12 minutes. Turn pizza halfway around after 6 minutes.
Remove from oven and let cool for 5 minutes.
Mix baby arugula with a drizzle of olive oil and a pinch of salt.
Place baby arugula over top of pizza.
Cut pizza in to 6 slices.
Serve immediately.
Enjoy!
Pizza Dough recipe
I guess it might not be how can I use the stuff we make. It's more like when can I use it. We seem to be saving these things and not getting to use them. Things like this smoked duck pizza are great. But, we seem to save all these great things without using all of them … until they go bad.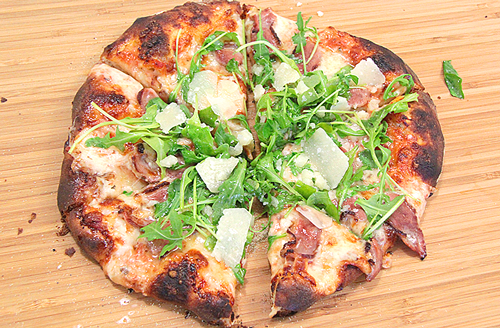 I really can't wait until Raid the Freezer Week happens. There are some great things in there that really should be used soon.