C — There are two times of the year that I look forward to the most.
First, going to meditation course for 10 days and not worrying about cooking, life or anything else. Second, when my favorite grocery store has buffalo week and crazy-good meat! Yeah, it's opposite ends of the spectrum: Finding compassion for all beings, and the eating the heck out of one. Hey, I am only human here! It's the point of this blog.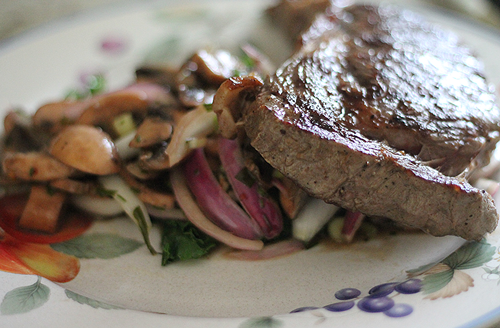 There is something about buffalo that is better than beef. Its richer, fuller with less fat and fewer calories. I love buffalo and all the many things that I make with it.
I had to go with rib eye steak this week. Pricey, but it's tender, juicy and oh so good. I love the stuff. Hey, it only happens twice a year. Combine this with the marinated mushrooms and some kale and you'll be in heaven. I was.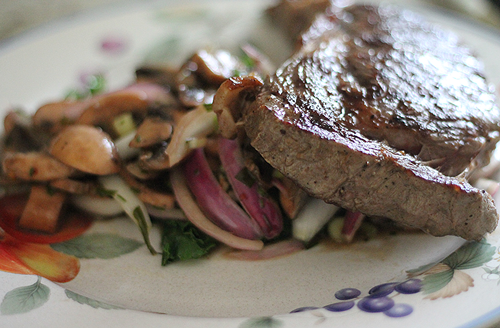 Prep time: 10 mins
Cook time: 15 mins
Total time: 25 mins
Ingredients
1 pound buffalo rib-eye
salt and pepper to taste
Bacon fat
Instructions
Bring the steaks to room temperature.
Rub steaks with salt and pepper. Coat steaks with bacon fat.
Preheat grill to medium high.
Grill steaks for about 5 to 7 minutes on each side. Turning them to make square grill marks after 3 minutes.
Check temperature for doneness. I prefer 140 degrees for medium rare
Enjoy.