Update and Redux: C – I still love how light this pesto is. It's my go-to pesto when asparagus season is in town. It makes a great side or appetizer, slathered on bread. Healthy and delicious. Everyone needs to make this now.
C – I love pesto!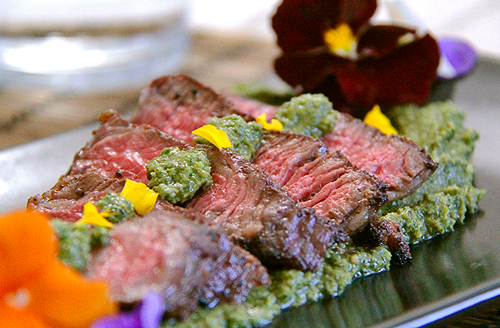 It's so rich and delicious. I love to use a lot of it. One of the only problems with pesto, for me, is there's a lot of fat in it. Eating a few tablespoons can take you over your calorie limit really fast.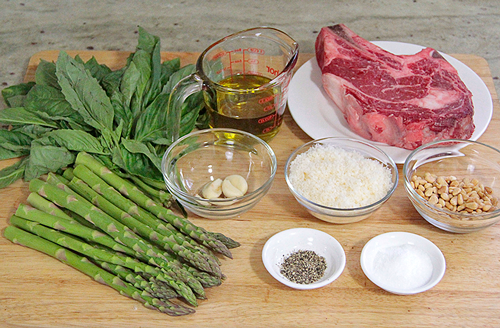 Yes, I know olive oil, garlic and basil are healthy things for you. But, there is also a lot of Parmesan cheese and pine nuts to make it rich.

I needed to figure out to lighten up my pesto. I found a few sites suggesting to add some sort of vegetable to lighten things up. My big concern is the taste. Would it taste good? I was curious and needed to try using some sort of vegetable. You guessed it, asparagus pesto.

I used less basil, since basil isn't in season, and half a bunch of asparagus. Of course, the usual suspects that go into pesto, Parmesan cheese, pine nuts, olive oil, garlic, salt and pepper to taste. Pretty much just throw it all into a food processor and you're done.

The results were good. Adding asparagus to the pesto allowed me to eat more pesto than usual. One of the good things about using asparagus is it contains a lot of water. I really didn't need to use much oil. It tasted like pesto, but with a little bit of a grassy flavor.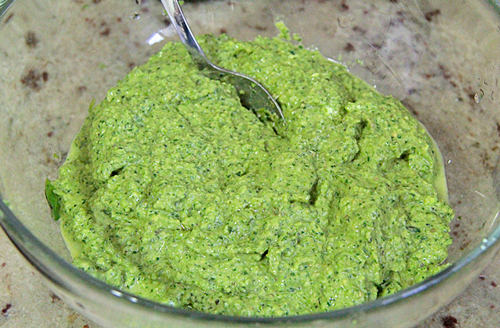 It feels a lot lighter, so I eat this by the spoonful. I didn't feel like it was too rich. I could eat a lot of it without feeling guilty.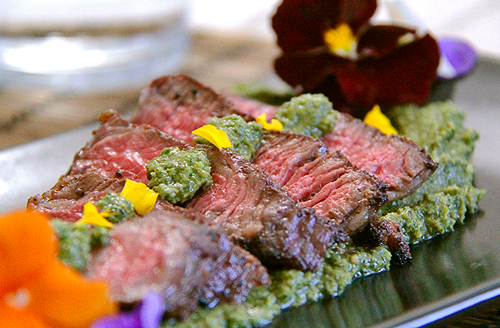 | | | |
| --- | --- | --- |
| Asparagus Week: Asparagus Pesto (and Steak) | | |
Prep time: 10 mins
Total time: 10 mins
Ingredients
15 stalks asparagus, woody parts removed and discarded, cut into 1 inch pieces
1 cup fresh basil leaves
4 cloves garlic, more if you want more garlic flavor
⅓ cup toasted pine nuts
½ cup grated Parmesan cheese
½ cup extra virgin olive oil
Salt and pepper to taste
1 Tbsp canola oil
16 oz rib-eye steak
Instructions
Place asparagus, basil leaves and garlic cloves into a food processor and pulse until fine.
Add pine nuts, Parmesan cheese, salt and pepper. Pulse again until fine.
Start the processor and begin drizzling olive oil slowly through the pour tube. Stop the processor once all of the oil is incorporated.
Remove from food processor and set aside.
Preheat oven to 400 degrees.
Salt and pepper the steak.
Heat a oven safe saute pan on high. Add oil to the pan.
Place steak on pan and sear both side until golden brown. About 2 minutes on each side.
Place the steak and pan in the oven for 5 minutes and check to see if it's at medium rare.
Remove from oven.
Let rest for 10 minutes on a cutting board.
Slice.
Place pesto on the bottom of a serving platter.
Top with sliced steak pieces.
Serve.
Enjoy!
If you are looking to have a pesto-flavored dipping sauce this would be it. It's a healthy alternative to regular basil pesto and it's delicious.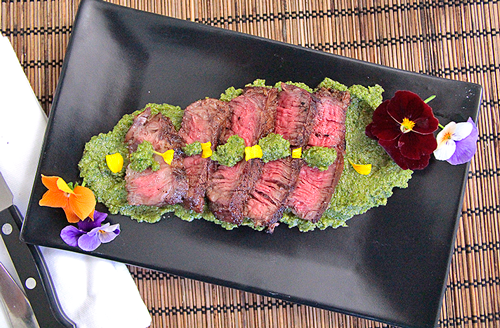 It's great paired with steak or other meats … like we did here.