C – Happy Thanksgiving!!!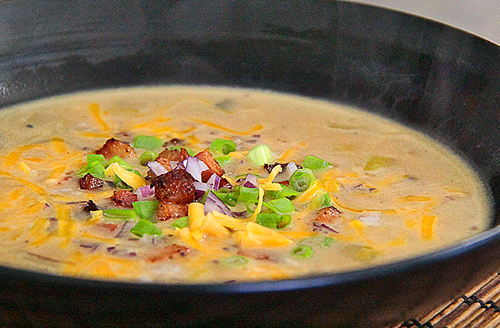 It's been a great year and we are so thankful for so much. Life has given us health, happiness, loving families and great friends. We are so thankful for all of this. We also wanted to thank you for coming to read Be Mindful. Be Human. Eat. Without you, we couldn't do what we do here.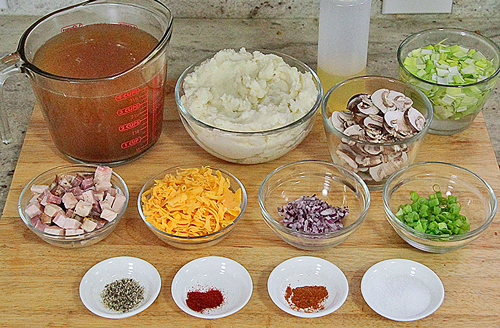 Another thing we are thankful for is leftovers. It wouldn't be Thanksgiving without having lots of leftovers. With leftovers, I love figuring out how to re-purpose them into something brand new. This year: how to re-purpose mashed potatoes.

If you make simple mashed potatoes … just using some cream, butter, garlic, salt and pepper … they can be re-purposed to a lot of things.

Sometimes, leftover mashed potatoes turn into a brick. Reheating mashed potatoes and eating them again can be challenging. It's never the same as freshly made. So, making a soup with leftover mashed potatoes is a great way to not waste those smashed spuds.

The other great thing about this soup is adding toppings that make it feel completely new. Just add some bacon, green onions, cheese and sour cream. No one will guess this was something from Thanksgiving leftovers … unless you tell them.

After all the Black Friday shopping and cleaning up after your guests have left, making an easy hearty soup is what you need and want.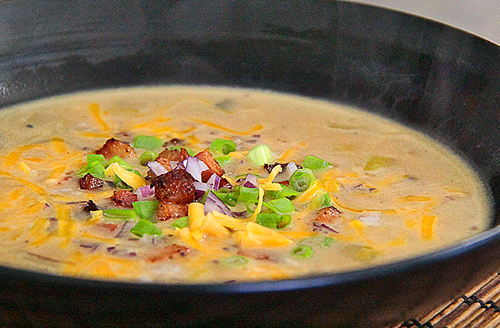 | | | |
| --- | --- | --- |
| Thanksgiving Week 2015 #2: Leftover Mashed Potato … Soup and Giving Lots of Thanks | | |
Prep time: 10 mins
Cook time: 20 mins
Total time: 30 mins
Ingredients
1 Tbsp oil
1 leek, white and light green part, chopped
6 cremini mushroom, sliced thinly
1 Tbsp dried porchini mushroom, soaked, chopped, liquid reserved
4 cups vegetable or chicken stock
5 cups mashed potatoes
Pinch of cayenne pepper to taste
Salt and pepper to taste
½ cup cooked lardon
2 green onions, chopped
½ cup grated cheddar cheese
Sour cream for topping
Instructions
Add a small amount of oil to a soup pot. Add lardon cubes and cook until done. Remove lardon and set aside on a paper towel catch any excess oil.
Keep lardon fat in pot, add leeks and heat on medium high. Cook until leeks are translucent.
Add mushrooms and saute until tender.
Add porchini mushroom along with a few tablespoons of the reserved water.
Add stock and mashed potatoes. Mix well and bring to a boil. Reduce to a simmer and cook for 10 to 15 minutes until warmed through.
Season the soup with cayenne, salt and pepper to taste.
Ladle soup into serving bowls.
Top with some cooked lardon pieces, onions, cheese, and sour cream.
Serve immediately. The soup is even better the next day. It will become thicker and more flavorful.
Enjoy!
So, forget forcing your guests to take the leftover mashed potatoes home. I am sure most of them will be happy to not take any. Save them and make this delicious soup.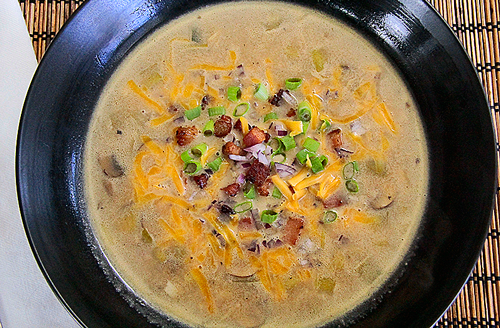 We hope everybody has a safe and wonderful holiday. Thank you all for coming and reading our blog. We are so grateful.