J – It's Southern Cookin' Week!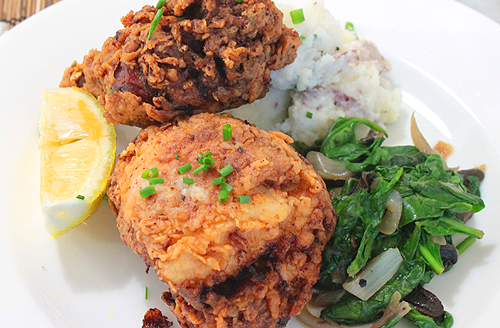 We love Southern cooking out here on the Left Coast … we just do a bit of a California-twist on it. This is nothing political. We just do things differently. Maybe, it's our time zone. Or, the water.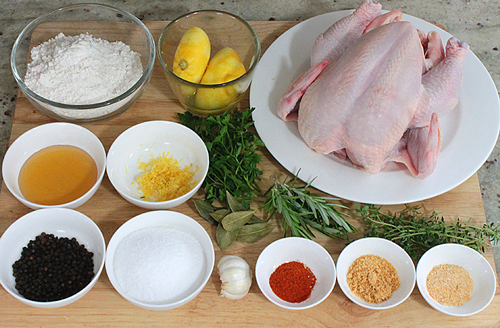 A Southern-gentleman friend of mine once allowed politely, of course in his Southern way, that "all the fruits and nuts have rolled out to California when they tilted the country."

I replied, "I'm glad that happened, Jack. That's why we can grow more fruit and nut trees. Makes our food better." I liked Jack. Never minced words.

Jack also loved Southern-fried chicken. In honor of Jack's memory, here's our take on Thomas Keller's amazing Buttermilk Fried Chicken.

Making fried chicken is an art. And, of course, there is polite controversy about the proper method(s). Since we are on the Left Coast, we feel a bit more free to interpret. That said, we are defaulting to adapting Thomas Keller's recipe to avoid any unnecessary and uncomfortable conversations … Isn't that what happens in the South?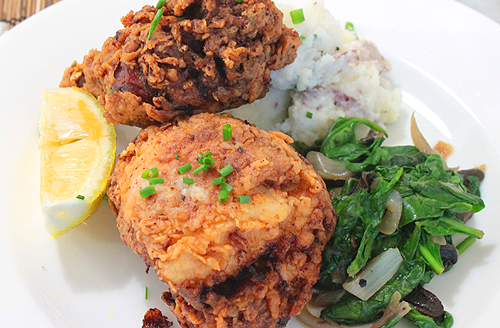 | | | |
| --- | --- | --- |
| Southern Cookin' from the Left Coast: Buttermilk Fried Chicken | | |
Prep time: 24 hours
Cook time: 20 mins
Total time: 24 hours 20 mins
Ingredients
2½ quarts cold water
½ cup plus 1 tsp kosher salt
2 Tbsp plus ½ Tbsp honey
6 bay leaves
½ head of garlic, smashed but not peeled
1 Tbsp black peppercorns
2 large rosemary sprigs
1 small bunch of thyme
1 small bunch of parsley
Finely grated zest and juice of 1 lemon, lemon halves reserved
One 3-pound chicken
1½ cups all-purpose flour
1 Tbsp garlic powder
1 Tbsp onion powder
1 tsp cayenne pepper
1 cup buttermilk
Canola oil, for frying
Rosemary and thyme sprigs, for garnish
Instructions
In a very large pot, combine ¼ of the water with ½ cup salt and the honey, bay leaves, garlic, peppercorns, rosemary, thyme and parsley.
Add the lemon zest and juice and the lemon halves. Bring to a simmer over moderate heat, stirring until the salt is dissolved.
Cut the chicken into 10 pieces, leaving bone attached. Breasts become 4 pieces.
Let cool completely [this is important], then stir in the remaining cold water. Add the chicken pieces, being sure they're completely submerged. Refrigerate overnight.
Drain the chicken pieces and pat dry. Scrape off any herbs or peppercorns stuck to the skin.
In a large bowl, combine the flour, garlic powder, onion powder, cayenne and the 1 tsp salt.
Put the buttermilk in a large, shallow bowl.
Working with a few pieces at a time, dip the chicken in the buttermilk, then dredge in the flour mixture, pressing so it adheres all over. Transfer the chicken to a baking sheet lined with wax paper.
In a very large, deep skillet, heat 1 inch of vegetable oil to 330 degrees at the start. Use a candy thermometer!
Fry the chicken in 2 or 3 batches over moderate heat, turning once, until golden and crunchy.
Pay careful attention to the frying temperature. Keep it between 300 and 310 degrees.
Use an instant-read thermometer inserted in the thickest part of each piece to check for doneness. Temperature should register 150 degrees when done, about 20 minutes per batch.
Transfer the chicken to paper towels to drain, and keep warm in a low oven while you fry the remaining chicken pieces.
When done, transfer the fried chicken to a platter
Garnish with the herb sprigs
Serve hot or at room temperature.
Enjoy!
The real trick here is the brining. Don't shortcut! The other trick is to not fry at too high a heat. Cooking this well takes awhile. Be patient.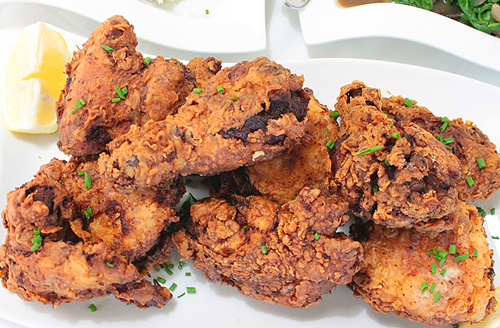 It's the best I've ever had. I've eaten at Ad Hoc on Fried Chicken Monday. This is the same! Here's to you, Jack!