Update and Redux: C – These pork carnitas are just so universal. I loved that we used them in so many recipes. Burritos, tacos, enchiladas and just eating them by themselves. It's worth the long cooking time. They can feed a huge crowd of people.
C – It's Mexican Cuisine week!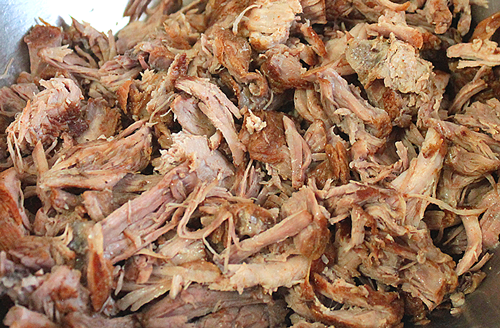 Luke really wanted to show us how chefs prepare traditional Mexican dishes. I am so glad he did. I am never taking for granted again how long any Mexican dish takes to make. The good stuff is a long process. But, it's really doable. No more buying salsa, enchilada sauce or beans in a jar or can again. After this week, it will all be made from scratch. I am really excited.

All my favorites in one week. We are making all the things that I usually order at a Mexican restaurant. A few sauces, chips, tamales, enchiladas and burritos. I can't wait to share what I learned from Luke.

Pork canitas are usually something I don't order, but will order from now on. Slow roasted or braised pieces of meat drenched in a mix of spice and cooked low and slow. So much effort goes into making something like this. I guess restaurants can be judged by how good they season and cook their carnitas.

It's a simple dish, but goes well with anything. I loved it in the enchiladas. The tamales were the best I have ever had. And, those burritos! I should have only eaten half, but the carnitas were so good that I had to eat all of it. I am so stuffed.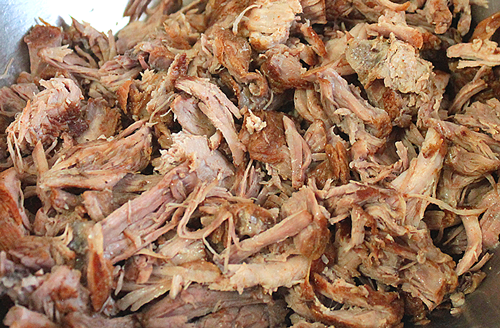 | | | |
| --- | --- | --- |
| Mexican Cuisine Week: Pork Carnitas | | |
Recipe type:
Mains, Techniques
Prep time: 25 mins
Cook time: 2 hours 30 mins
Total time: 2 hours 55 mins
Ingredients
2 pounds pork butt,
2 Tbsp canola oil
½ tsp granulated garlic
2 Tbsp Kosher salt
1 tsp smoked paprika
1 tsp ground cumin
2 tsp ancho chili powder
2 bay leaves
¼ onion, cut in half
1 dried California chili, top and seeds removed
Instructions
Trimmed the fat off the side of the pork butt (discard fat or keep it to add into pinto beans). Cut into manageable pieces. We cut ours into six palm-sized pieces.
In a small bowl, add garlic, salt, paprika, cumin, chili powder and mix well.
Place pork butt in a large bowl and sprinkle seasoning liberally. We used about ¾ of the seasoning mix, just enough to coat all pieces of pork.
Place canola oil in a large dutch oven heat it on high. Add pork and brown on each side. About 5 minutes
Once all pieces are browned, add enough water to cover the pork.
Add bay leaf, onion and California chili.
Cook uncovered on high for 1 hour 45 minutes to 2 hours. Pork will be done when you can pull strips with your hands, but not so tender that you can pull it and chunks fall apart).
After an hour check, the liquid in the pot. If liquid is reduced to ½ add more water, enough water to cover the pork.
Once done, remove pork from pot and let cool.
Pull pork into small bite size pieces.
Liquid can be reused as a great tasting jus. Strain the stock and reduce it by half. Let cool and remove any fat that has accumulated. Freeze in convenient containers.
Use the pork in any traditional Mexican dish.
Enjoy!
Carnitas are so easy to make, too. Pork braised for almost two hours comes out nice and tender and easy to work with. It will test your patience just a little, because it does take a while to get it tender. But, I think it might even be easier than grilling a piece of meat. Grilling you can mess up easily. With this method, you are almost guaranteed to have great tasting meat in your dish.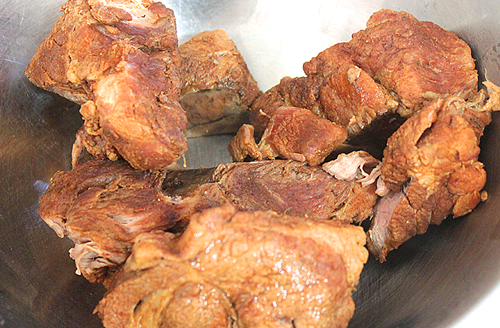 We made a lot. I can't wait to share all the recipes we used it in.