Update and Redux: J – This dish is for your best food friends. It takes awhile … and it's totally worth it. Christina discovered this during the making. A trouper, she went the extra mile to create a delicious dish. Small group, elegant dinner party, here we come. Yum!!
C – I absolutely love risotto, but …
This recipe should be made only if you really love someone. Or, if you really need to impress someone with your cooking. A typical risotto takes about 45 minutes to cook. This risotto takes about double that amount of time. If you have never made risotto before, be warned, it takes a lot of time, effort and dedication. I think it's worth it.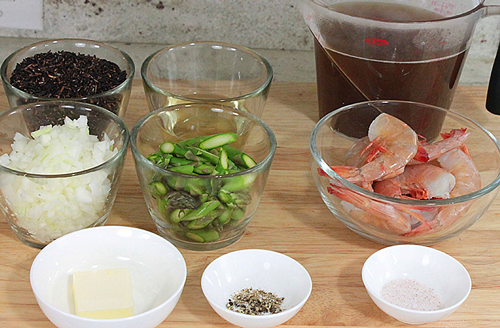 Love, sweat and tears might be added to this recipe. I couldn't believe how long it took me to make this risotto. I stirred and stirred and stirred. My arm felt like it was going to fall off. My hour limit for making this recipe had been surpassed. I didn't think it would ever turn into risotto. I just couldn't believe how much of a difference the type of rice makes in risotto. This all for the love of this blog.

Making this risotto isn't for the weak of heart. Patience is the essence. If guests are coming over to eat, make sure you ask them to help you stir this risotto. People are always willing to help. Just add a ladle full of stock into the pot, ask them to do you a flavor and stir until the liquid is dissolved. When they tell you all the liquid is dissolved, add another. They will love you for it. It will make them appreciate it a bit more.

Black rice usually takes a lot longer to cook than white rice, but it is well worth it. Black rice has a different taste and smell to it than white or arborio rice. Making this risotto a unique experience. I loved it when it was finally done. It's creamy and thick. Full of extremely rich flavor. Half a cup serving of the stuff goes a long way.

I had some for lunch and couldn't eat much for dinner. It was so filling. I felt a bit healthier eating this risotto, because it's even healthier than brown rice and has lots of antioxidants. Although, all the butter I put in didn't really help the healthiness of it all. Oh, well. It was really good and flavorful.
| | | |
| --- | --- | --- |
| Black Rice Risotto with Shrimp and Asparagus | | |
Prep time: 25 mins
Cook time: 2 hours
Total time: 2 hours 25 mins
Serves:
2 plus leftover rice
Ingredients
2 Tbsp of butter
1 small red onion, chopped
1½ cups black rice
½ cup white wine
12 cups chicken or vegetable stock
Salt and pepper to taste
2 Tbsp canola oil
8 shrimps, peeled and devained
4 asparagus stalks, chopped into ¼ inch pieces
Instructions
Place 12 cups of stock into a pot and simmer on low.
In a dutch oven on medium heat, melt one tablespoon of butter.
Add onions and saute until soft. About 5 minutes.
Add rice. Stir rice until well combined.
Add white wine and continue to stir until wine has absorbed into rice.
Add one ladle full of warm stock into rice. Continue to stir until stock has absorbed into rice.
Add another ladle full of stock. Repeat process until all cups of stock is absorbed through. Constantly stirring to make sure rice doesn't burn or stick to the bottom of the dutch oven. About 90 minutes.
Once all liquid has absorbed, taste to make sure rice is completely cooked. If not continue to stir until rice is cooked.
Once rice is fully cooked, add remaining tablespoon of butter. Let dissolve and absorb into rice. Season with salt and pepper.
Keep rice warm.
In a small bowl place shrimp, salt and pepper. Mix well.
In a large pan on high heat, place 1 tablespoon of canola oil. Add shrimp. Do not crowd shrimp. Cook until shrimp is pink. About 3 minutes. Remove from pan and set aside.
In the same pan on medium high heat. Place remaining canola oil and add asparagus into pan. Add salt and pepper. Saute for 2 minutes or until asparagus is tender. Remove from pan.
Place black rice risotto on the bottom of a serving dish or plate.
Top with asparagus.
Top with shirmp.
Serve.
Enjoy.
As I said before, I will only make this for someone I love, or when I want to impress people with my cooking.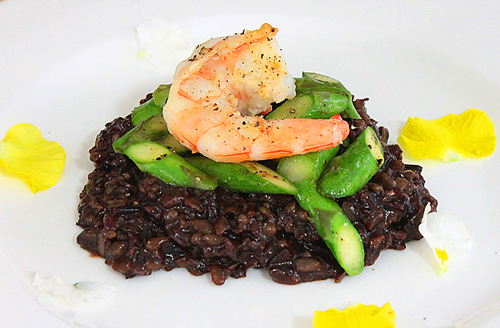 Of course, I will never make this for a large crowd. For a small one of really good friends, I would. It's really worth it!