Update and Redux: J – For Gluten-Free Week, we thought we would start off with a bang. Gluten-free does not have to be boring! We first did this dish for Fancy Breakfasts week. Christina was feeling challenged then for lack of information. At the end, we all agreed the week was a success.
C – It's fancy breakfast week.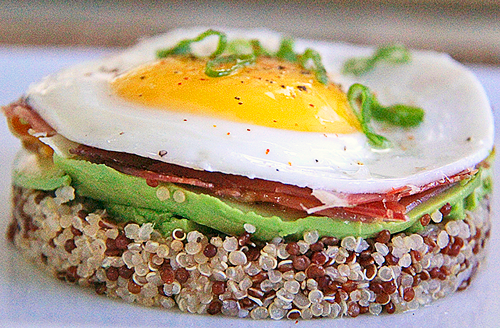 This week we test if I can follow instructions. I am sometimes not in Sacramento as much as Be Mindful. Be Human. needs me to be. Living in San Francisco and working in Sacramento is tough … especially when I don't want to commute everyday. So working, collaborating and meeting can be a challenge.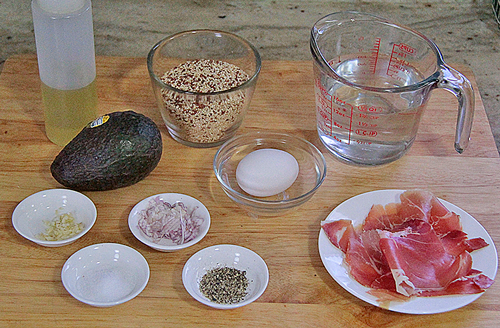 We also can't always meet at the same time. Luke and Jim both have busy schedules, too. Sometimes Luke or I can't make it to the meetings. I love that we can count on Jim to make it to the meetings. He's amazing for all the things he has to juggle.

So, this week, I couldn't make it to our idea/planning meeting. Luke and Jim did. Luke wasn't able to make it to the photo shoot/cooking day. It was time to test out our communication and collaboration.

I was a bit nervous. Not many of the instructions were written down. Mostly. just word of mouth and communicating what Luke suggested via Jim. Luke is pretty particular on how he wants things. So, suggesting something and making me do it doesn't always go as planned.

We have had this happen a few times. Vague instructions. Or, just ideas Jim and I run with. We do our best … This quinoa avocado breakfast was one of those things.
Luke suggested we make it look really fancy by using a "tower" mold. We had to talk a lot about it before we started. Jim was scared that the quinoa wouldn't form in the mold. I was trying to figure out how the egg on top would work out. After a couple of tries … five eggs later … it finally worked. It looks pretty fancy.

Luke liked the pictures. I guess we executed it well. It tasted delicious. The creamy avocado with the quinoa really mingles well together.

Jim's addition of the Serrano Jamon really added to the flavor. Of course, anything with a yolky sunny-side-up egg will go well.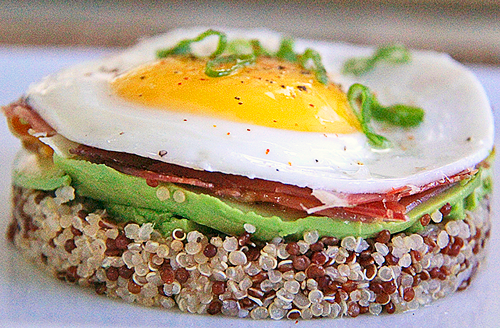 | | | |
| --- | --- | --- |
| Fancy Breakfast Week: Quinoa Avocado Breakfast | | |
Prep time: 10 mins
Cook time: 25 mins
Total time: 35 mins
Ingredients
1 Tbsp grapeseed oil
½ shallot, finely chopped
1 clove garlic minced
1 cup quinoa
1½ cup water or chicken stock
¼ avocado, thinly sliced
2 slices Serrano Jamon, very thinly sliced
1 egg
Salt and pepper to taste
pinch of cayenne for garnishing
finely chopped green onions for garnishing
Instructions
In a small sauce pot on medium high heat, place grapeseed oil and shallots. Cook for one minute.
Add garlic cook for about 30 seconds.
Add the quinoa, salt and pepper to taste.
Add water. Bring to a boil. Then reduce heat to a simmer and cook for 15 minutes covered. Remove from heat and let it rest for about 5 minutes.
Fry the egg sunny-side-up.
Remove egg and place on a cutting board. Using a 3-inch round cookie cutter, trim the egg to a circle. Be careful not to puncher the yolk. Set aside.
Place a few spoonfuls of quinoa on the bottom of the 3-inch mold on a serving plate.
Top with thinly sliced avocado. Sprinkle a little salt and pepper to taste.
Top with a layer of Jamon torn to fit.
Top with the egg.
Remove the mold.
Sprinkle a pinch of cayenne, black pepper and green onions.
Serve.
Enjoy!
Can't wait to share this week's adventures with you. It was a great learning experience.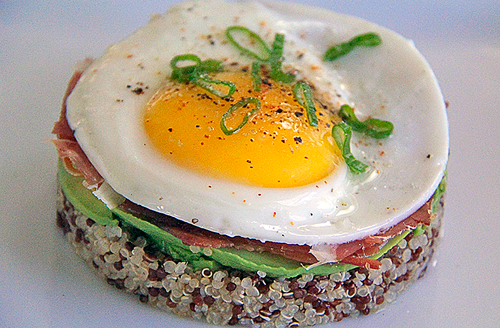 Not being in the kitchen together this week really asked us to focus on mindful communication. The result was delicious.