C – I have been dreaming about this salad.
That's right. I dream about salads. I dream about healthy things, too. There's a great salad and sandwich place in Sacramento that makes an awesome Chinese cabbage salad. There is only one problem. It closes at 3:00pm and I can't get it for dinner.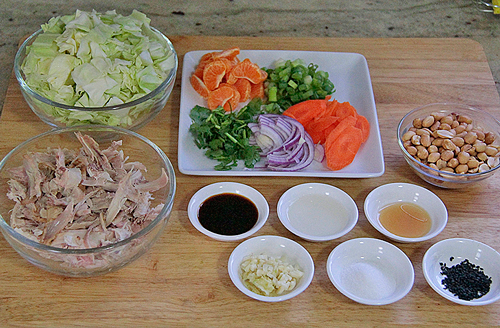 I will eat one for lunch and still want one for dinner. Did I say only one problem? Maybe two problems. They aren't in San Francisco, either. I know San Francisco has a lot of wonderful salads. I just can't find one as good as this one.
My dreams become nightmares, quickly, when I can't get my Chinese chicken salad. So, I have to make something sort of similar to what I am dreaming of. This salad is it.

Why do I like this restaurant's salad so much. Its the perfect mix of sweet sesame dressing, hints of onions, crispy cabbage, moist chicken breast … shredded not cut … and my favorite lots of roasted peanuts.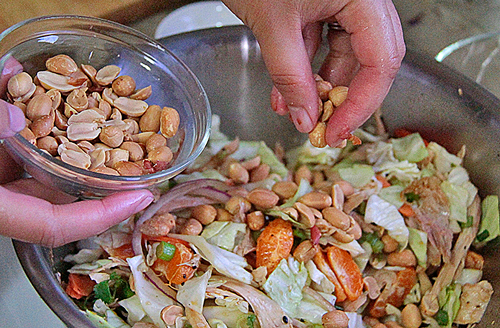 This salad is amazing. This salad usually doesn't have much color. I eat with my eyes first. So, I added a few more ingredients to make me satisfied with the color, too.
| | | |
| --- | --- | --- |
| Cabbage Week: Chinese Chicken Salad | | |
Prep time: 15 mins
Total time: 15 mins
Ingredients
1 Tbsp rice vinegar
¼ tsp sesame seed oil
salt and pepper to taste
1 garlic clove, minced
1 tsp grated ginger
½ tsp black sesame seeds
1 roasted chicken breast, shredded
2 cups cabbage, ½ inch cubes
1 carrot, peeled and thinly sliced
5 thinly sliced pieces of red onion
3 sprigs cilantro, chopped
1 green onion, chopped
2 tangerine, peeled and segmented
½ cup dry roasted peanuts, shells and peels removed
Instructions
In a small bowl, place rice vinegar, sesame seed oil, garlic, salt and pepper, ginger and black sesame seeds. Mix well.
Place a few tablespoons of the dressing in the bottom of a large mixing bowl.
Add remaining ingredients into the bowl. Mix well.
Serve.
Enjoy!
I love this salad. Now, I don't have to dream so much about this salad. It leaves me time to dream of other things.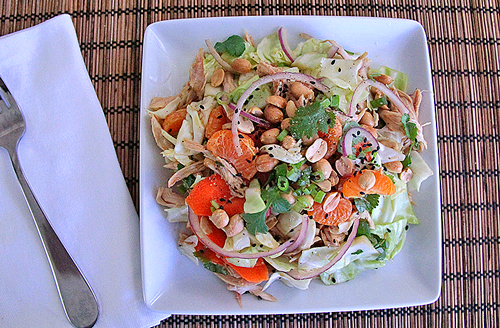 Like chocolate cupcakes with chocolate frosting … mmmmm, chocolate cupcakes with chocolate frosting.