C — What is braising?!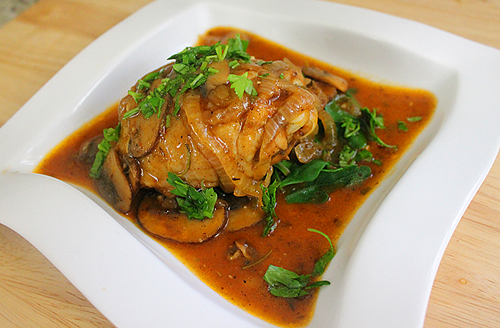 A few years ago, I didn't know what braising was. I had no clue, but I was dying to know. Jim was so excited to receive a braising pan for his birthday. He couldn't wait to start braising. I thought it was some super special machine that cooked meat really well.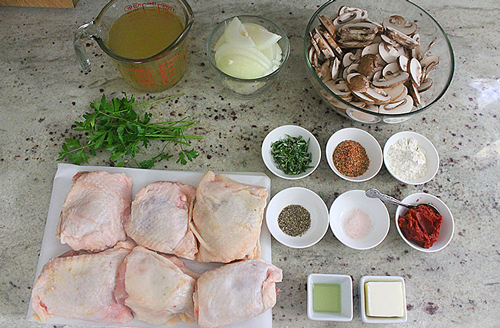 When I finally got to see what a braising pan was, I was a little disappointed. It's just a pan with a lid. But, when I started to use one it changed my opinion. It's just a THICK pan with a lid. A thick pan with a lid that allows you to slowly cook something in the oven for hours. I was impressed. Nothing burned or stuck on the pan and it was easy to clean.

Braising is actually a technique. Searing meat or vegetables then slow cooking the dish for a long period of time in slow heat is the main objective of braising. I love doing it now. It allows all the flavors in the pot to combine beautifully. Everything is tender and can be pulled apart easily with a fork. Braising is usually done in colder weather, because the dishes are heartier and richer in taste.

This braised chicken recipe came about when Jim and I were on a braising kick. Everything had to be braised. Beef, lamb and pork. But, we hadn't tried chicken. It was a good fall/winter dish. Nice and rich with some spinach on the side. Yum.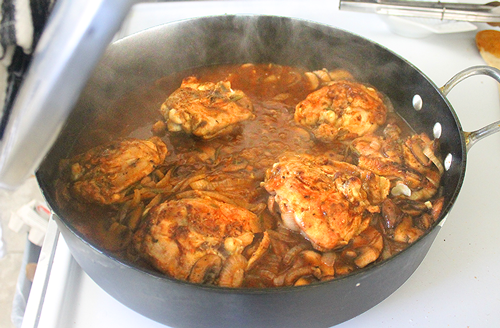 I was a little scared that the dried herbs would get bitter because of the slow cooking. There was a slight hint of bitter. I am not sure if it was the dried rosemary or the dried oregano that made it bitter, but the flavors still combined really well. I think the mushrooms and onions are the best part. Nice crimini mushrooms that hold their structure in the long braise mix with the melted onions in the sauce. Delicious. I actually looked for mushrooms more than the chicken.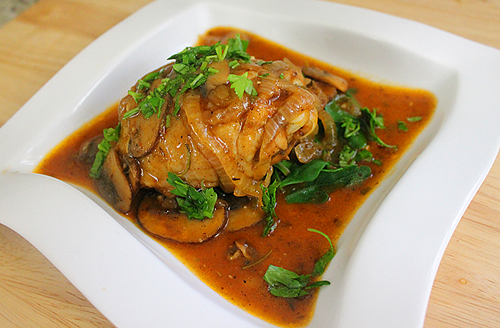 Prep time: 20 mins
Cook time: 1 hour 20 mins
Total time: 1 hour 40 mins
Ingredients
Meat Seasoning (Combine all ingredients thoroughly.)
2½ tablespoons paprika
2 Tbsp salt
2 Tbsp garlic powder
1 Tbsp black pepper
1 Tbsp onion powder
1 Tbsp cayenne pepper
1 Tbsp dried oregano
1 Tbsp dried thyme
1 tablespoon olive oil
6 chicken thighs
1 Tbsp Meat Seasoning
½ tsp salt
½ tsp black pepper
2 Tbsp butter
16 ounces crimini mushrooms, thinly sliced
1 cup sliced yellow onion
1 Tbsp minced garlic
2 Tbsp all-purpose flour
2 Tbsp tomato paste
2 cups dark chicken stock
2 Tbsp coarsely chopped fresh rosemary leaves
2 Tbsp chopped fresh parsley leaves
Instructions
Heat a 10-inch, straight-sided saute pan over medium-high., When hot add the oil.
Season the chicken thighs with the meat seasoning, salt and pepper.
Place the chicken, skin side down in the pan and sear until golden brown, about 3 to 4 minutes. Turn the chicken over and sear on the second side for another 3 to 4 minutes.
Remove the chicken from the pan and add the butter and mushrooms. Saute the mushrooms, stirring occasionally, until browned and most of the liquid has evaporated, about 4 to 5 minutes.
Add the onions and garlic to the pan and saute for 3 to 4 minutes.
Sprinkle the flour into the pan and cook, stirring often to make a light brown roux, about 4 to 5 minutes.
Add the tomato paste, stock and rosemary to the pan, bring to a boil and reduce to a simmer.
Return the chicken to the pan, skin side down and cook the chicken for 30 minutes.
Turn the chicken over and cook until the meat is very tender, about 30 minutes.
Serve the chicken and garnish with the chopped parsley.
Enjoy!
The chicken was well seasoned, tender and stayed moist. It was a really good dish and really easy to make.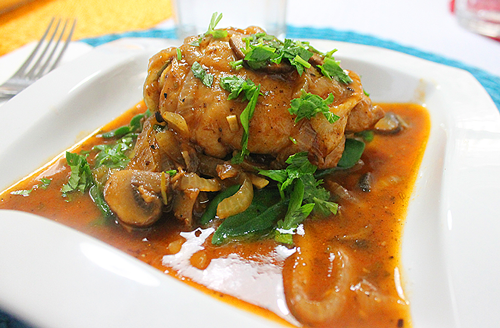 It's my first try at an Emeril Lagasse recipe. I am a fan.
Adapted from: http://www.foodnetwork.com/recipes/emeril-lagasse/braised-chicken-thighs-with-button-mushrooms-recipe/index.html