C – Jim bought snap peas at the Asian Farmer's Market and wanted me to use them.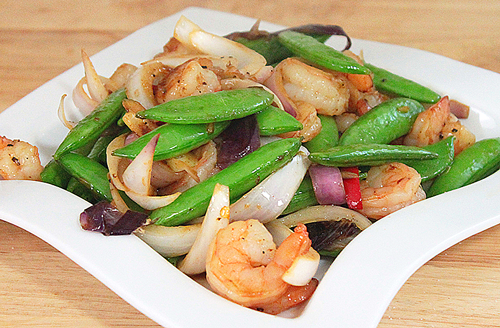 I haven't eaten snap peas for a year and wasn't going to start anytime soon. I have been on a semi-paleo diet. The diet doesn't recommend me consuming any legumes. Snap peas are legumes and they can really upset my body and stomach. Jim really put me in a bind with this one.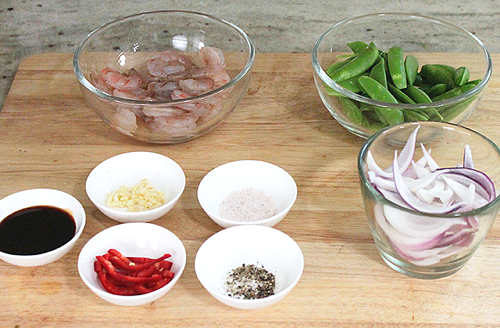 All I could think of doing was making him a quick and simple stir fry and be done with it. Jim could eat it.

Sadly for me, any great cook or chef always has to taste the dish they are presenting. So, I had to eat one or maybe two. OK, three. I only ate three. I had to do a few taste tests to get it right. It just wasn't quite right. I am sure my body is going to let me know that I ate these three legume pods.

Yeah, they were amazingly good tasting. I forgot how much I missed eating them. I wasn't going to eat anymore. So, I was smart and placed them in a tupperware container. I wouldn't be able to reach for them easily. I was really smart. I would have eaten to whole thing, if they were in front of me. I forgot how much I love snap peas.

This stir fry was the best way to prep these little legumes. A quick saute of the vegetables to keep them crispy. Add sweet, cooked shrimp pieces and a little bit of spice and spring onions into the mix. It was wonderful. The sweet snap peas went well with a cooked shrimp. I loved that the spice and the spring onions balanced out the flavors. They all went well together.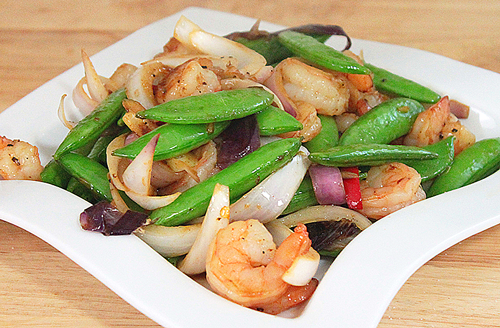 | | | |
| --- | --- | --- |
| Stir-Fried Shrimp and Snap Peas | | |
Prep time: 15 mins
Cook time: 8 mins
Total time: 23 mins
Ingredients
2 Tbsp canola oil
1 cup shrimp, peeled and deveined
1 clove garlic, minced
1½ cup snap peas, ends cut off
½ spring onion bulb, sliced
½ red Fresno chili, sliced with seeds removed
2 Tbsp Gourmet sauce
Salt and pepper to taste
Instructions
Salt and pepper the shrimp.
In a large saute pan on medium high heat, add one tablespoon oil and heat until warm. Add shrimp and cook until pink on both sides. About 2 minutes on each side. Remove from pan and set aside.
In the same saute pan, add the remaining oil and add in garlic.
Once you can just smell the garlic, add in chilies. Once they start to sizzle, add snap peas. Stir well. Cook for about a minute
Add spring onions and mix well. Cook for about two minutes.
Add gourmet sauce, salt and pepper. Mix well. Cook for another minute.
Add shrimp. Mix well. Cook for another minute.
Serve immediately with rice.
Enjoy!
Jim really enjoyed it, too. He was happy to try another dish that was different from his usual hot and spicy green bean dish. It's an easy eight-minute dish and fills you up when served with rice.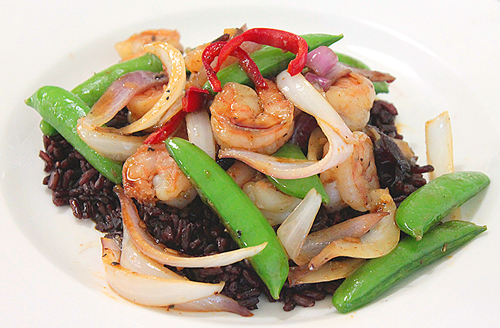 Jim, I'm glad I could help you get rid of the snap peas. Let's have you make something with them next time, so I don't end up tasting any … even though they are really good.