Update and Redux: C – We loved this spinach berry beet salad so much we had to do a redux for our dinner party. Simple and feels like Summer. It's a great salad that will get people to really taste the abundant summer fruit.
C – It's salad week.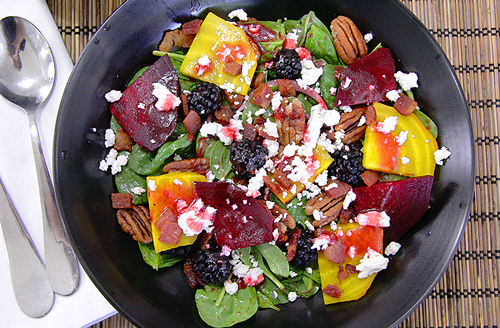 I couldn't have a good summer without eating just salads for a whole week. I love salads. When I moved out of my parent's house, it was the only thing I would eat for weeks. I would eat one for every meal. Fruit salad for breakfast. Salad-salad for lunch. A big salad for dinner.
It was easy, cheap and healthy. After a few months of just eating salads I got really sick and tired of them.

I think I was mostly sick and tired of bottled salad dressings. I used to buy bottled salad dressing. I probably tried them all. I hated when I tried a new one and didn't like it. I would end up wasting the entire bottle. Once I learned that making my own was better, cheaper and much healthier, my love for salads came back again.

Raspberry vinaigrette was one dressing that I used to buy in the bottle … hoping it would taste good. They were never good. A fruity vinaigrette usually tasted like something you put on a dessert. It didn't belong on a salad.

This dressing isn't like that. I make it with fresh raspberries and added only a bit of sugar. The vinaigrette is great. It is perfect with tart blackberries, creamy goat cheese, salty bacon, sweet roasted beets and crunchy light spinach. The flavor combination was so balanced.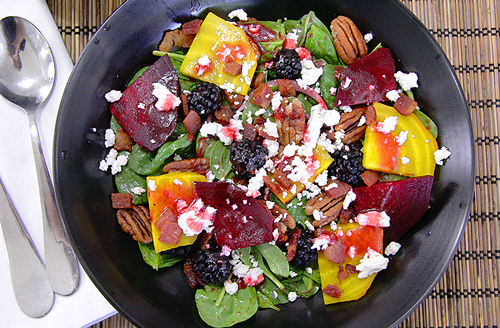 | | | |
| --- | --- | --- |
| Spinach Berry Beet Salad with Raspberry Vinaigrette | | |
Prep time: 10 mins
Cook time: 30 mins
Total time: 40 mins
Ingredients
½ pint of raspberries
1 Tbsp sugar
¼ cup water
3 Tbsp fresh-made raspberry jam
2 tablespoons rice vinegar
3 tablespoons white balsamic vinegar
6 tablespoons fruity olive oil
Salt and pepper to taste
8 oz baby spinach
2 beets, roasted, peeled and sliced ¼ inch thick
2 slices bacon, chopped and cooked until crispy
¼ red onion, sliced thinly
2 Tbsp goat cheese
½ cup pecans
½ cup blackberries
Instructions
Combine all ingredients is a small sauce pan.
Cooked down until it turns to a jam. About 15 minutes.
Let cool to room temperatire.
To make vinaigrette mix jam, vinegars, salt and pepper in a small bowl with a whisk.
Slow;y drizzle-in olive oil while whisking until all oil is incorporated and emulsified.
Taste and adjust seasoning.
Place a few tablespoons of vinaigrette on the bottom of a large mixing bowl.
Add spinach, bacon and red onions into bowl and mix well.
Place on serving plates.
Top salad with beets, goat cheese, pecans and blackberries.
Drizzle more dressing over salad.
Serve.
Enjoy!
I really didn't want this salad to end. I almost wanted seconds. But, it was so filling I couldn't eat any more.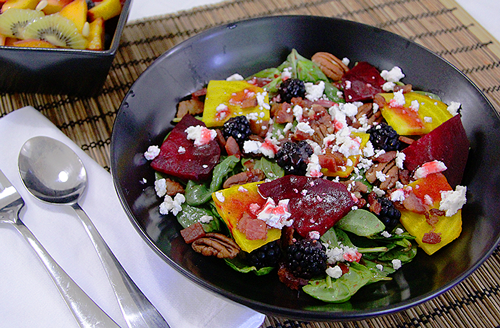 I am so glad the days of buying bad salad dressings are over. I love that I know what's in my salad dressing.