C – When sunflower sprouts appeared on my counter during a shoot day, I wasn't too happy.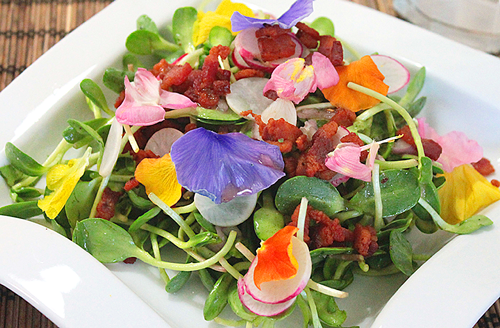 I haven't been much of a fan of these sprouts lately. I do like sunflower seeds. But, I was kind of sick of the taste of them. I ate them a lot in my college days. Sunflowers were a cheap snack. But, I got really tired of the taste and texture. Guess I ate too many back in the day.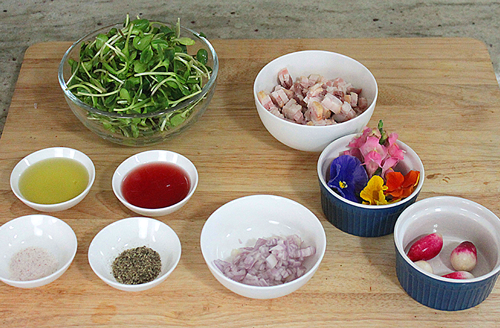 Sunflower sprouts excited me when I first found out about them. But, the excitement ran out quickly. The taste was really similar to sunflower seeds. And, if you didn't know any better, you would bite into one of those black shells and hurt yourself. Also, I never knew what to do with them. I tried sauteeing them. It ended up in a disgusting disaster.

When Luke and Chris came into the kitchen with sunflower sprouts, I told them about my dislike for them. They looked at me and said its time to convert you to liking these sprouts. Promise. I was skeptical. But, they have changed my mind before on several foods.

Chris was at hand-making this salad for us. He removed the black shells from the pile. There were a lot. Cooked some pieces of bacon and chopped up some scallions. Made a dressing and put hot oil in it. Mixed it into the sprouts and he was done. Topped with a few radishes and edible flowers it looked amazing.

I wish I could say the same for the taste. Chris made one mistake. The hot bacon oil wilted the sprouts. It didn't taste all that great. Sprouts are very sensitive and delicate. You really have to be careful of not wilting them when cooking.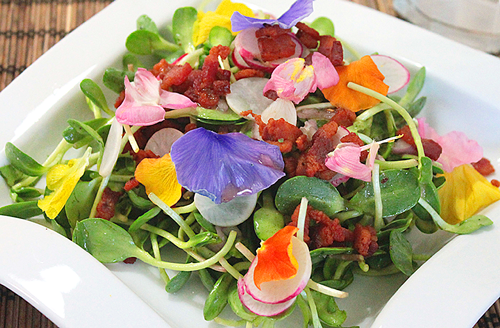 | | | |
| --- | --- | --- |
| Sunflower Sprout Salad with Bacon and Edible Flowers | | |
Prep time: 15 mins
Cook time: 15 mins
Total time: 30 mins
Ingredients
½ shallot, minced
2 Tbsp red wine vinegar
1 tsp mustard
Salt and pepper to taste
4 Tbsp grapeseed oil
3 slices bacon, cut into small pieces
4 cups sunflower sprouts, washed and black shells removed
4 radishes, sliced thinly
5 edible flowers of various colors, individual flower pedals only
Instructions
In a small mixing bowl, place shallots, red wine vinegar, mustard, salt and pepper. Mix well.
Drizzle in oil while whisking, until all is combined. Set a side.
In a large saute pan on medium heat, place bacon in pan and cook until crispy. Remove and place on paper towel to drain.
Place sunflower sprouts on serving plate.
Top with radishes.
Top with bacon.
Top with flower pedals.
Lightly drizzle dressing.
Serve immediately.
Enjoy!
So I suggest a redo of the recipe. I even volunteered to make it. I did a redo without using hot bacon fat. Just used regular grapeseed oil. Much crispier and it tasted great. Crispy sprouts with a nice shallot vinaigrette. I loved how pretty it was. Those radishes and edible flowers really made it eye appealing. If I were at a restaurant and saw someone order it, I would have to ask the waiter what it was. There wasn't much of a sunflower taste to them, either. It was lighter than I expected. I was happy. I guess I can't scoff at sunflower sprouts anymore.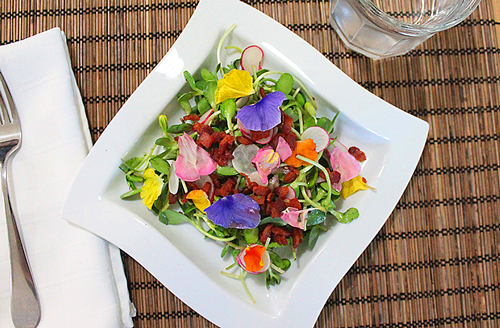 Maybe this will be a new way for me to eat sunflower sprouts. Just a little at a time with LOTS of bacon, radishes and edible flowers … please.