Update and Redux: J – Sometimes simple can become a complicated goal. We all wanted to do a classic Greek chicken dish … but, which one? The good news about our kitchen is that all three of us are good and have definite ideas. It can also be the bad news. Fortunately, we got there. A simple, Greek lemon oregano garlic chicken dish. Wonderful. Tasty.
C – This recipe could have gone in so many directions.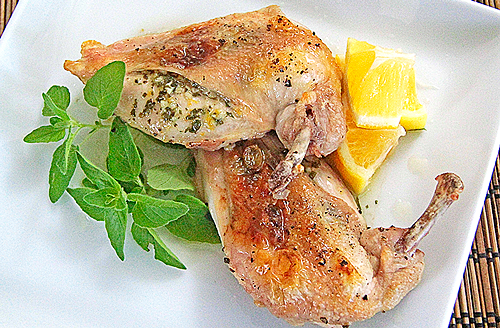 I think we threw every idea out there. None of us really agreed on a particular dish. It was starting to get annoying. Jim's idea of oregano lemon garlic chicken didn't seem to wow me. I didn't want anything too complicated. The communication among the three of us wasn't going anywhere.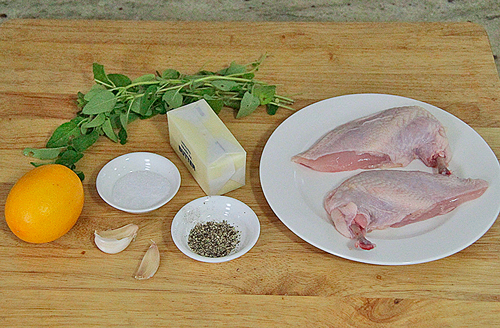 Roast the chicken? Let's spatchcock the chicken! I had had enough of spatchcocking chicken. Jim loves it. Luke didn't really care what we did.

Luckily, Luke finally suggested something different and I think really interesting. Let's French a chicken and put an oregano lemon butter under the skin and then roast it. I later found out that it's also called an "airliner breast."
I had no idea what Frenching a chicken was, but I nodded in agreement. It's definitely a new technique for me to do. Luke Frenched the chicken wing attached to a boneless chicken breast, instead of the typical drumstick and the thigh. We used the leg quarters for another recipe.

Luke deboned the breast, then left only the drumette segment of the wing and cleaned off the bone by pushing the meat down close to the breast. It makes a really different presentation.

Luke pulled back the breast skin, spread an oregano garlic lemon butter mixture and replaced the skin back over. He pan seared the bottom of the breast to get a nice golden brown color and start it crisping. He then placed it in the oven and roasted it until it was fully cooked and the skin was golden brown.

I love taste of this chicken. The combination of butter, garlic, lemon and oregano on beautiful piece of chicken was amazing. It was, of course, cooked to perfection.

I am not sure what Frenching a chicken really does for cooking, but it sure looks cool.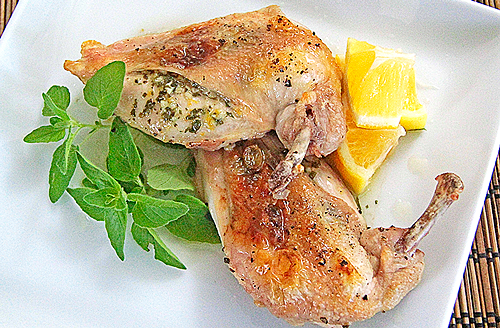 | | | |
| --- | --- | --- |
| Oregano Week: Oregano Lemon Garlic Chicken | | |
Prep time: 15 mins
Cook time: 55 mins
Total time: 1 hour 10 mins
Ingredients
1 stick butter, softened to room temperature
1 chicken, breasts/wings only, French (airliner) cut
Salt and pepper to taste
2 cloves garlic, minced
Zest of 1 lemon, minced finely
2 Tbsp oregano, chiffonade
Instructions
Preheat oven to 400 degrees.
Place butter, oregano, garlic, lemon zest, salt and pepper into a mini-food processor and blend until well mixed. Make sure to have all the ingredients cut into fine pieces to ensure that they are distributed evenly.
Place mixture onto the center of a piece of parchment paper and fold over the paper to meet the two sides. Using a sheet pan or a hard edge surface push the butter to the uncut side. This will create a cylinder of butter. Twist the edges close. Place into the freezer until stiff before using.
Season chicken with salt and pepper just on the back side.
Cut 2, ¼-inch thick pieces of butter slices and place underneath the skin of the chicken breast.
Place place about a tablespoon of grapeseed oil onto an oven-safe saute pan. Heat on high heat on the stove.
Add the chicken breast skin side up. Brown the back side only.
Place pan into the oven for 30 to 45 minutes until the chicken has reached 160 degrees or until completely cooked.
Turn on broiler to brown and crisp up the skin. About 2 to 5 minutes, being careful not to burn the chicken.
Remove from oven and let sit for at least 5 minutes before cutting.
Serve.
Enjoy!
I would try making this for guests. I think they would be impressed with this unusual and interesting technique.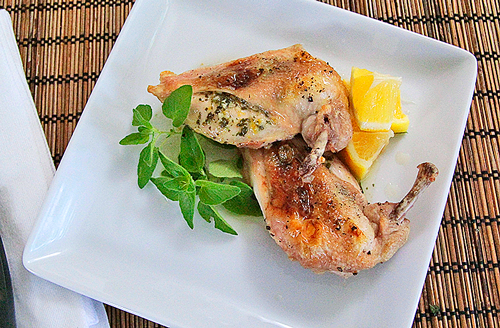 Thanks, Luke, for showing me a new way of cooking chicken.