C – Bang! Bang! Wow!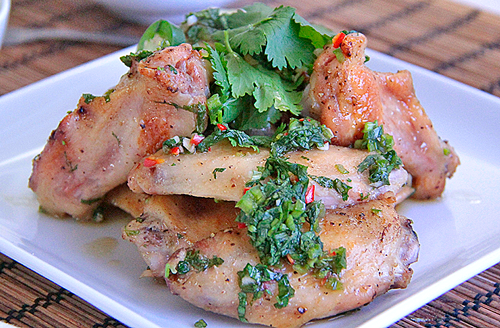 That's how I want people to react when they try these wings. It funny that I ended up saying bang bang wow! to these before anyone else did. I really enjoyed them. I actually lost count. I kept on thinking I was done eating, so I threw away the bones.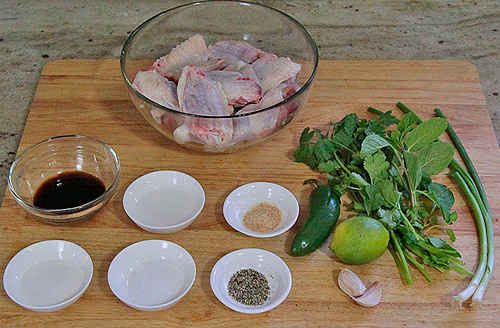 But, I would go back for more. So, I really lost count.

There goes my rule of keeping all the bones on my plate until I completely finish eating. It allows me to eat in moderation, and not overeat and feel guilty for eating so many after seeing the huge pile of bones on my plate.

Yup, I really overate on these. I ate them when they were just out of the oven … and then finished them off when no one else was eating them.

I figured why waste a storage container, if there was only three wings. So, I had to finish them. I didn't want to waste any water washing another dish. California IS still in a drought, you know. I needed to help conserve water in some way you know.

Nope, not feeling guilty at all … may be a little guilty. But, they were so good.

Yup, they are addicting. I love wings and with a sweet, spicy, salty sour Vietnamese style sauce with lots of fresh herbs, why wouldn't I love them. It's my favorite type of sauce with my favorite part of the chicken. Why wouldn't I love this recipe.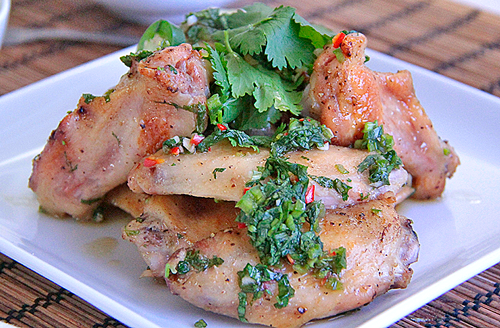 | | | |
| --- | --- | --- |
| Wings Week; Bang Bang Chicken Wings | | |
Prep time: 15 mins
Cook time: 40 mins
Total time: 55 mins
Ingredients
2 pounds chicken wings
¼ tsp granulated garlic powder
salt and pepper to taste
10 fresh mint leaves, minced
5 sprigs cilantro, minced
2 green onions, minced
2 garlic cloves, minced
½ Jalapeno, seeds removed minced
½ Fresno chili, minced
3 Tbsp fish sauce
2 Tbsp granulated sugar, more if needed to balance the flavor
2 Tbsp white vinegar
½ fresh lime juice
Instructions
In a medium bowl combine chicken wings, garlic powder, salt and pepper to taste. Mix well and cover in the refrigerator overnight.
Preheat oven to 400 degrees.
Place wings on a baking sheet with parchment paper.
Place in oven and cook for 30 to 40 minutes, or until golden brown and crispy.
Meanwhile, in a small mixing bowl add remaining ingredients and combine.
Once wings are done, mix half of the sauce with the wings in a large bowl.
Place on a platter.
Top with the remaining dressing.
Serve with cilantro on top and lime wedges.
Enjoy!
I could make these wings over and over again and do the same thing.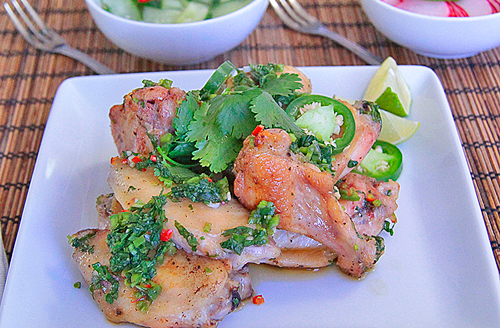 Guilty or not guilty. Whatever. These are still my favorite wings.